Program Overview
Are you interested in becoming a Registered Dietitian Nutritionist (RDN)? Take the first step by enrolling in JWU's Dietetics and Applied Nutrition bachelor's degree program.
Accredited by the Accreditation Council for Education in Nutrition and Dietetics (ACEND), our Didactic Program in Dietetics and Applied Nutrition (DPD) will provide you with the academic framework to prepare for the national examination administered by the Commission on Dietetic Registration.
Discover the connection between food, nutrition and health as you identify nutrition-related problems, and determine and evaluate nutritional interventions. Study a variety of subjects ranging from culinary fundamentals, nutrition, food service systems management, and science courses such as microbiology, chemistry and human physiology that answer the whys behind nutrition principles.
Develop your nutritional diagnostic skills as you create nutrition care plans and refine sensory evaluation techniques — all through a unique curriculum that combines traditional nutrition and science classes with the culinary arts for which JWU is renowned.
Upon graduation, with appropriate academic performance and successful completion of your DPD coursework, you'll be eligible to apply for a 1,200-hour ACEND-accredited supervised practice/Dietetic Internship (DI) to gain the experience and knowledge necessary to start your career in the field of nutrition and dietetics.
Once you successfully complete the supervised practice program (DI) and pass the national examination, you'll be qualified to work as an RD/RDN in hospitals, long-term care facilities and health clinics, as well as in nontraditional industries such as food product research and development, sports nutrition with collegiate and professional teams, school food service, recipe testing and the private chef industry.
DPD Handbook (PDF)
This handbook is for students who entered JWU between the academic years 2012-13 to 2016-17 and were accepted into the Culinary Nutrition Program.
---
Sample Courses
Life Span Nutrition
Human Physiology
Medical Nutrition Therapy
Therapeutic Cuisine
Dietetics Internship
In addition to classes, free elective credit can be applied to a number of options such as Directed Experiential Education (DEE), internship, minor or study abroad. You are encouraged to contact an advisor before scheduling free elective credits.
For a full course listing, visit the JWU Catalog: Dietetics and Applied Nutrition (BS)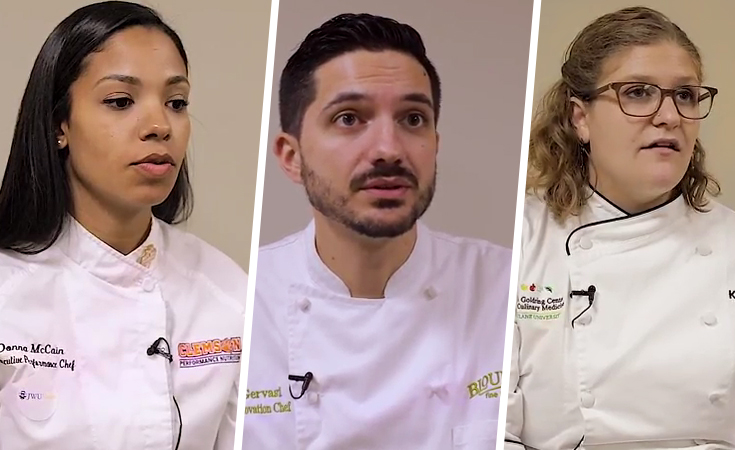 Each year, JWU Experiential Education & Career Services hosts a Culinary Nutrition forum where prominent alumni share how JWU set them up for success. In this 10-part series, they share their top tips for going far in the industry.
---
Career Possibilities
Some professions may require additional study, background checks, certifications, licenses, exams and/or experience as required qualifications for employment. Students are responsible for verifying that they can meet the employment requirements of potential employers.
Registered Dietitian

Clinical Dietitian

Pediatric Nutritionist
Registered Dietitian Nutritionist

Certified Nutrition Specialist

Food Product Developer
Licensed Nutritionist

Dietetics Manager