Program Overview
Do you want a career guiding businesses and individuals to make the best investment decisions? To succeed, you'll need the technical prowess and critical thinking skills to predict and analyze the potential for profit and growth. But you'll also need leadership, communication skills and the ability to work in teams whose members may be in remote areas, to truly stand out among your peers. Gain this expertise in JWU's Finance bachelor's degree program.
Throughout the program, you'll learn financial statement analysis, advanced Excel, financial modeling and securities trading from faculty members with significant industry experience in small classes. You will receive a specialist education in finance and investment that prepares you for multiple career opportunities in financial services, including investment advising, equities and fixed income analysis, portfolio management, corporate finance, banking and credit analysis.
Turn this theory into practice using our virtual professional platforms that allow you to collaborate both on campus in lab settings and off campus with remote access. The JWU Global Trading Center provides access to real-time financial data for you to analyze, run portfolios, develop complex financial models in Excel and conduct trading simulations. If your career interests are as a financial adviser, our partnership with Stocktrak and STC Corporation prepares you to take the FINRA Series 7 License Exam. If your interests are in financial analysis, our curriculum covers much of the material required by the CFA (Chartered Financial Analyst) Institute's Level I exam.
Select students also participate in a unique real-world learning experience as an intern for the Wildcat Investment Value Fund (WIVF), an investment portfolio representing a portion of the JWU endowment managed exclusively by students. WIVF interns have access to Money.net, the most modern financial workstation for intra-day, historical-to-real-time streaming data on assets, Excel integration to create spreadsheets, and sophisticated charting tools. Whether working in the Finance lab or collaborating off-campus with the Money.net mobile app, WIVF interns develop soft skills in communication, leadership and collaboration.
Develop your networking, team building and leadership skills in the JWU Finance & Investment Academy (FIA). FIA opportunities include an on-campus, two-day seminar by Wall Street Prep, Annual Career Chat with industry experts, and participation in the Global Asset Management Education (GAME) Forum in New York. As an FIA member, you'll have access to a vast network of JWU FIA alumni around the globe who are committed to mentoring current students.
In your junior year, you'll have the opportunity to enroll in the MBA Accelerated Program, which allows you to take both undergraduate and graduate courses in your senior year, leading to an MBA with a finance concentration, Finance MS, or Data Analytics MS.
JWU FIA alumni continue their close ties with JWU after graduation, frequently returning to campus to mentor current finance students, offer career advice, serve on the Student Managed Investment Fund Advisory Board, and serve as connections for career opportunities at their many places of employment, including, but not limited to
Bloomberg
Fidelity Investments
Goldman Sachs
IGT
Morgan Stanley
PwC
State Street
Travelers Insurance
UBS
United Technologies (UT)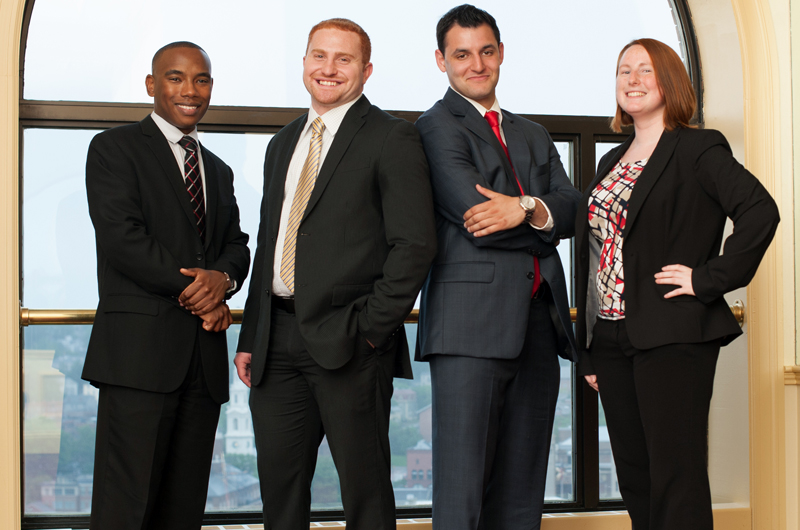 vcqdczfryvvfefzxrszbztyzqyvxydfvrrw
Meet the JWU Finance students who are gaining real-time, real-world investment experience through the Wildcat Investment Value Fund (WIVF).
---
Sample Courses
Investments
International Finance
Corporate Finance Futures and Options
Portfolio Management and Analysis
Experiential Education Projects in Financial Modeling and Valuation
In addition to classes, free elective credit can be applied to a number of options such as Directed Experiential Education (DEE), internship, minor or study abroad. You are encouraged to contact an advisor before scheduling free elective credits.
For a full course listing, visit the JWU Catalog: Finance (BS)
---
Career Possibilities
Some professions may require additional study, background checks, certifications, licenses, exams and/or experience as required qualifications for employment. Students are responsible for verifying that they can meet the employment requirements of potential employers.
Commercial Banker

Insurance Agent/Agency Owner

Private Equity Manager
Financial Planner

Investment Banker

Retirement Planner
Hedge Fund Manager

Money Manager

Estate Planner