Program Overview
The field of robotics engineering is a breeding ground for creativity and innovation. Listed as one of US News & World Report's "Hot College Majors," robotics is expected to create 2 to 3.5 million new jobs by the year 2020. Riding the cusp of this wave, JWU's Robotics Engineering bachelor's degree program integrates concepts from computer programming, digital electronics, circuit theory and robotics to provide a comprehensive education in the area of robotics and automation.
You will be exposed to the latest theories in artificial intelligence, microprocessor development, speech synthesis and real-time programming, which will allow you to develop the techniques, skills and methodologies to formulate efficient solutions to complex robotic engineering problems.
Coursework covers such industry-ready skills as maintenance and troubleshooting, robotic hardware design and software development for real-time applications. Projects involve working with voice recognition, image tracking, human interface with touch screens and animation using embedded systems.
Our Innovation & Design Center offers opportunities to research, design and implement solutions to problems from industry and nonprofit organizations in the greater Providence region.  
Starting in your junior year, you can gain industry work experience through our many experiential education and internship options. Upon graduation, you'll be well positioned to pursue an exciting career in industries as diverse as agriculture, military, medical, manufacturing and many others. What will you invent tomorrow?
---
Sample Courses
Digital Logic Design I and II
Circuit Theory I and II
Artificial Intelligence
Applied Mechanics I and II
Robotics & Automation I and II
In addition to classes, free elective credit can be applied to a number of options such as Directed Experiential Education (DEE), internship, minor or study abroad. You are encouraged to contact an advisor before scheduling free elective credits.
For a full course listing, visit the JWU Catalog: Robotics Engineering (BS)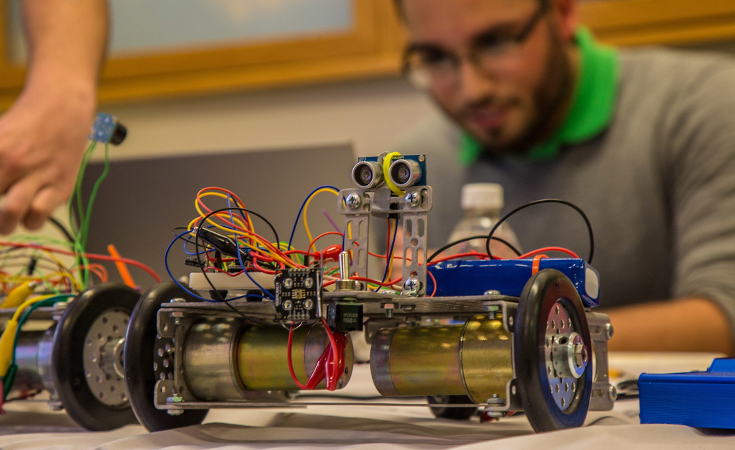 Engineering students show off ambitious designs for electronics, robotics and software in their annual showcase of work.
---
Career Possibilities
Some professions may require additional study, background checks, certifications, licenses, exams and/or experience as required qualifications for employment. Students are responsible for verifying that they can meet the employment requirements of potential employers.
Artificial Intelligence Engineer

Engineering Mechanic
Civil Engineer

Metallurgical Engineer
Computer Engineer

Robotics Engineer