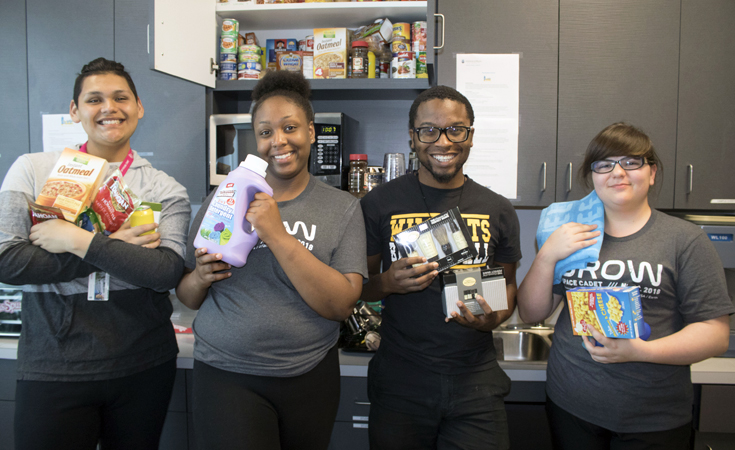 The Student Pantry provides a means for all students to stay focused on their academic studies despite any untimely financial hardships they may be faced with while pursuing a degree. Students may access The Pantry for non-perishable food items and/or toiletries (for example, Cup-a-Soup, deodorant and detergent).
The Student Pantry is closed when classes are not in session.
STUDENT ELIGIBILITY
To receive items from the pantry, students must present their JWU student ID card and be enrolled during the current term. Students will NOT be asked questions. First-time students will be offered an opportunity to voluntarily complete a brief intake form with basic information so we can better meet student needs. All student information is kept confidential.
STAFF ELIGIBILITY
To receive items from The Pantry, staff should contact Tamara Bell, human resources manager, at 305-892-5304.
VISITING THE PANTRY
Students will be provided with various non-perishable items from The Pantry. Students are encouraged to bring their own grocery bag or reuse the grocery bag they are given upon their first visit to the pantry. In an effort to serve our student population, we ask that you only take what you need so that others, too, may get what they need.
HOW TO DONATE
Would you like to help us keep The Pantry stocked for students in need? Donations are accepted during Pantry hours. We accept non-perishable (non-expired and unopened) food, toiletries, gift cards to local grocery stores or monetary donations. Do not send alcohol or prescription medication. Our most needed donation items include the following:
Rice/pasta
Canned meats
Cereal, granola bars
Microwave meals (pasta cups, beef stew, mac & cheese cups, pop-top soup or pasta, ravioli, Spaghettios, etc.)
Drinks (juice cans or boxes, other non-refrigerated beverage items)
Toiletries
Laundry detergent
Paper plates/cups, napkins, plastic spoons and forks
HOW TO VOLUNTEER
The Student Pantry is always looking for dedicated volunteers. Call 305-892-7584 for more information.
LOCATION
Wildcat Center, 2nd floor Break Room
Phone: 305-892-5367 or 305-892-5388
HOURS
Monday/Wednesday: 6-8pm
Tuesday: 10:30am-noon
Friday: 9-11am or by appointment
COORDINATORS
Peer Mentors: orientation.nmi@jwu.edu