---
Emmanuil Agrest
Professor
JWU Faculty Since 1993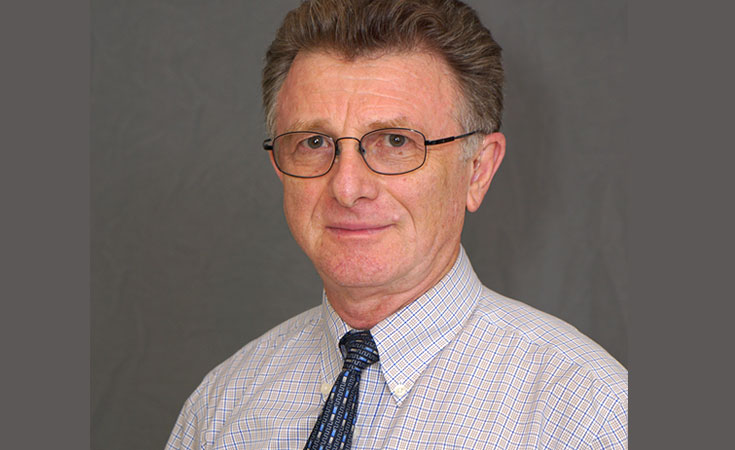 About Emmanuil
Emmanuil Agrest has born in Moscow, Russia. In 1968, he graduated from Moscow State University in Mathematics and Mechanics. He earned his Ph.D. in Physics and Mathematics at the Soviet Academy of Science in 1975. Agrest started his carrier with 12 years of extensive research in mathematical and computer based modeling of underwater acoustics and cavitation. In 1980, he began his teaching career at the State University in Sukhumi, Georgia of the former Soviet Union where he was also the chair of the Algebra and Numerical Methods of Analysis department. He was also a member of the National Universities Committee in Applied Mathematics. In 1992, he and his family immigrated to the United States, settling in Charleston, SC. He began teaching first at the College of Charleston, then from 1993 with Johnson & Wales University as an Assistant Professor. Dr. Agrest has more than 30 publications in highly prestigious scientific journals. Many of his Russian publications have been translated into English and are available in the United States. He was promoted to the rank of Professor in 2000 at Charleston Campus.
Emmanuil's father (1915 – 2015) was a preeminent mathematician also known as an author and a proponent of the ancient astronaut theory.
Emmanuil and his wife Larisa married in 1968. They raised two boys: Igor and Yan and now enjoy four grandchildren.

Education
Ph.D., Mathematics & Physics, Moscow Institute of Acoustics Research, USSR Academy of Sciences
M.A., Mathematics & Physics, Moscow State University
"My background is in mathematics, mechanics and hydrodynamics. As a senior researcher, much of my work focused on cavitation"
Teaching Interests
All math classes, both theoretical and applied
Scholarly Interests
Research and Development in Fluid Mechanics, Acoustics, Wave Propagation, Cavitation Problems;
Mathematical and Computer modeling of physical processes
Design and development of educational software
Courses
MATH1002 Survey of College Mathematics
MATH1020 Fundamentals of Algebra
MATH2001 Statistics
Toggle
Publications
E. М. Agrest, G. N. Kuznetsov, N. P. Mel'nikov. Calculated and experimental study of spatial and temporal characteristics of a cavitation zone. Memoirs of the Faculty of Physics, Lomonosov Moscow State University, № 5, 1750901 (2017)
E. M. Agrest, Leonid R. Yablonik. Modeling of Statistics of Structural Elements Vibration, Induced By Near-Wall Turbulence. 2007. The paper is published by ASA online
E. M. Agrest, G.N. Kuznetsov. Radial and translational motion of gas bubbles in the field of a plane piston and in the progressive flat wave. 2005
E. M. Agrest, G.N. Kuznetsov. The Origination and Development of Ultrasonic Cavitation on Various Form Oscillators. Proceedings of the XIII Session of the Russian Acoustical Society (vol. 1, pages 13-16), Moscow, Russia, 2003.
Toggle
Honors And Awards
Publishing & Research Award, Johnson & Wales University, 2004
Special Merit Award, Johnson & Wales University, 2000