---
Erin Cardea
Associate Professor
JWU Faculty Since 2016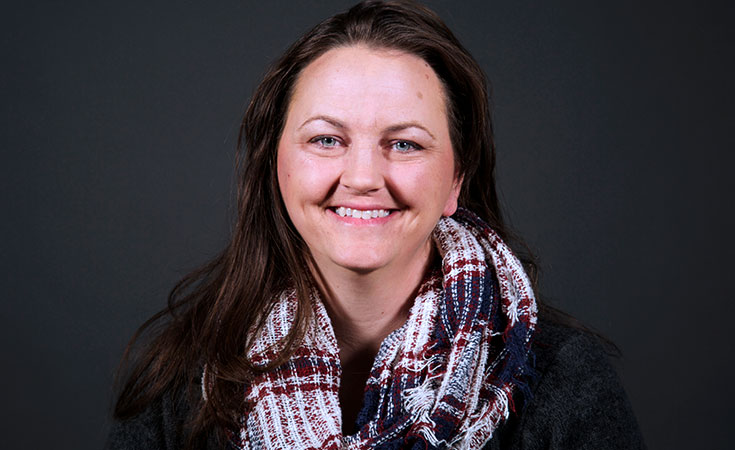 About Erin
Erin Cardea has spent her life studying equitation and equine and equestrian science. As a junior rider, she could be found at the hunter/jumper horse shows in Maryland and Virginia and riding on Loftmar Stables' champion equitation team.

While pursuing a bachelor's degree in Equestrian Science, Cardea worked as a groom, rider and manager for Olympic show jumper Anne Kursinski.

Since that time, she has held many positions in the industry, including U.S. Pony Club District commissioner, riding instructor, stable manager, show organizer, equine assisted psychotherapy instructor, trainer, professional rider, IHSA coach and owner of Orion Row Stables.

In addition to earning master's degrees in Equine Science and Equestrian Education, she also holds the highest level of instructor certification with the Certified Horsemanship Association and conducts clinics for aspiring instructors. Cardea is currently working toward additional British Horse Society qualifications and is a Certified PATH International (Professional Association for Therapeutic Riding) Advanced Therapeutic Riding Instructor.

Sharing her knowledge, experience and skills with future industry professionals has long been a passion and being able to do so at Johnson & Wales is an honor.
Education
MEd, Equestrian Education, William Woods University
MS, Equine Science, University of Edinburgh
BS, William Woods University
"I love that the equine students are so eager to learn — you know they come here with one major in mind"
Scholarly Interests
Dressage Training, Equine Nutrition, Equine Diseases, Equine Physiology and Sports Therapy, Equine-Assisted Activities and Therapies
Courses
EQN 1010: Equine Physiology & Sports Therapy
EQN1025 Equine Anatomy & Lameness Lab
EQN2025 Equine Physiology & Sports Therapy,
EQN3025 Equine Nutrition
EQN3010 Equine Reproduction & Genetics
EQN3280 Intro to Equine-Assisted Activities and Therapies
Toggle
Professional Affiliations
United States Equestrian Federation, 1996-present
Certified Horsemanship Association, 2013-present, Clinic Instructor
Certified Horsemanship Association, 2013-present, Site Visitor (for accreditation)
British Horse Society, 2014-present, PTT and Stage 2 Member
PATH International, 2016-present, Instructor in Training