---
Luminita Cirstea
Associate Instructor
JWU Faculty Since 2012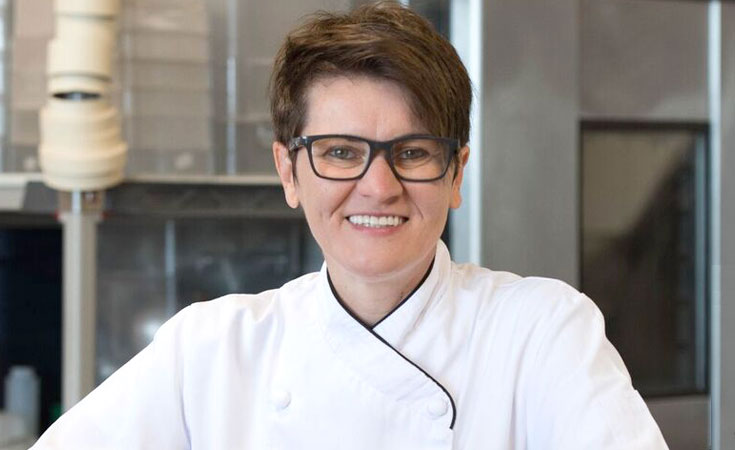 About Luminita
Before joining the International Baking & Pastry Institute at Johnson & Wales University, Luminita Cirstea was a telecommunication technician in Sibiu, a medieval town in Transylvania, Romania.

Cirstea had dreams of working in the food industry, but her parents, a history teacher and a landscape designer, had greater expectations for their only daughter. For a while, she pursued her parents' dreams while putting her own on hold.

After her arrival to the United States, Cirstea enrolled in the School of Culinary Arts at Kendall College in Chicago, Illinois, where she received her degree in Baking and Pastry. Discovering her passion for breads, she continued her education at the San Francisco Baking Institute and the French Pastry School in Chicago.

Cirstea's career accelerated from there, working with and for very talented chefs and amazing bakers in Europe and United States.

As a teacher, she tries to foster a nurturing relationship with her students by providing enough soil, water and sunshine for ideas to root and for her students to blossom. Watching them grow and being successful is a life-changing story that must be told.
Education
B.A., Johnson & Wales University
B.A., Lucian Blaga University, Sibiu, Romania
A.A.S., Kendall College
"There is not one person who cannot shape a loaf of bread. It's in our DNA"
Toggle
Honors And Awards
Johnson & Wales University, Dean's Award (2016)
Bronze Medal, Regional Pastry Chef of the Year (2016)
Johnson & Wales University, Teacher of the Year (2015)
Wallrath Award, Johnson & Wales University (2014)
New York Food and Wine Festival, 1st Prize Bread Showpiece (2014)