---
Laura Galligan
Professor
JWU Faculty Since 2000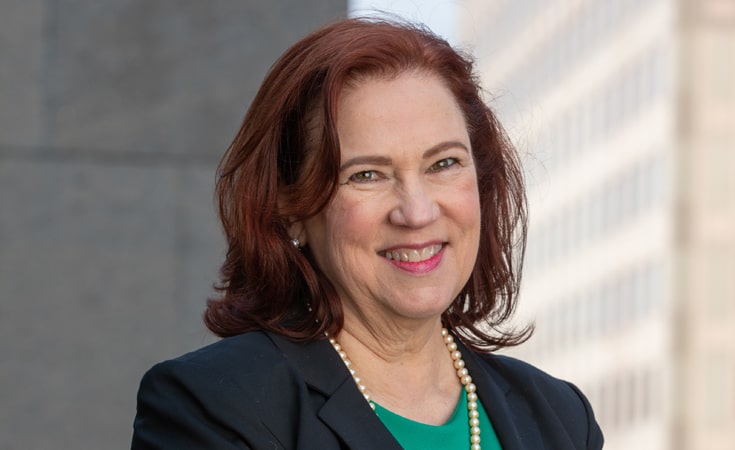 Growing up in Florida, Laura Galligan, Ph.D., traveled north to study chemistry at Emory University in Atlanta where she received her B.S. She went on to the University of Rhode Island for her M.S. in Nutrition, where she studied nutrition and exercise and the influence of Vitamin A on wound healing. Galligan completed her Ph.D. in Biological Sciences at URI, this time focusing on the influence of carotenoids on the expression of oncogenes in a small-cell lung cancer line.

After teaching nutrition to 400 students at URI, Galligan appreciated the small class sizes at JWU, which allowed her to truly understand and connect with her students. In a very welcome change, this small class size allowed her to focus her classes on her students' needs, incorporate case studies and projects, and support all students.

As time went on, Galligan accepted new challenges and leadership. She became chair of the Science department and helped create the vision for the Center for Science and Innovation. In 2018, she became an associate dean, which provided her the privilege of working on larger initiatives. Galligan is grateful for the opportunities she has had to improve the student experience.

Galligan works hard to improve the student experience from the beginning of the academic journey to after graduation. She looks for ways to make sure students are getting the right advice within their majors to prepare them for their goals, whether that is direct to career or on to graduate or professional school. Galligan promotes innovative teaching practices that increase learning and involve students so they not only understand their material, they can implement it. She is very interested in how technology is changing the world of work and how JWU can make certain students qualify for the most coveted jobs.
Education
Ph.D., Biological Sciences, University of Rhode Island
M.S., Nutrition, University of Rhode Island
B.S., Chemistry, Emory University
"I am very interested in how technology is changing the world of work and how JWU can make certain our students qualify for the most coveted jobs."
Teaching Interests
Nutrition; Biochemistry; General and Organic Chemistry
Scholarly Interests
Using Scientific Teaching; Effect of Process Oriented Guided Inquiry Learning on Performance and Retention in Intro Chemistry; Case Study Teaching
Courses
CHM3040: Biochemistry
SCI1050: Nutrition
Toggle
Professional Affiliations
Council of Colleges of Arts & Sciences
American Chemical Society
National Science Teachers Association
Process Oriented Guided Inquiry Learning
Toggle
Publications
Process Oriented Guided Inquiry Learning (POGIL) Workshop, RINI MIddle College, Providence, RI 9/22/2017
Process Oriented Guided Inquiry Learning (POGIL) Conference, Simmons College, Boston, MA 6/27-29, 2016, Introduction to POGIL, POGIL Facilitation, Developing Effective Models
Storytelling: The Case Study Method, Cassola Conference on Teaching Communication, April 7, 2006, Johnson and Wales University, Providence, RI
Alpha-carotene, Beta-carotene and Canthaxanthin Slow the Growth of Small Cell Lung Cancer Cells in Culture, New York Academy of Science symposium
Caroteniods in Human Health, San Diego, California, February 1993
Moderate Exercise Prevents Weight Gain Caused by a High Fat Diet, Federation of American Societies for Experimental Biology, Washington D.C., April 1990