---
Ronald Pehoski
Senior Instructor
JWU Faculty Since 2005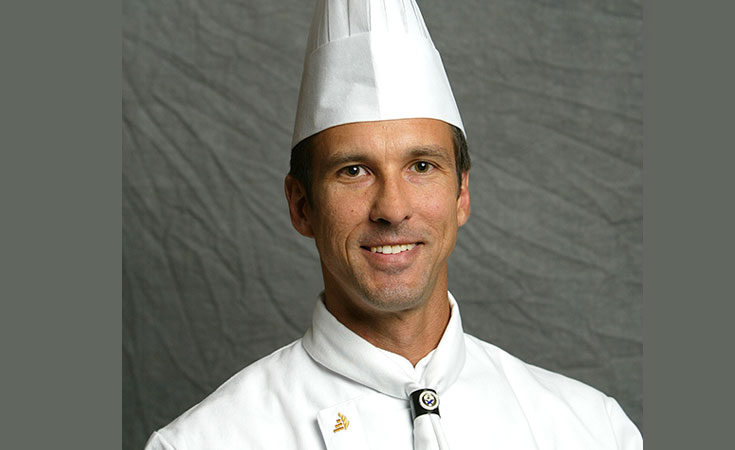 About Ronald
Pehoski worked in restaurants throughout his high school years and his adventurous side kicked in, so he moved to California to attend the California Culinary Academy. There he discovered his love for Pastry Arts. After graduating, he traveled the country working in big luxury hotels. He has worked as the Executive Pastry Chef at the historic Brown Palace Hotel in downtown Denver, Colo. and at the Scanticon Hotel and Resort in Englewood, Colo. He also spent 6 years working in Hawaii at world class properties such as the Intercontinental Hotel Maui, the Four Seasons Resort and the Grand Hyatt Wailea Resort and Spa.

After 20 years in the industry, he needed a major change the demanding work schedule of hotels. He found that respite at the New England Culinary Institute in Essex Junction, VT as a Lead Pastry Instructor. For seven years he held that position. He also taught Storeroom Management and Product Identification curriculum while earning his credits to complete his bachelor's degree in General Studies from Johnson State College.

Since moving South and finding his dream job as a Senior Instructor at Johnson & Wales University, he has earned his Master's Degree from University of North Carolina Greensboro and passed the Certified Master Baker Exam from the Retail Bakers of America.
Education
M.A.L.S., University of North Carolina Greensboro
B.S., Johnson State College
C.A.C., California Culinary Academy
""Hope this works! I need more height and drama!" (when creating food art)
"
Scholarly Interests
Sustainability, Art History, Local Foods, Travel, Culture, Landscaping, LGBTQ studies.
Courses
CUL1750 Chocolate, Sugar & Confections
CUL1720 Plated Desserts
Toggle
Extra Curricular Roles
Ace Mentor Advising to First Year College Students
Teaching Pro Start classes
Outcomes Assessment Committee
Faculty Advising Committee