---
Peter Reinhart
Chef on Assignment
JWU Faculty Since 2003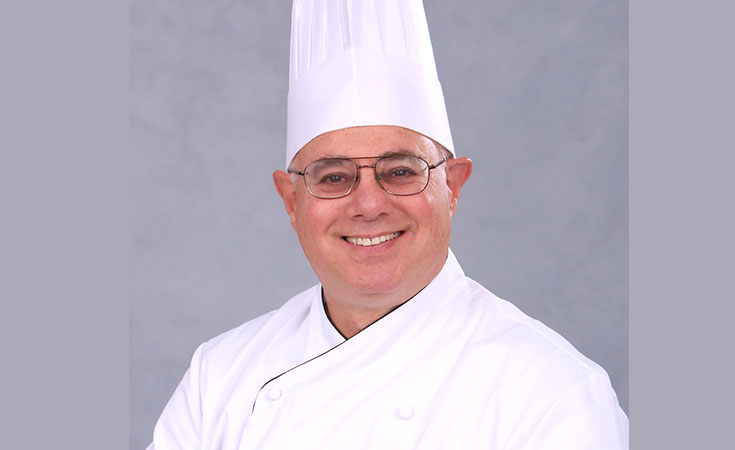 About Peter
Prior to coming to JWU, Reinhart was a full-time instructor at the California Culinary Academy in San Francisco. He also founded and ran the award-winning Brother Juniper's Bakery in Santa Rosa, Calif.

An internationally renowned expert on bread and baking, Reinhart is the author of numerous books, including "Bread Upon the Waters: A Pilgrimage Toward Self Discovery and Spiritual Truth" (Perseus Books, 2000); "Crust and Crumb: Master Formulas for Serious Bread Bakers" (Ten Speed Press, 1998); "Sacramental Magic In a Small Town Cafe: Recipes and Stories from Brother Juniper's Café" (1994); and "Brother Juniper's Bread Book: Slow Rise As Method and Metaphor" (1991, both from Addison Wesley), and "American Pie: My Search for the Perfect Pizza" (Ten Speed Press, 2003). His book, "The Bread Baker's Apprentice" (Ten Speed Press, 2001), won both the James Beard and IACP Cook Book of the Year awards, as well as the International Gourmand Award for Best Baking Book in the World.

Reinhart has spoken extensively on bread as a metaphor in the search for meaningfulness, and on the growing artisan bread renaissance. He is probably the most popular of all artisan bread teachers in the country — his classes regularly sell out.
Education
M.F.A., Queens University
B.S., Ohio University
Courses
ENG3210 Food Media Presentation Skills
ENG1020 English Composition