---
Quientina Stewart
Associate Professor
JWU Faculty Since 2015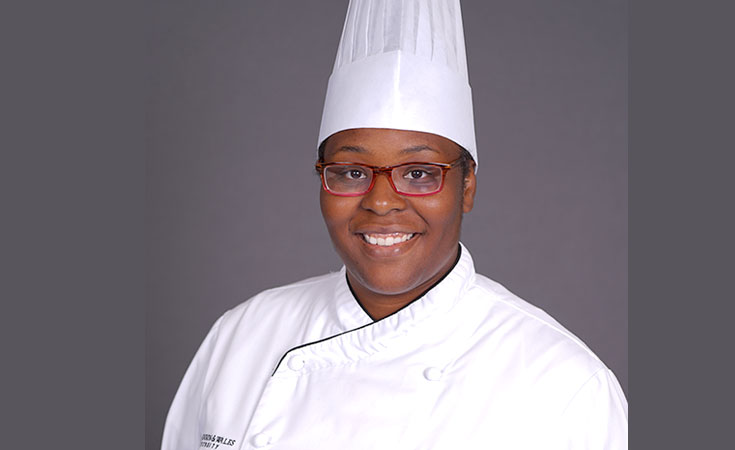 Quientina Stewart joined the faculty at Johnson & Wales University Charlotte in 2015. She possesses over 20 years of Food & Beverage and Hospitality industry experience in both front and back of the house and lodging. Stewart has held positions in private clubs, cruise ships, resorts, fine and casual dining, onsite food service management, and retail food service both on the sweet and savory sides of the kitchen ultimately serving as an Executive Pastry Chef for over 10 yrs.

She has applied her degrees earned at Johnson & Wales University Charleston in Culinary, Pastry Arts and later a B.S. in Food Service Management to navigate her career. Stewart most recently used her Master's Degree in International Hospitality Management to enhance a career in academia and business. She has used her diverse background and skill-set in post-secondary and higher education instruction over the past 8 years.

Stewart has completed various training and application in the area of service leadership. She is a member of the American Culinary Federation with a Certified Executive Pastry Chef credential. She has contributed to the DMV Food Truck Association in Washington DC and is a Founding board member of the Carolinas Mobile Food Coalition, a nonprofit mobile food advocacy group serving the Charlotte Metro Area.
Education
M.S., International Hospitality Management,Stratford University
B.S., Food Service Management, Johnson & Wales University
A.A.S., Baking & Pastry Arts and Culinary Arts, Johnson & Wales University
"One of the greatest pleasures of my life has been that I have never stopped learning about Good Cooking and Good Food.
" Edna Lewis
Courses
BPA1710 Plated Desserts
CULN2230 Designing Healthy Desserts