---
Daphne Thompson
Associate Professor
JWU Faculty Since 2002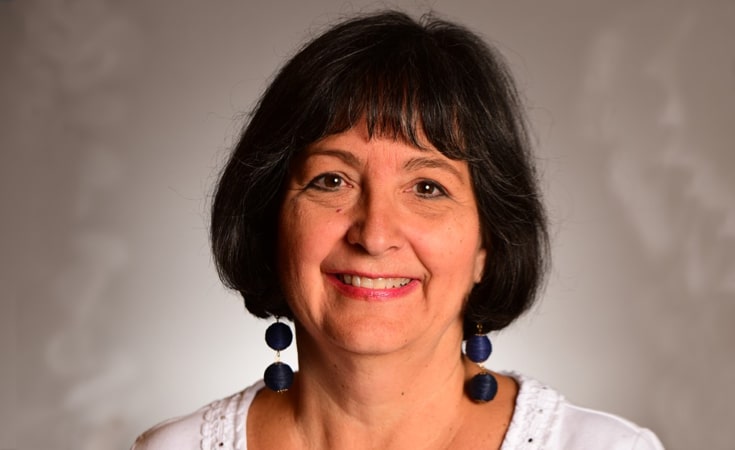 Discovering the etymology of the word sheriff ("shire" plus "reeve") cast a spell over Daphne Thompson at age 15 that has never been broken. However, as an aspiring first-generation college student, she naively failed to comprehend the spell such words as "fixin' to," "mash that button," and other Southern colloquialisms also could have cast over her had it not been for sensitive academic mentors in college who coaxed her along the initial steps on her path to self-actualization.

Through the journey of leaving some of her home language behind, entering the foreign land of academic discourse, tutoring in/directing a writing center and teaching, Thompson has evolved into an educator who is energized by the process of mentoring students in first-year and advanced composition courses and fostering their engagement in the culture of higher education, so they can also experience the life-changing opportunities of a college degree.

Thompson also has a passion for leading students to become aware of the pervasive effect rhetoric has had on them in the past, is having on them in the present and, most importantly, will have on them in the future, especially the impact on first-generation students living in a society colored by rhetoric's reach.

Education
M.A., Clemson University
B.A., University of South Carolina
"Education is the most powerful weapon you can use to change the world." Nelson Mandela
Teaching Interests
My interests lie in teaching students to excavate their personal writing preferences as well as strategies that make writing more efficient and satisfying for them.
Courses
ENG1020 English Composition
ENG1021 Advanced Composition and Communication
Toggle
Professional Affiliations
North Carolina Writer's Network
Charlotte Writers' Club
South Carolina Writers Association
National Council of Teachers of English
Southeastern Writing Center Association