Students Get Career Advice from Industry Experts at Hilton Day
Sep 26, 2017 4:46:46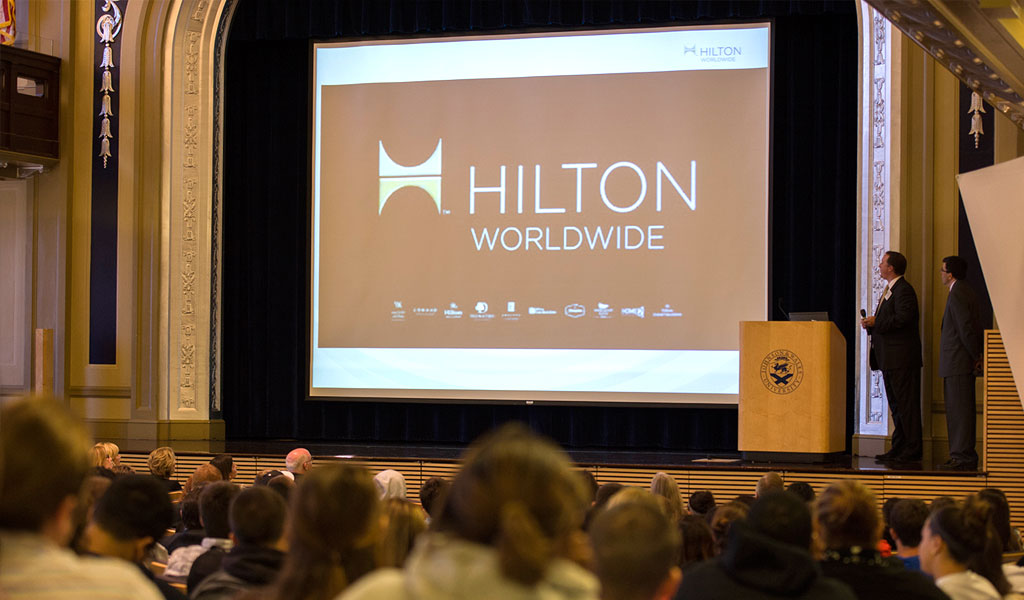 According to Jonathan Wilson '91, vice president of product innovation and brand services for Hilton, "People don't work for companies — they work for other people."
It's a belief that is at the core of Hilton's values — and one conveyed to students and faculty alike during this year's Hilton Day. As part of the annual event, representatives from the premier global hotel company (many of whom are JWU alumni) visited JWU's Providence Campus to meet with students and faculty in the College of Hospitality Management, answer questions about working in the hospitality industry, discuss the Hilton recruitment process, and offer advice to students on starting their careers — even before they graduate.
There's so much cross-over in the industry.
The day began with classroom visits, where Hilton representatives presented to and met with students ranging from first-years to graduating seniors. As Wilson outlined to a senior seminar class, Hilton is at the leading edge of some serious breakthroughs in how the hospitality industry is adapting to changing trends. "When people think Hilton, they don't usually think innovation, but we're changing that. So we're about to open an innovation gallery," Wilson explained. The 5,000-square-foot space next to Hilton's corporate offices will allow the company to develop and showcase their newest ideas, such as a virtual reality space, new restaurant concepts, and updated room and meeting spaces. "We designed the gallery to be interactive. We want people to be able to go there, try out things themselves and give us their insight," said Wilson.
Students also heard from Michael Babb '16, banquet manager for the Providence Biltmore — a Curio Collection by Hilton, who touched upon the possible career paths someone in the hospitality industry can take — using his own career as an example. "I started in a hotel restaurant, and was recruited to work for the hotel itself from there," he said. "I always saw myself staying in a restaurant setting, but something feels right about where I am now." He credits his classes at JWU with preparing him for that transition. "There's so much cross-over in the industry — taking classes in culinary, beverage management, and hotel and lodging help you focus on the smaller details, which helps you take it to the next level once you're out in the 'real world.'" Whether he's planning a wedding for 200, gala for 600 or board meeting for 10, Babb says, "You never know what things are going to look like, so you always need to be prepared.
The best way to get experience is to start now, before you graduate — and as early as your first year.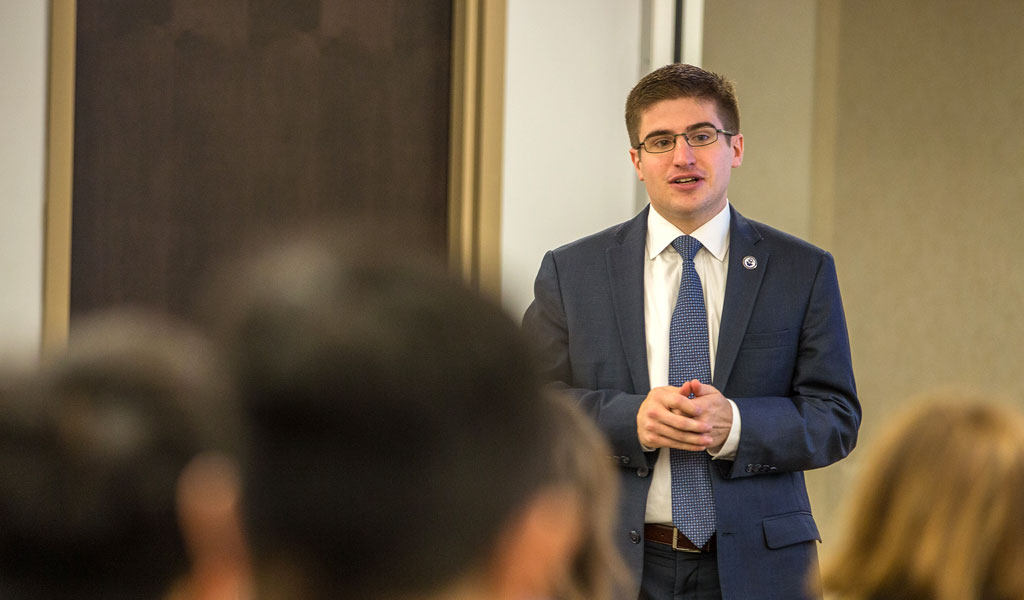 The afternoon's main events included a leadership panel discussion led by Clay Snyder '93, '15 Hon, Hilton's senior director of brand management — full service brands, and a Q&A session between panel experts and students. Experts included Wilson; Jasmyn Franklin, Hilton's campus recruiter; Clayton Golde '16, front office assistant manager at the Hilton Washington; and Shannon Rothermel '17, guest service agent at the Providence Biltmore — a Curio Collection by Hilton.
One of the day's biggest takeaways was getting experience in the industry before graduation — which can help students during their job search after graduation. "[Companies like Hilton] are looking for well-rounded candidates, people who have worked in lots of different departments and parts of the industry," said Franklin. "The best way to get that experience is to start now, before you graduate — and as early as your first year."
Wilson added, "Look for people who will be engaged in your success. Mentors are critical."
Of course, Hilton Day wouldn't be complete without some parting words of wisdom from the day's guests:
"Be extremely open to ideas and don't overthink too much," said Wilson.
"Always keep your connections throughout your career — you never know when you'll need them," advised Babb.
"Choose to work for a company that invests as much in their team members as [their team members] do in the company," said Golde.
"Read beyond your offer letters — what are the travel perks? What is the culture like? Does it align with what's most important to you?" advised Franklin.