---
Sara Jablon-Roberts
Associate Professor
JWU Faculty Since 2016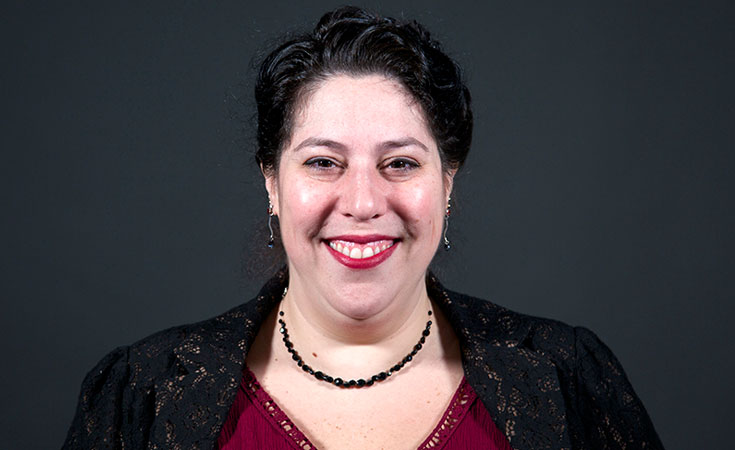 Sara Jablon-Roberts's career in academia began with costume design, primarily for dance and theater. Her costume credits include work with Broadway's "The Lion King," the original off-Broadway production of "Rent," and Ringling Bros. and Barnum & Bailey Circus, among many others.

With an M.F.A. in costume design from New York University, her experience and education in clothing history, textiles, construction and communication led to teaching, which in turn led her to Iowa State University for her Ph.D. in Apparel, Merchandising and Design.

Now Jablon-Roberts's research agenda combines the creative practice of costume design and fashion design with historical dress, social and psychological theories of fashion, and the communicative qualities of appearance.

With these areas as her foundation, Jablon-Roberts is passionate about leading students through the discovery of the many and varied aspects of clothing, from textiles and sustainability to history and forecasting.

Education
Ph.D., Apparel, Merchandising & Design, Iowa State University
M.F.A., Costume Design, New York University
B.A., English, University of Pennsylvania
"I encourage students to explore new and diverse ways of thinking about what we wear and why we wear it."
Courses
RTL 1015: Introduction to Retail and Fashion
RTL 2122: Retail and Fashion Lab
RTL 3075: Textile Design for Apparel and Home Furnishings
RTL 3350: Visual Merchandising
RTL 4050: Strategic Planning in the Fashion Industry
RTL 6010: Concepts and Theories in Fashion and Merchandising
Toggle
Professional Affiliations
American Theatrical Costume Association
Costume Society of America
International Textile and Apparel Association
Popular Culture Association/American Culture Association
United States Institute for Theatre Technology

Toggle
Publications
PRESENTATION: "Costume design: Artifact vs. Invention," United States Institute of Theatre Technology, 2017. Authors: Sara Jablon
PRESENTATION: "Benefits for Both: Connecting Textile and Clothing Collections with Theater & Costume Makers," International Textiles and Apparel Association, 2016. Authors: Sara Jablon and Eulanda Sanders
PRESENTATION: "Innovating with Underutilized Marketing Strategies to Enhance Profitability for Small Retail-related Firms," International Textile and Apparel Association, 2016. Authors: Linda Niehm, Amy Dorie, Sara Jablon, Ann Marie Fiore and Jessica Hurst