Johnson & Wales University (JWU) was founded as a business school in 1914 in Providence, Rhode Island, by Gertrude I. Johnson and Mary T. Wales. From its origins as a school devoted to business education, JWU has grown to a junior college, senior college, and ultimately university status.
JWU was accredited in 1954 by the Accrediting Council for Independent Colleges and Schools (ACICS).
In 1963 the State of Rhode Island granted a charter that authorized the university to operate as a nonprofit, degree-granting institution of higher learning and to award associate degrees in accounting, business administration, court reporting and secretarial sciences.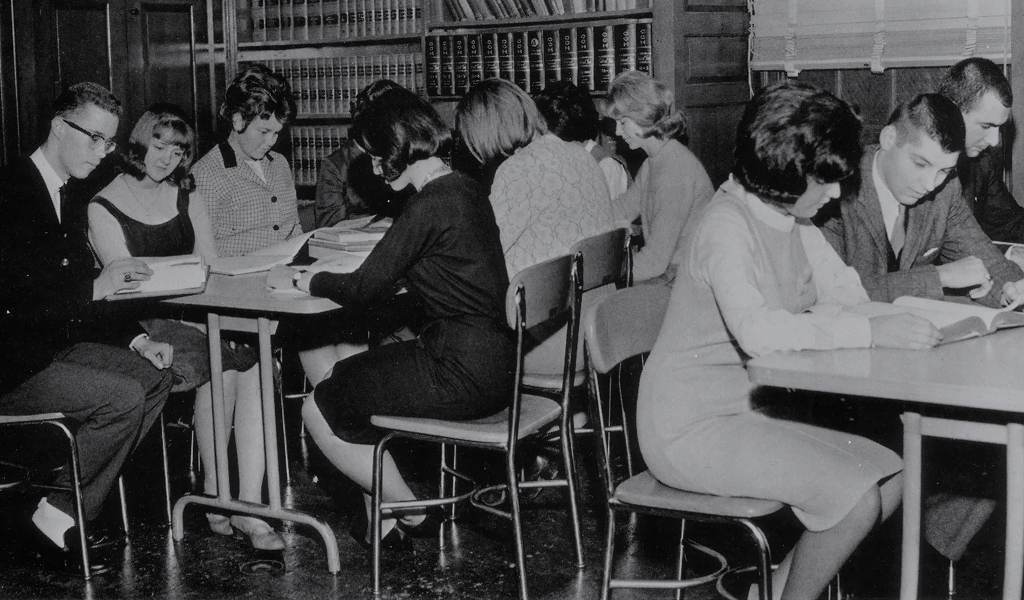 In 1970 the State of Rhode Island approved a revision in the university's charter allowing it to award baccalaureate degrees as well as associate degrees.
In 1972 and 1973 the university announced the addition of new associate degree programs in the fields of hospitality and culinary arts. This led to additional 2- and 4-year degree programs in the hospitality and food service fields.
In 1980 the university was granted a legislative charter to replace its previous charter and became authorized to award advanced degrees.
In 1984, a JWU campus was established in Charleston, South Carolina, which offered a variety of 2- and 4-year programs in food service, hospitality and travel-tourism. A JWU campus opened in Norfolk, Virginia, in 1986, offering 1- and 2-year food service programs.
In 1985 graduate degree programs were introduced at the university, and the university officially changed its name to Johnson & Wales University in 1988.
In 1992 JWU opened a campus in North Miami, Florida. That year also marked the university's formal establishment of the College of Business, The Hospitality College, the College of Culinary Arts and the School of Technology. A new emphasis on general studies was introduced with the development of the School of Arts & Sciences.
The university's School of Technology offered courses in Worcester, Massachusetts, from 1992–2002.
JWU received regional accreditation from the Commission on Institutions of Higher Education of the New England Commission of Higher Education (NECHE) in 1993. In that same year, JWU opened a campus in Vail, Colorado, which offered an accelerated associate degree program in culinary arts to college graduates. The year also marked the beginning of a 4-year bachelor's degree offering in culinary arts.
From 1994–2004 JWU offered programs at the Institute of Higher Marketing (IHM) Business School in Göteborg, Sweden. This joint educational agreement allowed business and hospitality students to complete 1 year of study in Sweden and finish their degrees at 1 of the university's domestic campuses.
The university consolidated its institutional accreditation efforts under NECHE on June 30, 2000.
September 2000 marked the opening of the Denver, Colorado, campus. In 2000, the Vail Campus merged with the Denver Campus.
In 2002, the university made a strategic decision to consolidate its smaller Charleston and Norfolk campuses to build a campus in Charlotte, North Carolina. JWU's Charlotte Campus opened in fall 2004. The Charleston and Norfolk campuses officially closed in May 2006.
Beginning with the 2008–2009 academic year, JWU's College of Business and The Hospitality College eliminated associate degrees and began offering only bachelor of science degrees that allowed students to customize their education. This decision did not impact the College of Culinary Arts and the School of Technology.
In 2009–2010 JWU recruited, admitted and enrolled the entering class for 2 online bachelor's degree programs in food service management.
In fall 2012 the university began offering a degree in counseling psychology, the first bachelor's degree program offered through the John Hazen White School of Arts & Sciences. This was followed in fall 2013 by the addition of 2 more arts and sciences degree programs.
That same year, the university restructured into 3 colleges and 3 schools: the College of Culinary Arts, College of Management, John Hazen White College of Arts & Sciences, School of Engineering & Design, College of Online Education, and Center for Physician Assistant Studies (to be incorporated into the College of Health & Wellness).
In 2017, JWU again restructured their academic colleges and schools into 7 colleges: the College of Arts & Sciences, College of Business, College of Culinary Arts, College of Engineering & Design, College of Health & Wellness, College of Hospitality Management, and College of Online Education.
In June 2020, JWU made the decision to consolidate the university's physical footprint by officially announcing the 2021 closing of the North Miami and Denver campuses.
JWU's physical presence has been transformed many times throughout the university's history. Early on, Misses Johnson and Wales moved their classrooms multiple times in the city of Providence before the school purchased its first building at Abbott Park Place in 1962. As the years progressed, JWU established a presence abroad in Gothenburg, Sweden and in conjunction with the University of St. Martin on the Caribbean island of St. Maarten, and outside of Providence, in Vail, Colorado; Charleston, South Carolina; and Norfolk, Virginia. Every decision to open or close a location was done strategically to strengthen and better position JWU for the future.
This strategic consolidation has enabled the university to focus on actively strengthening and expanding its academic portfolio and delivery models.