Program Overview
FULL TIME FOR 16 MONTHS • COHORT MODEL • FALL 2023 START
Get More Info | Apply | Program Structure | Sample Courses | Prerequisites & Frequently Asked Questions
JWU is excited to announce our new Accelerated Second Degree Bachelor of Science in Nursing (ABSN), an accelerated program designed for individuals who already hold an earned bachelor's degree or higher and wish to pursue nursing as a career and a profession.
Nursing courses will be completed over four sequential, full-time semesters during this 16-month program at JWU's Providence Campus.
The "cohort model" means that the small group you start with (your "cohort") stays together through the duration of the program, forming a close bond and growing as practitioners together.
The university's decades of hospitality and culinary excellence provide the foundation for JWU's patient-centered, empathetic, and holistic approach to healthcare education.
---
Request Program Info
Complete the signup form below to receive program updates and other information about our Nursing program.
Throughout the admissions process, you'll receive personalized support from a dedicated enrollment counselor to guide you and help answer your questions. Filling out this form is also a way to connect with an enrollment counselor and verify your eligibility for the program.
---
Apply to JWU's Nursing Program
Ready to apply? Complete the following:
Complete the online application process through NursingCAS for Fall 2023, along with the application fee.
Request official college transcripts from each attended institution be sent to NursingCAS.
For international applicants: Request official evaluations of transcripts from all foreign institutions be sent to NursingCAS either by using the World Education Services (WES) link in the Academic History section of the application or use the Download Evaluation Request Form in the same section of the application to request an evaluation service other than WES.
---
Unlock Your Passion for Healthcare in a Team-Based Environment
Interprofessional education (IPE) is a cornerstone of JWU's College of Health & Wellness, and it has proven effective for setting students up for success in a team-based, cooperative workplace.
What does this mean for you?
As healthcare becomes more reliant on technology and big data to inform treatment and management modalities, team-based competencies have become crucial for delivering effective, patient-centered care.
JWU Providence's Nursing program will be co-located in the Academic Center, which serves as a hub of interprofessional experiential learning for students across the university's College of Health & Wellness, including those in occupational therapy, dietetics and applied nutrition, exercise and sport science, health science and public health.
As Laura Galligan, Ph.D., dean of the College of Health & Wellness, notes, "We're emphasizing the interdisciplinary and interprofessional connections between programs … so that students can see how the same concept is applied in different areas. We also want to educate our students alongside the colleagues they will ultimately work with once they graduate. This approach will make our students nimbler and stretch them to see things from different perspectives, which enables them to be better clinicians and practitioners."
The program culminates in clinical rotations that provide hands-on experience and exposure to different specialties in healthcare, including pediatrics, obstetrics, mental health and community health, and acute care. From working with healthcare professionals to understanding the complexities of delivering care as a team, it is a great way to apply and hone the skills you have learned as part of your Nursing foundation at JWU.
Emphasizing the interdisciplinary and interprofessional connections between programs will enable our students to be better clinicians and practitioners. DEAN LAURA GALLIGAN, PH.D.
ABSN Program Philosophy
Nursing care and nursing education require competence to meet the needs of a diverse and ever-fluid healthcare and academic environment. These competencies require nurses and educators to continuously expand their underlying knowledge and skill base to allow for the acceptance and awareness of new evidence-based practices and approaches to client care that are diverse and inclusive to all.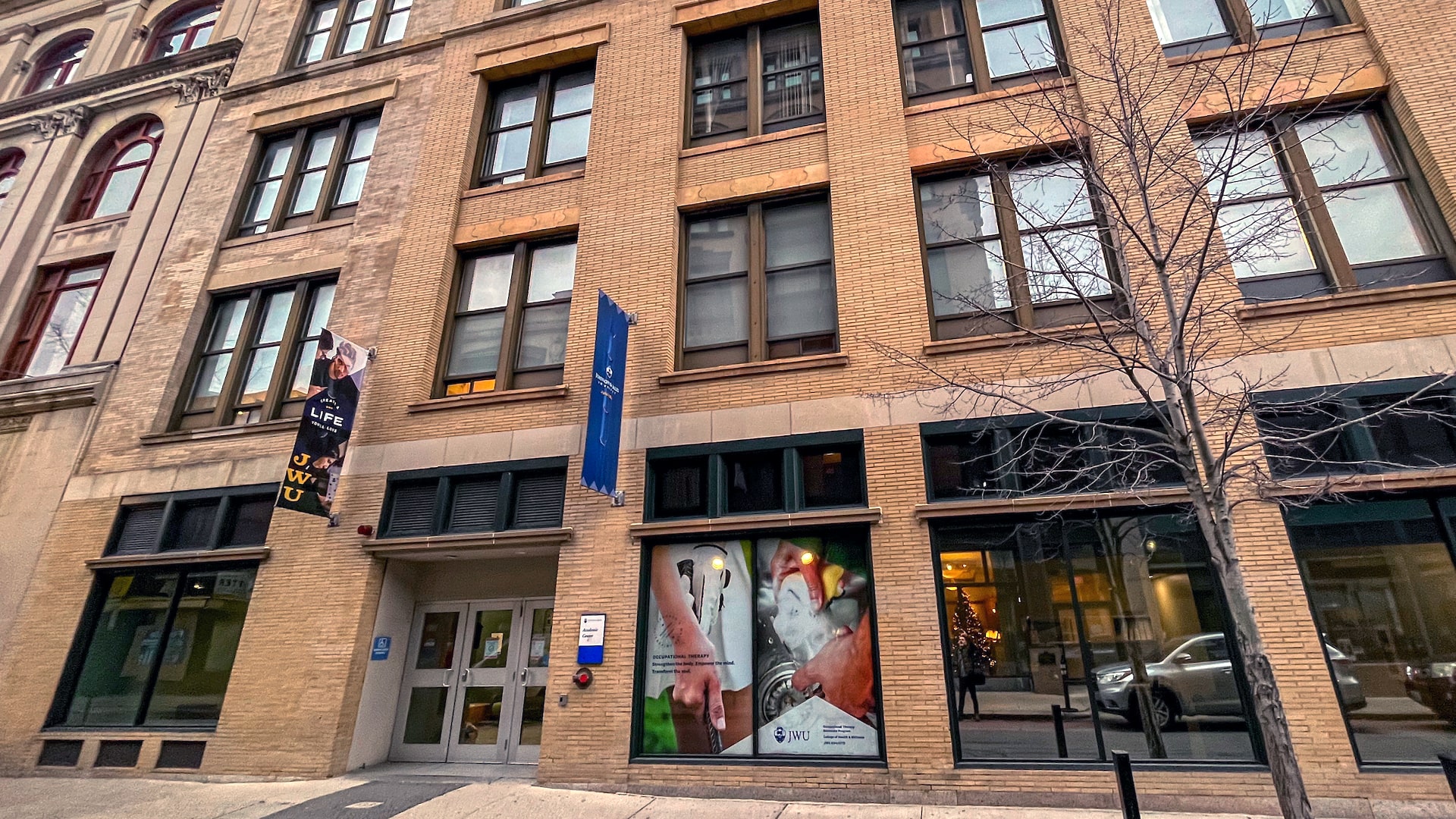 We reach these competencies through opportunities for our students, graduates, and faculty to engage in real-world learning opportunities focused on interprofessional relationships, assisting clients of all health populations, socio-economic/educational levels, and age groups to manage their health status with respect, dignity, and purpose.
ABSN Program Mission
The mission of JWU's Nursing program is to prepare graduates for professional nursing roles in an ever-changing healthcare environment and global community while practicing intellectual curiosity that promotes lifelong learning.
---
Program Structure
JWU's program design is based on the American Association of Colleges of Nursing (AACN)'s 2021 Essentials, which broadly defines the following 10 domains of competence:
• Knowledge for Nursing Practice
• Person-Centered Care
• Population Health
• Scholarship for the Nursing Discipline
• Quality and Safety
• Interprofessional Partnerships
• Systems-Based Practice
• Informatics and Healthcare Technologies
• Professionalism
• Personal, Professional, and Leadership Development
Once completed, graduates of JWU's program will be prepared to take the NCLEX-RN(r), the national licensing exam for registered nurses. (Individual states may require specific licensing or professional certification in addition to earning a degree in order to practice in the field. For more information, visit the JWU Catalog's Licensure & Professional Certification Disclosures.)
Foundations of Nursing Practice
Care of the Adult I

Care of the Adult I Practicum
Mental Health Nursing

Pharmacology
Evidence-Based Practice & Healthcare Informatics
Community/Public Health Nursing
Care of the Adult II Practicum