Join a Legacy of Culinary Excellence
Program Overview
Do you want to become a chef with the foundational knowledge to make nutritious food taste great? Or a nutritionist who knows how to cook? Position yourself on the leading edge of 21st-century food, health and social responsibility through JWU Providence's first-of-its-kind Culinary Nutrition bachelor of science degree program.
Our Culinary Nutrition program features a unique blend of academic and lab-based culinary arts, nutrition and professionally related coursework, which prepares undergraduate students for a growing range of in-demand career opportunities. You could work executing the meal plans and recipes prescribed by a registered dietitian. Devise appropriate wellness education programs for a community, worksite or public health environment. Become a chef for a restaurant, professional sports team, spa, school or healthcare facility, or start your own private chef business — one whose focus is on healthy food, nutrition, and preparation techniques.
JWU Culinary Nutrition Courses 
In this program you will have the opportunity to learn how to prepare all kinds of nutritional recipes. With this knowledge you can learn how to execute meals that adhere to specific dietary needs, making food that is nutritionally sound, attractive and delicious.
You'll learn about culinary fundamentals, applied nutrition, life span nutrition, specialized topics and more in a curriculum focused on improving the way people eat. Then you'll apply your knowledge in a professional internship or summer term abroad during your senior year.
Post Graduation
When you graduate, you'll be ready to create, modify, manage and prepare specialized cuisines in any arena where food and nutrition blend into a healthy lifestyle — making a difference in the lives of many.
Admissions is contingent upon you meeting the technical standards for this program. To learn more, visit the JWU Catalog's technical standards.
Individual states may require specific licensing or professional certification in addition to earning a degree in order to practice in the field. For more information, browse the Catalog's Licensure & Professional Certification Disclosures.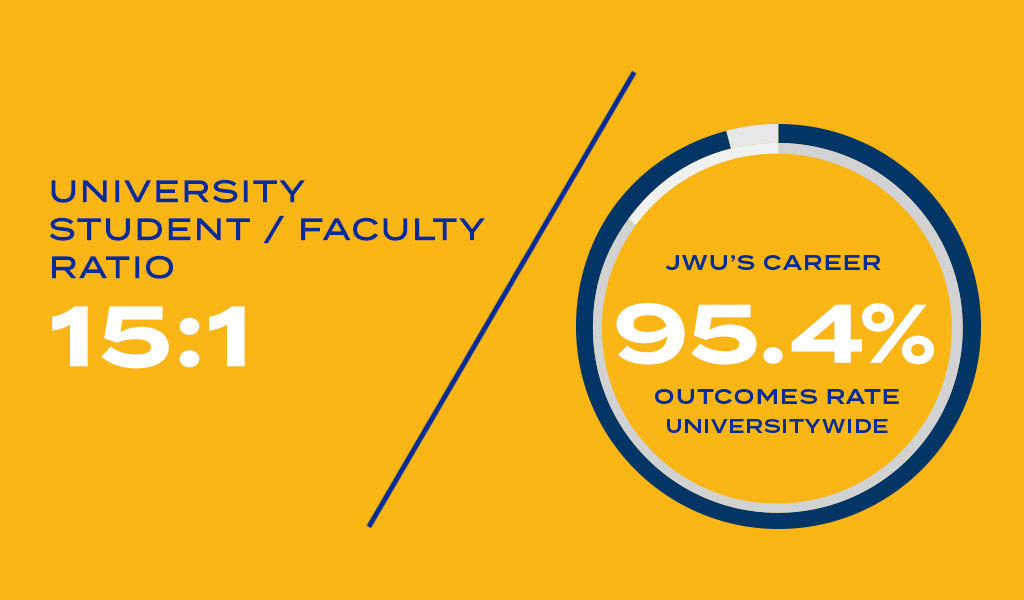 ---
Choose Your Track: Culinary Arts or Baking & Pastry Foundation
Your first year will be defined by core baking & pastry or culinary courses that make up a common foundation.
Baking & Pastry Arts: These 18 credits include courses in essential techniques, plating design, cake production, artisanal bread, chocolate/confections, and more.
Culinary Arts: These 18 credits include courses in culinary skills and techniques, leadership in the kitchen, and other essential skills.
Toggle

Baking & Pastry Foundation
BPA1701: Foundations of Baking and Pastry
BPA1710: Principles of Cake Production and Design
BPA1720: Plated Desserts
BPA1730: Artisan Bread & Viennoiserie I
BPA1740: Artisan Bread & Viennoiserie II
BPA1750: Chocolate, Confections & Mignardise
Toggle

Culinary Arts Foundation
CUL1100: Introduction to Culinary Skills and Techniques
CUL1210: Breakfast & Lunch Cafe
CUL1320: Elements of a la Minute Cooking
CUL1410: Contemporary Cooking & Leadership Functions
CUL2510: Contemporary Restaurant Operations and Management
CUL2810: Global à la Carte
Why Study Culinary Nutrition at JWU?
Great question! The attention and experience you receive at Johnson & Wales more than prepares you for your future. Unlike larger universities where you can get lost in lecture halls, at JWU your professors will know your name, mentor you along your path, and help you network with industry pros. Not to mention, JWU's Culinary Nutrition program is the first of its kind, so we're certain it's an experience you'll only get with us. To get the full picture, download the Culinary Nutrition infographic for details on all the advantages of earning your bachelor of science degree in Culinary Nutrition here.
Download Culinary Nutrition Infographic (PDF)
---
---
Sample Culinary Nutrition Courses
Advanced Food Safety, HACCP & Special Processes
Applied Culinary Nutrition
Athletic Performance Cuisine
Designing Healthy Desserts*
Artisan Cafe*
Food Science
Lifespan Nutrition
Community Nutrition
Therapeutic Cuisine
Vegetarian Cuisine
CFIT Advanced Internship
In addition to classes, free elective credit can be applied to a number of options such as Directed Experiential Education (DEE), internship, minor or study abroad. You are encouraged to contact an advisor before scheduling free elective credits.
For a full course listing, visit the JWU Catalog:
* Baking & Pastry Arts students must take BPA2720 Artisan Cafe.