Join a Legacy of Culinary Excellence
Program Overview
Do you ever wonder what makes food taste good? Why changing the way food is cooked can change its flavor? How slight tweaks in a recipe can significantly alter the finished product? Then you're thinking like a research chef — one who should consider JWU Providence's Culinary Science & Product Development bachelor of science degree program.
Our Culinary Science & Product Development program blends the strength of our world-renowned culinary arts programs with the science of food and food production. Discover this unique combination firsthand by designing and developing a food product from concept to optimization.
Program Highlights
With classes in academic and lab environments, you'll focus on the core competencies of culinary arts and baking and pastry arts, then expand into product development and food technology. Explore food regulations and labeling, food safety, food processing and more. Then complete a senior-level product development internship to put your education into practice.
When you graduate, you'll be prepared to develop and create food and beverage products that meet the needs of the consumer. Make your food ideas a reality with employers such as Campbell's, Kraft Heinz Co., Tyson Foods, Dunkin Brands, Land O'Lakes, McCormick, Stonewall Kitchen and a variety of restaurants.
Admissions is contingent upon you meeting the technical standards for this program. Learn more by reviewing the JWU Catalog's technical standards.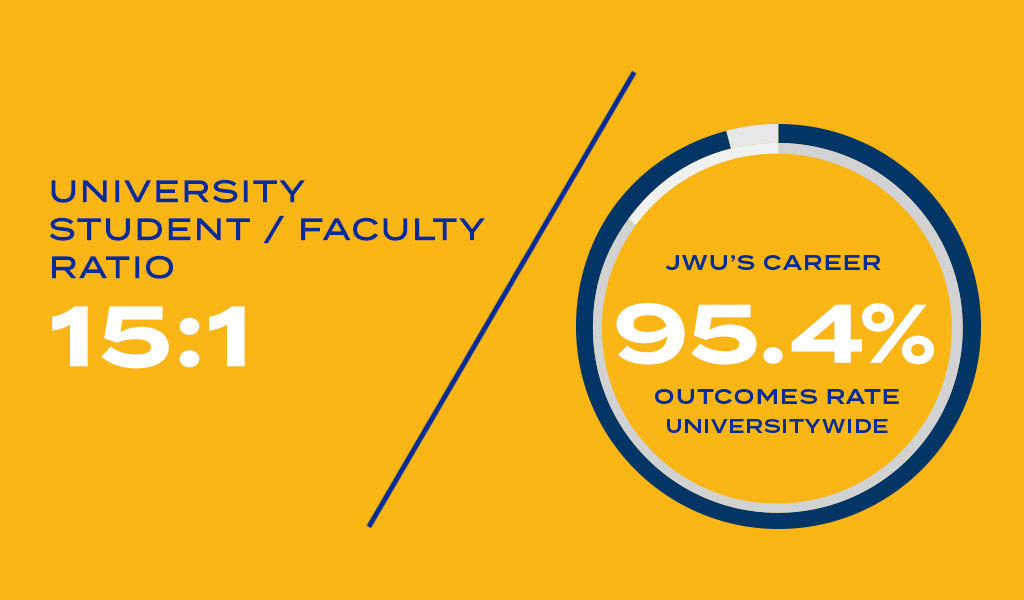 ---
Sample Culinary Science Courses
Foundations in Chemistry
Food Ingredient Technology
Food Product Design & Development
Food Processing
Food Science
Food Ingredient Technology
Food & Beverage Cost Control
CFIT Advanced Internship*
In addition to classes, free elective credit can be applied to a number of options such as Directed Experiential Education (DEE), internship, minor or study abroad. You are encouraged to contact an advisor before scheduling free elective credits.
For a full course listing, visit the JWU Catalog:
Culinary Science & Product Development (BS)
*Students in the culinary science program must complete an internship in food science, research and development, or manufacturing.
---
Why Study Culinary Science & Product Development at JWU?
Great question! The attention and experience you receive at Johnson & Wales more than prepares you for your future. Unlike larger universities where you can get lost in lecture halls, at JWU your professors will know your name, mentor you along your path, and work alongside you in state-of-the-art labs to help you fully understand the science behind food and how to satisfy food consumers. To get the full picture, download the Culinary Science & Product Development infographic for details on all the advantages of earning your bachelor of science degree at JWU.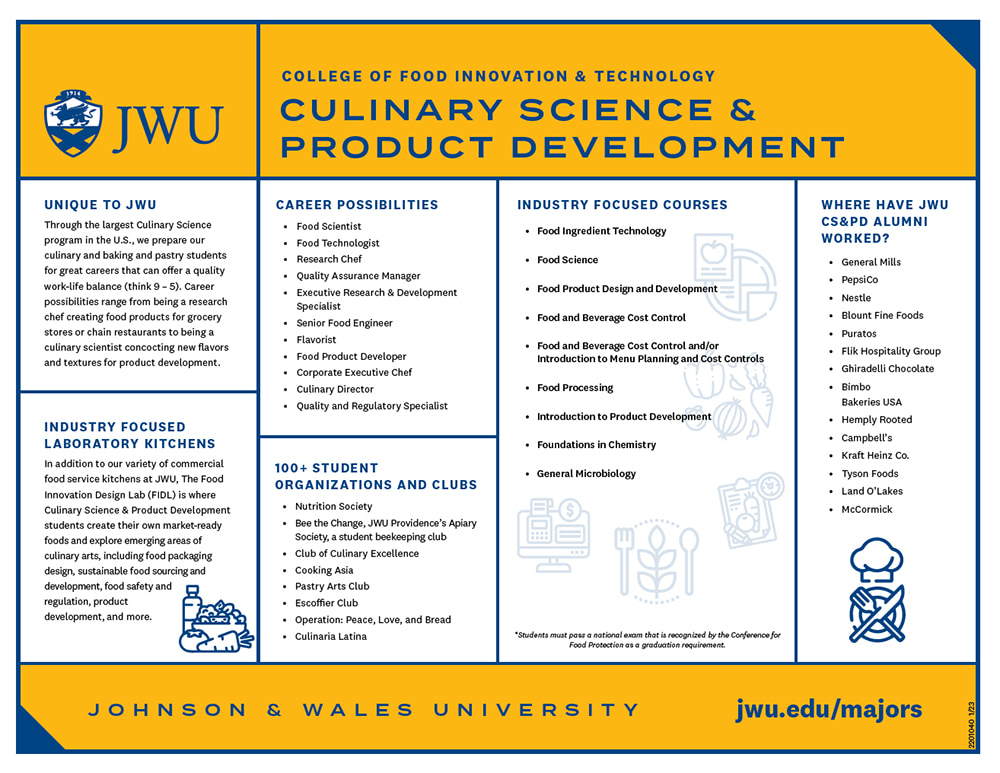 Download Culinary Science & Product Development Infographic (PDF)
---