---
Jackie Bowser
Professor + Dept. Chair
JWU Faculty Since 2017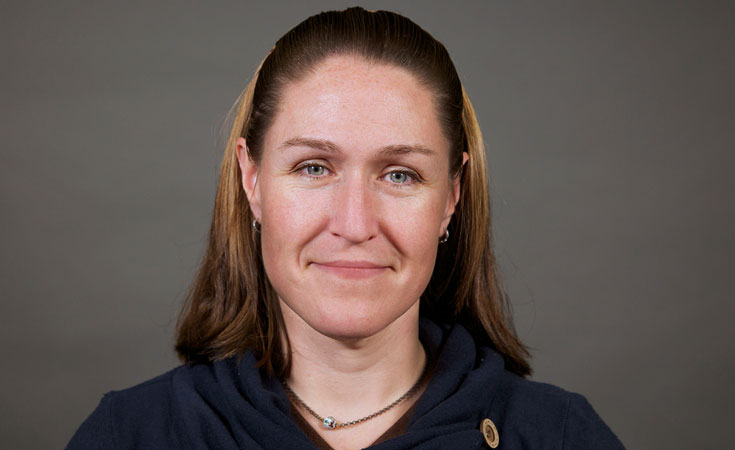 Jackie Bowser, D.V.M., grew up in southern Rhode Island showing horses in both hunter and western performance on the Rhode Island Horseman Association and New England Horsemen Council circuits. She never grew out of her affection for horses and decided to combine her love of horses and passion for science into a career in veterinary medicine.

After graduating from Cornell University, Dr. Bowser received her D.V.M. at St. George's University and Ph.D. in Veterinary Science at Mississippi State University. She is board certified in large animal internal medicine and continues to practice veterinary medicine.

Bowser's research interests include investigations into equine poor performance, pulmonary physiology, airway dynamics and protein expression of horses with equine asthma, often called heaves. She is also interested in the similarities and differences between this condition and similar human diseases.

Bowser is always looking for new ways to incorporate research into the student experience at Johnson & Wales and build on her significant equine research experience as a senior scientist in a translational respiratory research laboratory. She discovered a real enthusiasm for teaching during her residency and spent nearly a decade teaching and mentoring veterinary students in Mississippi.

Bowser returned to her roots in Rhode Island in 2017 to direct JWU's equine programs after practicing veterinary medicine from California to Ireland. She feels privileged to be a part of fostering JWU students toward their equine career goals.
Education
D.V.M., St. George's University CVM, Grenada, West Indies, Veterinary Medicine
Ph.D., Mississippi State University College of Veterinary Medicine, Veterinary Sciences
B.Sc., Cornell University, Animal Sciences
"I feel privileged to be part of an opportunity to foster students on their path toward veterinary school and all things equine."
Courses
EQN 1010: Equine Physiology & Sports Therapy
EQN 1020: Equine Anatomy & Lameness
EQN 2000: Equine Diseases
EQN 2010: Equine Nutrition
EQN 3010: Equine Reproduction & Genetics
Toggle
Professional Affiliations
National Association of Equine Affiliated Academics
Diplomate, American College of Veterinary Internal Medicine
Equine Science Society
Toggle
Publications
Hunter CL, Bowser JE, Wills RW, Byars P, Moore JW, Wilson RM, Byrne R, Swiderski CE. 2020. Airway Hyperresponsiveness Is Severe and Persistent in an Equine Model of Neutrophilic Asthma. American Journal of Respiratory Cell and Molecular Biology. 62(6), 808-810, DOI: 10.1165/rcmb.2019-0049LE. Aboul-Enein HY, Wagdy HA, Bowser JE. 2019. Stability Indicating Assay of Florfenicol using Capillary Zone Electrophoresis in Veterinary Formulation and in Milk. Analytical Chemistry Letters. 9(2), 143-151. DOI:10. 1080/22297928.2019.1595723. Kruk J, Aboul-Enein HY, Kładna A, Bowser JE. 2019. Oxidative stress in biological systems and its relation with pathophysiological functions: the effect of physical activity on cellular redox homeostasis. Free Radical Research. 53(5), 497-521. DOI: 10.1080/10715762.2019.1612059. Mochal-King CA, Bowser JE, Eddy AL, Claude AK, Wenzel CJ, Robbins M, Swiderski CE. 2018. Conservative Management of Hemothorax Following Thoracic Surgery in 3 Horses. Journal of Veterinary Medicine and Research. 5(6), 1142-1146.
Bowser JE, Costa LRR, Rodil AU, Lopp CT, Johnson ME, Wills RW, Swiderski CE. 2018. Effect of a syringe aspiration technique versus a mechanical suction technique and use of N-butylscopolammonium bromide on the quantity and quality of bronchoalveolar lavage fluid samples obtained from horses with the summer pasture endophenotype of equine asthma. American Journal of Veterinary Research. 79, 348-355. DOI: 10.2460/ajvr.79.3.348. Robertson KM, Bowser JE, Bernstein J, Aboul-Enein BH. 2017. Peer-reviewed veterinary journals from Arabic-speaking countries: A systematic review. Annals of Global Health. 83(3-4), 524-9. DOI: 10.1016/j.aogh.2017. 10.010 Aboul-Enein BH, Bernstein J, & Bowser JE. 2017. Peer-reviewed public health journals from Arabic-speaking Countries: An updated snapshot. Journal of Public Health Policy. 38(1), 146-157. DOI:10.1057/s41271-016-0049-5.
Swiderski CE, Hunter CL, Bowser JE, Costa LR, Cooley AJ, Claude A, Eddy AL, Bright LA. 2017. Deciphering the Role of Bronchial Hyper-Responsiveness in Equine Pasture Asthma. Journal of Equine Veterinary Science. 1(52), 29-35.