---
Monique Dawes
Assistant Professor
JWU Faculty Since 2021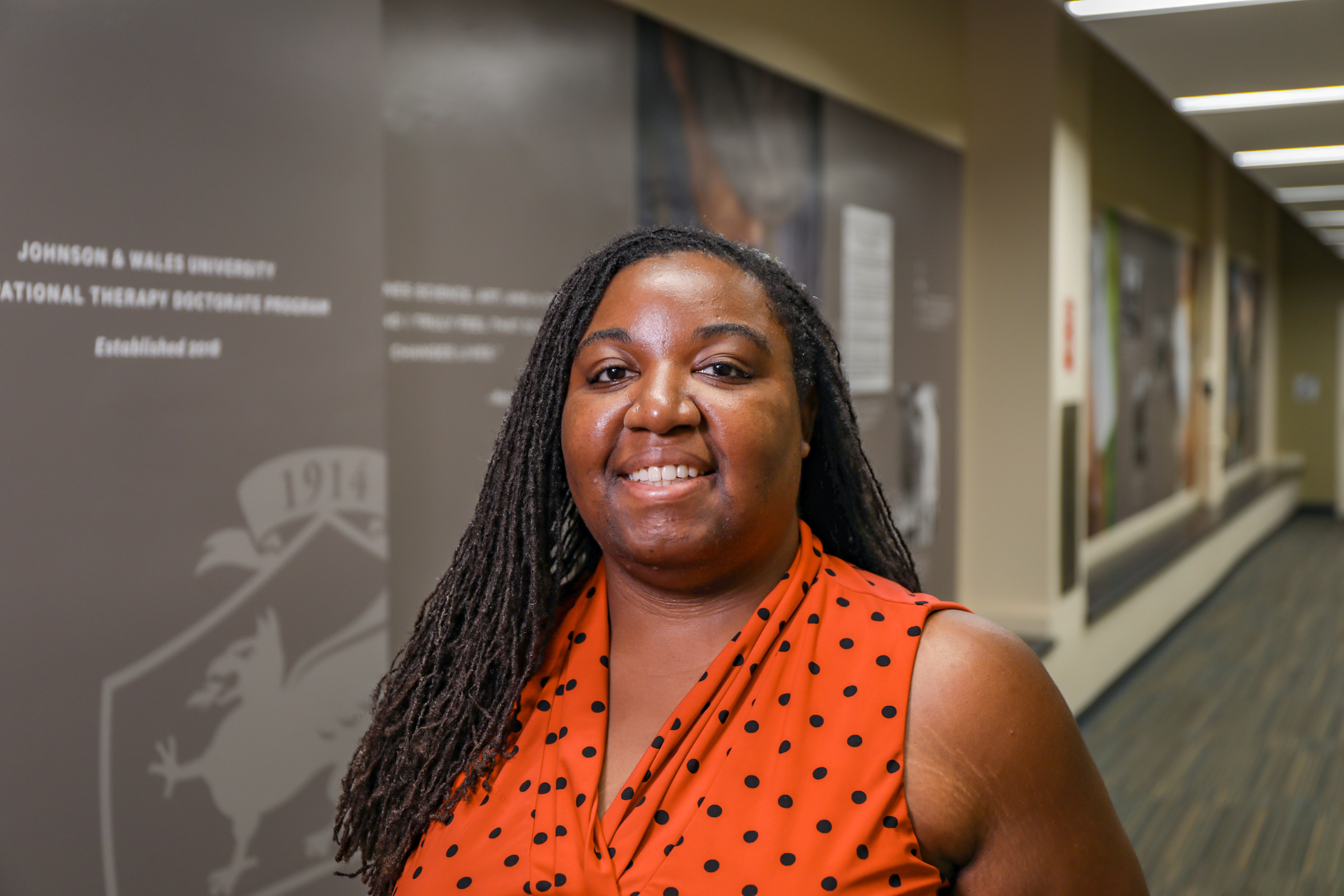 Monique Dawes, OTD, OTR/L, CPAM, has over ten years of occupational therapy clinical experience. She started her career working in acute rehabilitation specializing in spinal cord injury rehabilitation before becoming a travel therapist. As a travel therapist, she has worked in a variety of practice settings including acute care, acute and subacute rehab, home health, outpatient, and community practice. She has experience working with many different adult diagnoses but primarily works with adults who have neurological conditions.

Dawes has been a volunteer for Empower SCI, a community-based rehabilitation program for people with spinal cord injuries since 2011. Every year, she has provided OT services in their 2-week residential program in New York and since 2019 also volunteered for the 1-week Montana residential program. She has filled multiple roles in the non-profit including, director of OT, director of clinical specialists, and program director. In these roles, she has helped with programmatic improvements and development, running weekend clinics for wheelchair skills and maintenance, managing student engagement, fundraising, and starting new major programs.

Throughout her clinical career, Dawes utilized her clinical expertise to educate students through fieldwork preceptorship, mentorship, and guest lectureships at various institutions. Seeing the clinical impact her holistic approach had not only on her clients but also on young clinicians, she transitioned into academia full-time. As of 2021, she joined the JWU faculty to continue her passion for educating the next generation of occupational therapy leaders.

Education
OTD, Boston University
B.S./M.S., Occupational Therapy, Boston University
"Education is the most powerful weapon which you can use to change the world." Nelson Mandela
Teaching Interests
Her interests include holistic education, neurorehabilitation, emerging practice areas, and increasing diversity within the profession.

Scholarly Interests
Dawes has scholarly interests around the topics of diversity, equity, and inclusion within occupational therapy, health equity and community impact, maximizing occupational engagement after spinal cord injury, and neurorehabilitation's impact on occupational engagement.
Courses
OTD9910: Doctoral Capstone Project Advisor
OTD8480: Level 1C Fieldwork Simulation
OTD8450: Occupational Therapy Practice III Lab
OTD8380: Level 1B Fieldwork Simulation
OTD8350: Contemporary Concepts
OTD8345: Occupational Therapy Practice II Lab
Toggle
Extra Curricular Roles
OTD Admissions Committee, member
OTD Professionalism Committee, member
JWU Inclusion Diversity & Equity Action (IDEA) Group, member
JWU Teaching and Research Cohort, member
JWU COTAD Chapter, advisor
JWU Black Student Alliance, advisor
Level I Fieldwork Educator
Empower Spinal Cord Injury Inc, director
The National Coalition of Occupational Therapy Advocates for Diversity (COTAD), member and mentor
Occupational Therapy Leaders and Legacies Society, mentee
Rhode Island Foundation Equity Leadership Initiative, cohort 3 member


Toggle
Professional Affiliations
American Occupational Therapy Association
Massachusetts Association of Occupational Therapy
Rhode Island Occupational Therapy Association
National Black Occupational Therapy Caucus
The National Coalition of Occupational Therapy Advocates for Diversity (COTAD)
The Network
Toggle
Publications
Rosenthal SR, Gately KA, Philippe SG, Baker AB, Dawes MP, & Swanberg JE. Everyday Discrimination and Mental Health Among Sexual and Gender Minority Adults: The Moderating Role of Self-Compassion. Psychology of Sexual Orientation and Gender Diversity. In press.
Rosenthal, S. R., Gately, K. A., Archibald, N., Baker, A. B., Dawes, M. P., & Swanberg, J. E. (2023). Substance misuse among sexual and gender minorities: The role of everyday discrimination and identity. Substance Use & Misuse, 1–9.
Dawes, M. (2020). PromOTing Healthcare Diversity: A diversity initiative for occupational therapy (Publication No. 28095563) [Doctoral dissertation, Boston University]. ProQuest Dissertations Publishing.
Jacobs K, Zhu L, Dawes M, Franco J, Huggins A, Igari C, Ranta B, Umez-Eronini A (2011) Wii health: a preliminary study of the health and wellness benefits of Wii Fit on university students. British Journal of Occupational Therapy, 74(6), 262-268
Dawes, M. (2023, August 9). Shoulder preservation after SCI. [Virtual Lecture Presentation]. Emerson Hospital, Concord, MA.
Dawes, M. (2023, August 8). Cultural humility in school and practice. [Lecture Presentation]. New England Institute of Technology, East Greenwich, RI.
Gately, K., Baker, A., Dawes, M., Swanberg, J., & Rosenthal, S. (2023, April 21). Health equity & occupational justice: Examining the association between disability & health care discrimination among sexual & gender minorities [Poster Presentation]. American Occupational Therapy Association Inspire 2023 Annual Conference, Kansas City, MO.