---
Nancy Dooley
Program Director and Professor
JWU Faculty Since 2019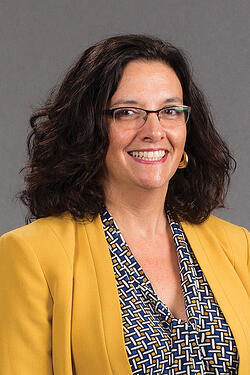 Nancy R. Dooley, Ph.D., OTR/L, CDP, FAOTA, has been an occupational therapist in Rhode Island for more than twenty-five years, working with people who have mental, physical, and cognitive impairments that impact their ability to do the things they need and want to do every day. She has varied clinical experience in hospital and community mental health, including work with families experiencing homelessness and supervision of students in skilled nursing facilities, assisted living settings, and adult day programs. Dooley spent seventeen years teaching and developing the first occupational therapy master's degree program in Rhode Island. She then taught at a state university in Massachusetts before joining the faculty of JWU's new Occupational Therapy Doctorate program.

She earned a bachelor's degree in Occupational Therapy from Quinnipiac College and her master's and doctoral degrees in Occupational Therapy from New York University.

As a leader within the Rhode Island Occupational Therapy Association, she is part of an interdisciplinary group pursuing legislative efforts to improve access to non-pharmaceutical pain interventions for Rhode Islanders.


Education
Ph.D., Occupational Therapy, New York University
M.A., Advanced Occupational Therapy, New York University
B.S., Occupational Therapy, Quinnipiac College
"In my teaching, I love it when students get excited about the power of this profession. Occupational therapy has so much to offer society."
Scholarly Interests
Dooley's research interests are the assessment of functional cognition and maximizing the quality of life for people with dementia and their family caregivers. One notable research project, "Development of the Tile Tray Assessment", is an assessment of functional cognition based on the Allen Diagnostic Module that is reusable and more user-friendly for people with fine motor skill deficits, with M. Brinson (2016).
Courses
OTD8240: Occupational Therapy Practice I
OTD7020: Foundations of Occupational Therapy
Toggle
Professional Affiliations
Rhode Island Occupational Therapy Association
American Occupational Therapy Association
Therapy Missions
Providence Village
National Council of Certified Dementia Practitioners


Toggle
Publications
Concurrent Validity of the Tile Tray Assessment: Functional Cognition and Fine Motor Impairment in Older Adults N Dooley, B Keltz American Journal of Occupational Therapy 74
Cara and MacRae's Psychosocial Occupational Therapy: An Evolving Practice edited by Anne MacRae, 2019, Thorofare, NJ: Slack, 264 pp., $89.95, Hardcover, ISBN 10 1-63091-477-0 … NR Dooley Occupational Therapy in Mental Health 36 (2), 204-205
Valuable occupational therapy fieldwork educator behaviors KJ Koski, RL Simon, NR Dooley Work 44 (3), 307-315
Improving quality of life for persons with Alzheimer's disease and their family caregivers: Brief occupational therapy intervention NR Dooley, J Hinojosa American Journal of Occupational Therapy 58 (5), 561-569
Families and Occupations-Improving Quality of Life for Persons With Alzheimer's Disease and Their Family Caregivers: Brief Occupational Therapy Intervention NR Dooley, J Hinojosa American Journal of Occupational Therapy 58 (5), 561-569
Collaborative learning applied to fieldwork education ES Cohn, NR Dooley, LA Simmons Occupational Therapy in Health Care 15 (1-2), 69-83