---
Amy Felder
Professor and Department Chair
JWU Faculty Since 1998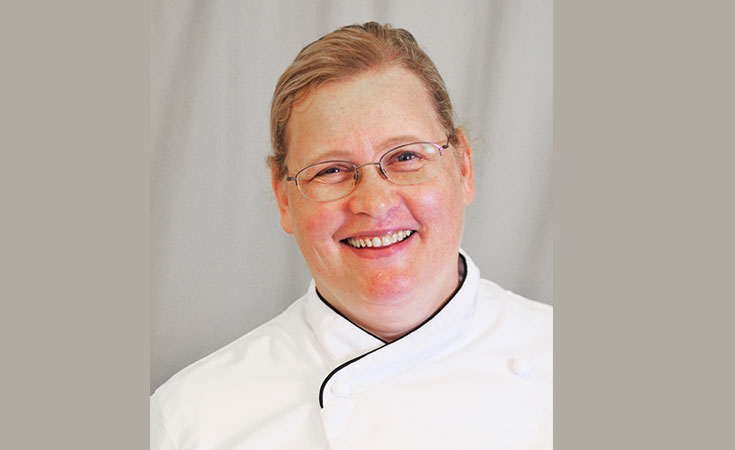 About Amy
After majoring in History in college, Amy Felder began to work in small resorts as a baker. Eventually, small resorts became larger resorts and baking work turned into pastry work. She has been fortunate enough to work throughout the country from the Florida Keys to the Rocky Mountains. She had her own restaurant in Austria for five years and learned that she really missed focusing solely on pastry work.

Felder has taught a variety of courses at Johnson & Wales, including Introduction to Baking and Pastry and Advanced Patisserie for the Culinary Arts program, as well as Classical Pastries, Fundamentals, Pies and Tarts, How Baking Works and Plated Desserts in the Baking & Pastry Arts program. Her love is for plated desserts and she published a book, "Savory Sweets," which details ways in which flavor can be built in plated desserts through the use of savory components. She has spoken at many national conferences about how to analyze flavor and how to develop levels of flavor in plated desserts.

Felder is a Certified Executive Pastry Chef with the American Culinary Federation. She has a Level 3 certification from the Wine and Spirits Education Trust and is a Certified Hospitality Educator. Additionally, she received her master's degree from the University of North Carolina in Greensboro, and her doctorate in education from Northeastern in Boston, Massachusetts.
Education
Ed.D., Northeastern University
M.A. University of North Carolina Greensboro
B.A., Lawrence University
"My love is for plated desserts and I published a book, 'Savory Sweets,' which details ways flavor can be built in plated desserts through the use of savory components."
Courses
DEE3999 Directed Experiential Education