---
Saiyeda Khatun
Professor
JWU Faculty Since 2000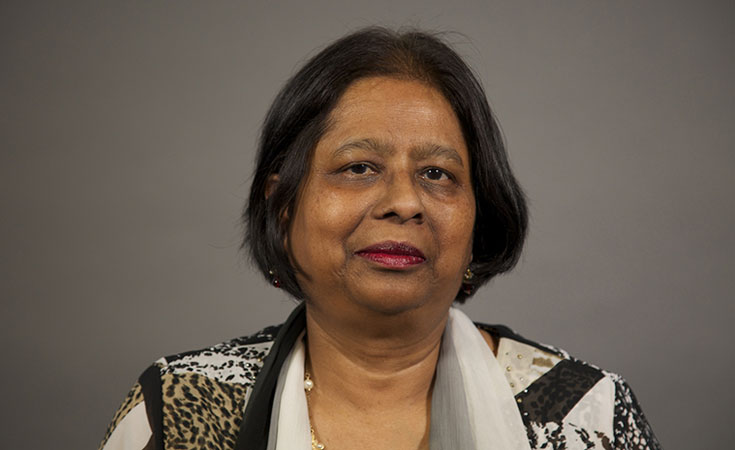 Childhood readings of Rabindranath Tagore's poetry and stories started Saiyeda Khatun's interest in literature. An undergraduate degree from Dhaka University, Bangladesh, provided her with an extensive academic training in British literature from Chaucer to D.H. Lawrence.

The Ph.D. program at the University of Rhode Island (URI) offered Khatun the opportunity to develop a comprehensive understanding and appreciation for postcolonial theory and literature.

Published in MELUS Journal, Genders and South Asian Review, she has presented papers at numerous regional and national conferences throughout her career. Her teaching experience spans from overseas, in Bangladesh and Singapore, to various institutions in New England, such as Rhode Island School of Design, University of Rhode Island and Bryant University.
Education
University of Rhode Island, Ph.D. in English Dissertation title: Postcolonialism and Feminism in Contemporary Bangladeshi Literature
Northeastern University, M.A. in English
"Edward Said: "The more one is able to leave one's cultural home, the more easily is one able to judge it, and the whole world as well, with the spiritual detachment and generosity necessary for true vision. The more easily, too, does one assess oneself and alien cultures with the same combination of intimacy and distance."


"
Teaching Interests
Nostalgia, Memory and Hybrid Identity, Postcolonial Literature, Modern British and American Literature, Women and Literature, Hons. Courses- all levels
Scholarly Interests
Diasporic Literature; Representation and Identity; Multicultural Pedagogy; South Asian Literature; Cultural Studies
Courses
ILS 4070- Nostalgia, Memory and Hybrid Identity
ILS 2010- Modern Identities-20th Century Literature and Beyond
ILS 2015- Honors Seminar: Postcolonial Literature
ENG 1030- Communication Skills
ENG 1024-Honors Composition-Writing in the Academy
ENG 1020- Rhetoric and Composition I
Toggle
Publications
"A Site of Subaltern Articulation (?): The Ecstatic Female Body in Taslima Nasrin's Novels,"Genders 30 (1999): 21 pp.
Toggle
Honors And Awards
Class of1933 Graduate Scholarship for Research Excellence, University of Rhode Island, 1994 Teaching Award
Innovation in the Classroom, Johnson & Wales University, May, 2004.