---
Genny Komar
Assistant Professor
JWU Faculty Since 2016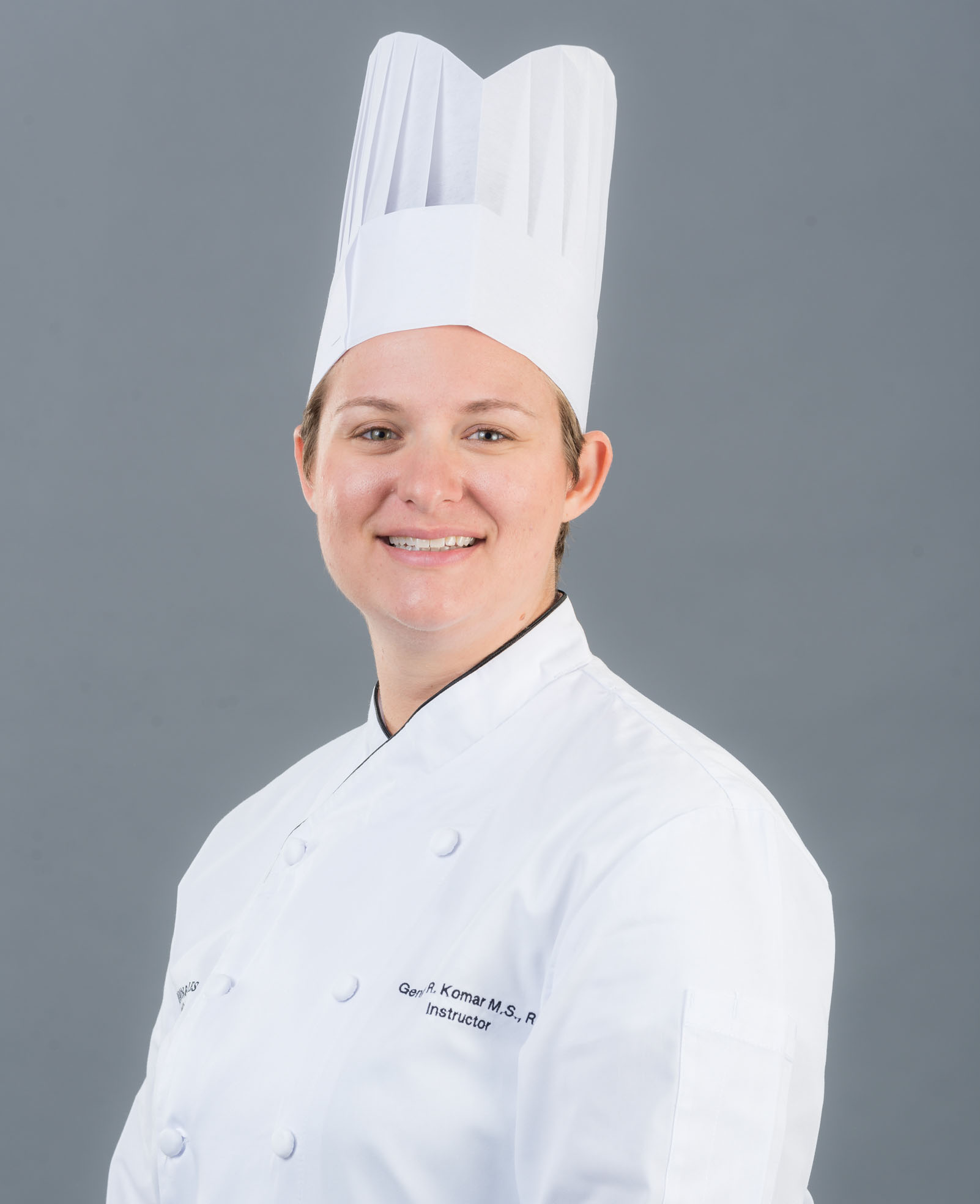 Genny Komar graduated from Johnson & Wales University in Providence, RI with a A.S. in Culinary Arts 2005 and a B.S. in Culinary Nutrition 2009. Upon graduation Genny became a Certified Culinarian through the American Culinary Federation and began her culinary career in Chicago, Illinois. She worked at a Chicago Sun-Times 3-star restaurant. After working for almost 2 years in the highly competitive restaurant scene of Chicago, she decided to further develop and broaden her Culinary Nutrition skills.

In 2011, Komar was accepted into a highly competitive Dietetic Internship with Saint Louis University in St. Louis, Missouri to complete her Registered Dietitian's license, with a focus on Culinary Nutrition. Where she focused on developing and implementing healthy eating and culinary skills into a nutritious lifestyle within the Saint Louis community.

After following an opportunity to obtain her Master's in Food, Nutrition and Culinary Sciences at Clemson University, she had the opportunity to expand her unique Culinary Nutrition skill set at the University of Mississippi. There she worked as the Athletic Performance Executive Chef and Manager of a NCAA Division I athletic training table dining program; providing delicious and healthy food for the many athletes at the university, which helped fuel the athletics department on to many victories.

Education
M.S., Food, Nutrition & Culinary Science, Clemson University
B.S. Culinary Nutrition, Johnson & Wales University
"To be a good cook you have to have a love of the good, a love of hard work, and a love of creating. " Julia Child
Teaching Interests
My teaching interests include the inclusion of basic culinary techniques and the intersection and utilization of these skills within nutrition. Particularly in learning to make healthy lifestyle changes, work with adverse health concerns and to promote a healthier lifestyle.
Scholarly Interests
My scholarly interests include culinary self-efficacy and the utilization of nutrition in health and wellness promotion.
Courses
CULN1010 An Introduction to the Fields of Food, Food Service and Nutrition
CULN2020 Applied Culinary Nutrition
CULN3155 Vegetarian Cuisine
CULN4155 Athletic Performance Cuisine
CULN4165 Therapeutic Cuisine