---
Evelina Lapierre
Professor & Department Chair
JWU Faculty Since 1995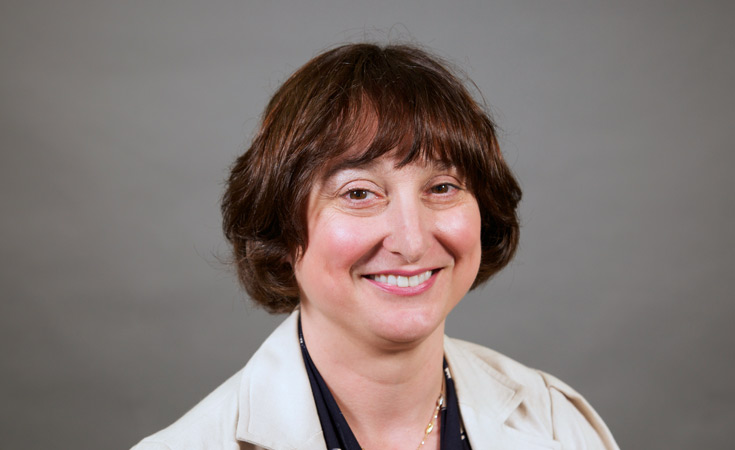 After spending my early childhood migrating to several countries my family finally settled in the US. I grew up in New York City, where I proudly completed my public school compulsory education.

I was attracted to mathematics and philosophy early on because I was always questioning everything. For example: If there was no movement, would time exist? What does it mean to be good? Is the existence of evil necessary? This explains why I doubled majored in Mathematics and Philosophy at Binghamton University. Afterwards, I joined the Peace Corps where I taught Calculus in Benin, West Africa. Unfortunately, my time in the Peace Corps was cut short due to medical problems. I returned to the US and earned a Master's degree in mathematics at the University at Albany.

In 1995, I began teaching mathematics and integrative learning courses at Johnson & Wales University in Providence, Rhode Island. After servicing as chairperson of the A&S Outcomes Assessment committee, I decided to earn a Master's degree in Adult Education specializing in student learning assessment. I then chaired the University Outcomes Assessment committee for multiple years.

From there I switched paths and earned a doctorate in mathematics from the University of Rhode Island. After I published a few articles on difference equations, I developed a faculty led study abroad program in Florence, Italy that examines Leonardo da Vinci.

Presently, I am the chairperson of the mathematics department.





Education
Ph.D., University of Rhode Island
M.A., University of Rhode Island
M.S., State University of New York at Albany
B.S., Binghamton University
"[Math] is like learning a foreign language. Learn the rules and figure out these little puzzles — that's all math problems are.""
Courses
ILS2435 Leonardo da Vinci: Culture, Art and Math
ILS2440 Logic, Reasoning and Nonsense: How to Tell the Difference
MATH1035 Quantitative Analysis I
MATH1040 Calculus I
MATH2040 Calculus II
MATH3040 Calculus III
Toggle
Publications
E. Lapierre and W. Tikjha, "On the Global Behavior of a System of Piecewise Linear Difference Equations", International Journal of Dynamical Systems and Differential Equations, IJDSDE-299501, accepted in 2021.
W. Tikjha and E. Lapierre, "Periodic solutions of a system of piecewise linear difference equations", Kyungpook Mathematics Journal, 60 (2020) no.2, 401-413, doi.org/10.5666/KMJ.2020.60.2.401, MR401413
W. Tikjha and E. Lapierre "On the Periodic Behavior of a System of Piecewise Linear Difference Equations", In: Elaydi S., Hamaya Y., Matsunaga H., Pötzsche C. (eds) Advances in Difference Equations and Discrete Dynamical Systems. ICDEA 2016. Springer Proceedings in Mathematics & Statistics, 212 (2017). Springer, Singapore. doi.org/10.1007/978-981-10-6409-8_18
W. Tikjha, E.G. Lapierre, and T. Sitthiwirattham, "The Stable Equilibrium of a System of Piecewise Linear Difference Equations, Advances in Difference Equations", Springer, 67 (2017), Article ID: 10.1186/s13662-017-1117-2.
Toggle
Honors And Awards
2015 Johnson & Wales Faculty Fellowship Award
2015-2016 College of Arts & Sciences Teacher of the Year