---
Branden Lewis
Professor
JWU Faculty Since 2011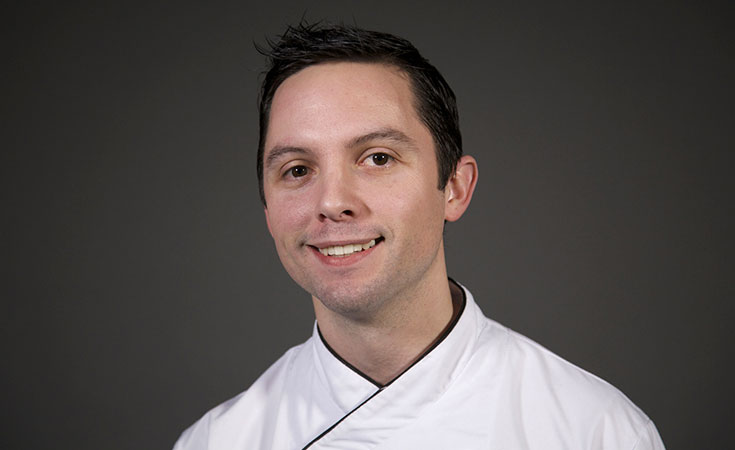 A specialist in international cuisines and sustainable food systems, chef believes sustainability topics should be incorporated into culinary education. Chefs can have a tremendous influence on the food system through sourcing ingredients, cultivating relationships, and advocating for sustainable practices.

Since returning to his alma mater, Lewis has led a team of faculty to develop the school's Sustainable Food Systems bachelor of science degree and Culinary Sustainability minor. Through this curriculum, he helps students explore their food web by employing innovative experiential education methodology.
In 2008, Lewis was named one of Edible Rhody's "Food Heroes" for his work serving immigrant and refugee communities. In 2013, he was showcased in the Rhode Island episode of "Bizarre Foods America with Andrew Zimmern," which focused on local sustainably-caught seafood.

Lewis' interest in sustainable food systems continues to drive his research into Culinary Sustainability Education, where he publishes peer-reviewed works.
Education
Ed.D., Educational Sustainability, University of Wisconsin-Stevens Point
MBA, Business Administration in Organizational Leadership, Johnson & Wales
B.S., Culinary Arts, Johnson & Wales University
"I teach a number of classes in sustainability, where I take students around to local farmers and growers to fishermen to artisan producers. We actually learn where our food comes from and we actually travel our food web.""
Courses
SFS4110 Health & the Harvest
CUL2810 Global a la Carte
SFS3200 Plant-based Cuisine
SFS3001 Sustainability in the Culinary Kitchen
SFS2110 Culinary Science, Nutrition & Sensory Analysis
SFS1001 Introduction to Food Systems
Toggle
Extra Curricular Roles
Teaching in Grad School, EDUC6610 Sustaining a Culinary Arts Program, and
FOOD6030 Food Innovation & Technology Capstone