---
Thomas Meehan
Program Director and Associate Professor
JWU Faculty Since 2021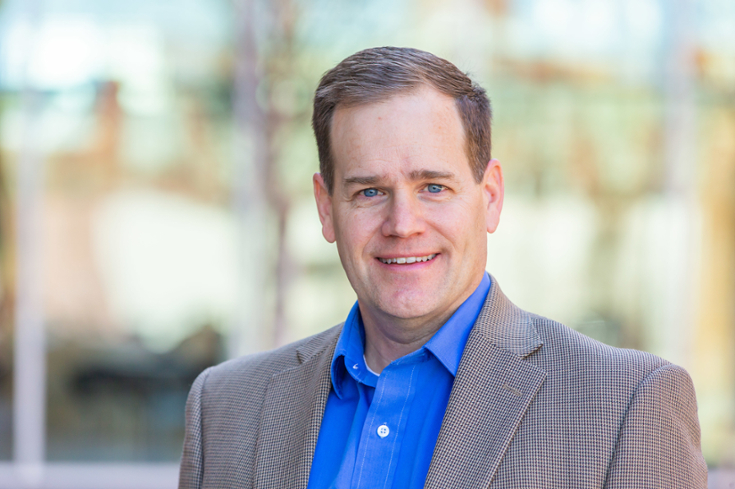 Thomas Meehan, Ph.D., PA-C is a native New Englander, although he grew up in Atlanta. He earned an undergraduate degree and subsequent doctoral degree in Biochemistry from the University of Georgia. He was a Post Doctoral Fellow at Baylor College of Medicine in Houston studying the genetic basis for obesity and infertility. During this time, he decided that his passion was in clinical care. Tom went on to attend the Baylor College of Medicine Physician Assistant program graduating in 2008. He practiced clinically as a physician assistant in orthopedic surgery and emergency medicine.

In 2013, Tom became an inaugural member of the faculty of the JWU Center for Physician Assistant Studies. Although his teaching responsibilities ranged from the basic sciences to clinical medicine, his goal is to include real world clinical examples during each lecture. During the basic science portion, it is important for the students to see the application of the base material as opposed to learning for learning sake.

The next challenge in his career was to be the founding program director for a PA program in Indiana. He successfully developed the program from the ground up through accreditation and graduation of the first PA cohort.

Now, Tom returns to JWU as the program director for the Center for Physician Assistant studies with the goal of bringing the program through accreditation and innovating the program to produce the most qualified PA graduates. Tom is passionate about diversity in healthcare and believes in student-centered education where the needs of the individual student are considered.

When not at work, Tom enjoys watching his two boys play baseball and tennis. He and his wife are avid runners and budding triathletes. The entire family follows a whole-food plant-based vegan diet for overall health and wellness.

Education
Ph.D., Biochemistry and Molecular Biology, University of Georgia
M.S.P.A.S., Baylor College of Medicine
B.S., Biochemistry, University of Georgia
"I believe in student-centered medical education where the needs of the individual student are considered. "
Toggle
Publications
Thomas P. Meehan, Barry G. Harmon, Megan E. Overcast, Kristine K. Yu, Sally A. Camper, David Puett, and Prema Narayan. 2005 Gonadal defects and hormonal alterations in transgenic mice expressing a single chain human chorionic gonadotropin-lutropin receptor complex. Journal of Molecular Endocrinology 34, 489-503.
Amy C. Lossie, Thomas P. Meehan, Andrew Castillo, Lihua Zheng, Keith C. Weiser, Mark A. Strivens, and Monica J. Justice. 2005 Meeting report: 18th International Mouse Genome Conference. Mammalian Genome 16, 471-475.
David Puett, Yongsheng Li, Krassimira Angelova, Geneva DeMars, Thomas P. Meehan, Francesca Fanelli, and Prema Narayan. 2005 Structure-function relationships of the luteinizing hormone receptor. Annals of the New York Academy of Sciences 1061, 41-54.
Erica R. Eichers, Muhammad M. Abd-El-Barr, Richard Paylor, Richard Alan Lewis, Weimin Bi, Xiaodi Lin, Thomas P. Meehan, David W. Stockton, Samuel M. Wu, Elizabeth Lindsay, Monica J. Justice, Philip L. Beales, Nicholas Katsanis, and James R. Lupski. 2006 Phenotypic characterization of Bbs4 null mice reveals age-dependent penetrance and variable expressivity. Human Genetics 120, 211-226.
Thomas P. Meehan, Koichi Tabeta, Xin Du, Lanette S. Woodward, Karen Firozi, Bruce Beutler, and Monica J. Justice. 2006 Point mutations in the melanocortin-4 receptor cause variable obesity in mice. Mammalian Genome 17, 1162-1171.
Thomas P. Meehan and Prema Narayan. 2007 Constitutively active luteinizing hormone receptors: consequences of in vivo expression. Molecular and Cellular Endocrinology 260-262, 294-300.