---
Scott Oberacker
Professor
JWU Faculty Since 2011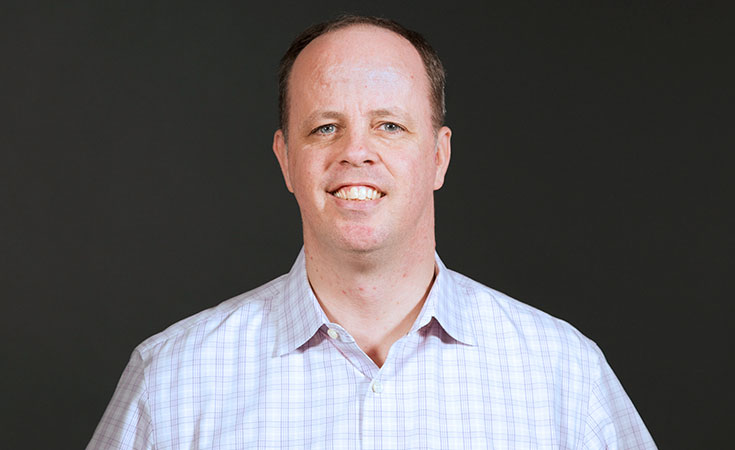 Scott Oberacker is a professor in Johnson & Wales University's College of Arts & Sciences and co-director of the Providence Campus' Media & Communication Studies program.

He received his Ph.D. in Communication from the University of Massachusetts Amherst.

Oberacker's scholarly research revolves around the intersections of popular media, contemporary politics and social identity. His writing has appeared in the journals Television & New Media, Celebrity Studies, Popular Communication: The International Journal of Media and Culture and the Popular Culture Studies Journal, as well as the anthology, "Battleground: The Media."

Since 2010, Oberacker has also served as a programmer, organizer and board member for the Rhode Island International Film Festival.
Education
Ph.D., University of Massachusetts Amherst
M.A., University of Massachusetts Amherst
B.A., Dickinson College
"My scholarly research revolves around the intersections of popular media, contemporary politics and social identity."
Courses
MCST1005 Introduction to Media & Communication Studies
MCST2010 Media Industries
MCST2300 American Film
MCST3050 Media Research Methods
ART2010 Introduction to Film
ART3110 World Cinemas
Toggle
Publications
"'It's My Turn, Babe': Postfeminism and the Dual-Career Marriage on 'Friday Night Lights,'" Popular Culture Studies Journal, 2016. Author: J. Oberacker
"The Reel Deal: Michael Moore, Political Documentary and the Discourse of Celebrity," Celebrity Studies Vol 1, Issue 2, 2010. Author: J. Oberacker
"Commitment Issues: Michael Moore, Political Documentary and Contemporary Film Criticism." Film International. Vol. 18, Issue 4. 2020. Author: J. Scott Oberacker