---
Harry Peemoeller
Senior Instructor
JWU Faculty Since 2000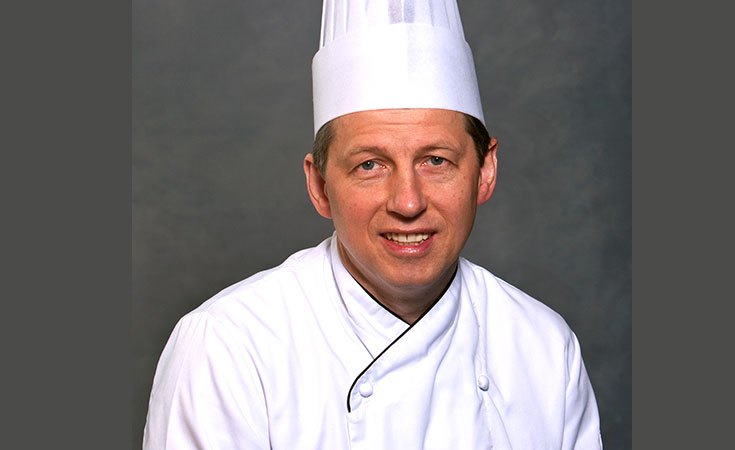 Harry Peemoeller is a senior instructor of Bakery and Bread Studies at Johnson & Wales University in Charlotte, NC. Originally from Hamburg, Germany, he earned his Master Bread Baker's certification in 1982 from the National Baking Academy in Hannover, Germany. Prior to joining the faculty of Johnson & Wales University, Chef Peemoeller worked at various bakery operations in Europe, South America and the United States.

He holds a bachelor's degree in food service management from Johnson & Wales University, Norfolk Campus, a Level 3 Advanced Wine and Spirit Certification from the Wines and Spirit Education Trust, London and is a Certified Food Management Professional by the National Restaurant Association. He has been awarded the Teacher of the Year Award, Special Merit, Professional Development, Alumni and Outstanding Professional Achievement Award and was given a Special Recognition for contributions made over a decade representing by Johnson & Wales University.

Chef Peemoeller won the 2008 National Bread and Pastry Team Championship in Atlantic City before he was selected as the captain of the Bread Baker's Guild Team USA, which went on to win the Gold Medal at the 2010 Coupe Luis Lesaffre, gold at the 2011 SIGEP International Bread Cup in Rimini, Italy, the Silver Medal at the 2012 Coupe du Monde de la Boulangerie, and the Silver Medal at the 2014 Master's de la Boulangerie in Paris, France.

Always the avid competitor, he coached the 2016 Coupe du Monde de la Boulangerie Team USA as well as the 2012, 2015 and 2018 Baking Team USA that competed at the IBA International Bread Cup in Munich, Germany.

In 2018, "bake" magazine recognized Harry Peemoeller as one of America's top 25 Professional Educators and Mentors.

Education
B.S., Johnson & Wales University
Certified Master Baker, National Baking Academic, Hanover, Germany
Certified Jouneyman Bread Baker, Baking Academy, Bad Oldesloe, Germany
""The soul of well-crafted bread is cultivated through a symphony of artistry, grist, and virtuosity.""
Teaching Interests
Teaching students the art and skill of artisan bread baking is not only sharing valuable techniques and information about the journey that a grain of wheat takes from being planted, harvested, milled, and subsequently baked into a wholesome loaf of bread. It is about using the medium of bread, baking and inspiring young scholars to learn about critical thinking, decision making, and to discover the vast universe of creativity. Using bread baking as a metaphor to give students a sheer endless assortment of tools necessary on their road to a successful and fulfilling career.
Scholarly Interests
Chef Peemoeller's scholarly interests are centered on Food Technology, Nutrition, and Product Process Development. Networking with other schools, farmers and milers gives me the opportunity for the discovery of new knowledge and to present these new technologies or methods during national or international events or conventions. Some new ingredient methodologies or process developments are being integrated into course objectives.
Courses
BPA1730 Artisan Bread & iennoiserie I
BPA1740 Artisan Bread & Viennoiserie II