---
Samantha Rosenthal
Associate Professor
JWU Faculty Since 2016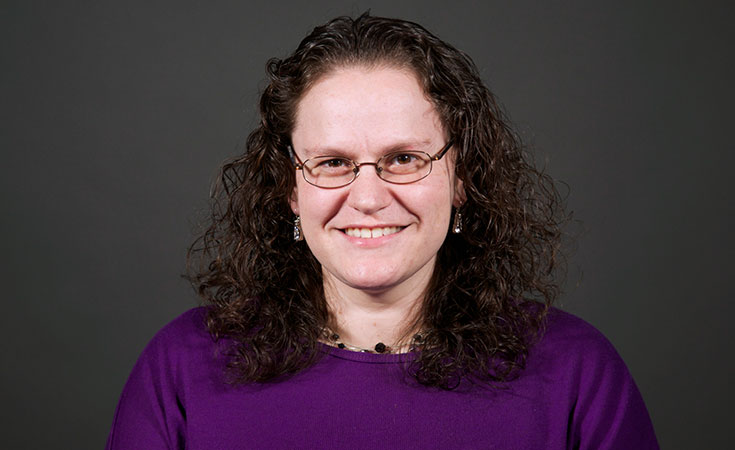 Samantha Rosenthal, Ph.D., worked on pharmaceutical and vaccine development as a chemical engineer, and developing novel medical devices and prostheses as a biomedical engineer. During her Master's of Public Health studies, she received the Global Health Scholarship and Foreign Studies Fellowship from Brown University and traveled to Cape Town, South Africa, to conduct both qualitative research in the local townships and data analysis examining the associations between alcohol misuse and risks for HIV infection (published in AIDS Care). She continued her education to receive a PhD in Epidemiology from Brown School of Public Health in 2014. Her dissertation research focused on the transition to adulthood, particularly the influence of technology and substances in the mental health of young adults.

Rosenthal is currently involved in multiple research topics, including how social media and mobile phone screen time put young adults at risk for depression and substance use, and generally how epidemiology can be used to shape health policy and research and intervene in the progression of disease, particularly primary prevention. She works with the local state departments and legislators, conducting research and teaching on various public health topics ranging from HIV/AIDS, substance abuse, mental illness, injury and violence, emerging infectious disease, and social determinants of health.

Rosenthal also as the Director of the Undergraduate Research Center and the Steering Committee Member for the RI-INBRE research network.

Education
Ph.D., Epidemiology, Brown University
M.P.H., Brown University School of Public Health
B.S., Chemical and Biomedical Engineering, Carnegie Mellon University
"In The Middle Of Every Difficulty Lies Opportunity." Albert Einstein
Teaching Interests
Rosenthal has strong teaching interests related to her primary field of epidemiology, as well as focusing on the social determinants of health, and introducing undergraduates to various health professions and job roles, including research. She also emphasizes cultural competence in health care and addressing systemic racism in her teaching.
Scholarly Interests
Rosenthal received a federal grant from the National Institute of Mental Health in 2021 to conduct a prospective cohort study examining the causal relationship between ways in which college students use their smartphones and depressive symptoms. In addition, Rosenthal is developing a research agenda around health disparities, particularly the impact of trauma and discrimination in the health of racial/ethnic minorities & sexual and gender minorities. More specifically, Rosenthal is highly committed to engaging students, particularly under-represented students, in research opportunities.
Courses
OTD8320: Research III
OTD8220: Research II
HSC2100: Epidemiology
HSC1100: Determinants of Health
HSC1010: Introduction to Health Professions
Toggle
Extra Curricular Roles
Lead Epidemiologist, Rhode Island State Epidemiology & Outcomes Workgroup
Member, RI Department of Health Violence and Injury Prevention Program
Member, Rhodes Island Evidence-Based Practice Workgroup

Toggle
Publications
Noel J, Lakhan H, Sammartino C, Rosenthal SR. Depressive and Anxiety Symptoms in First Generation College Students. Journal of American College Health. Accepted.
Rosenthal SR, Zhou J, Booth ST. (2021). Association between Mobile Phone Screen Time and Depressive Symptoms among College Students: A Threshold Effect. Human Behavior and Emerging Technologies, 1-9. DOI: 10.1002/hbe2.256
Li Y, Rosenthal SR. (2020). Food Insecurity and Obesity among US Young Adults: The Moderating Role of Biological Sex and the Mediating Role of Diet Healthfulness. Public Health Nutrition, 1-8. DOI: 10.1017/S1368980020004577.
Leach N, Rosenthal SR. 2020. The Health and Socioeconomic Outcomes of Abortion Denial in Rhode Island: A Health Impact Assessment. Rhode Island Medical Journal (2013). 103(5):73-76. PMID: 32481788.
Schneider R, Carlson L, Rosenthal SR. 2020. Mapping the Opioid Epidemic in Rhode Island: Where are We Missing Resources? Rhode Island Medical Journal (2013). 103(1):46-50. PMID: 32013306.
Noel JK, Sammartino CJ, Rosenthal SR. 2020. Exposure to Digital Alcohol Marketing and Alcohol Use: A Systematic Review. Journal of Studies on Alcohol and Drugs; Sup 19(Suppl 19):57-67. DOI:10.15288/jsads.2020.s19.57.