---
Prof. Kenneth Schneyer .
Professor
JWU Faculty Since 1999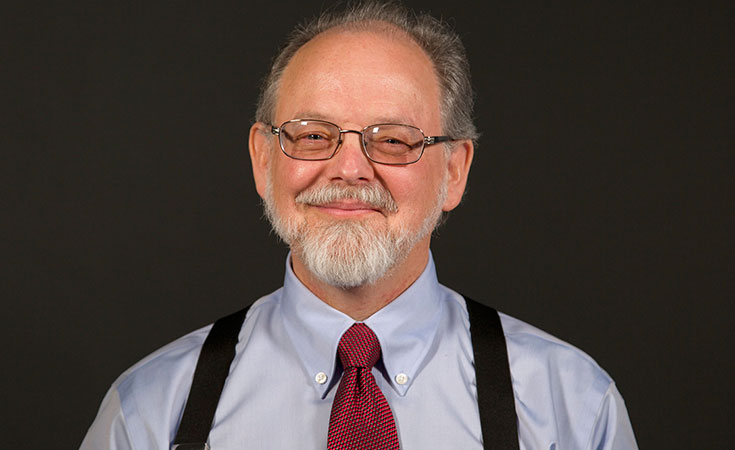 Kenneth Schneyer is a Nebula-nominated author of science fiction and fantasy stories, an attorney, a project manager, an actor/director, and a scholar of both employment discrimination and the constitutive rhetoric of legal texts. His second short-story collection, "Anthems Outside Time and Other Strange Voices," was published in 2020. In 2009, Schneyer attended the Clarion Writers Workshop, where he was taught by such influential writers as Holly Black, Robert Crais and Kim Stanley Robinson.

Schneyer served as clerk for Judge William R. Beasley of the Michigan Court of Appeals and practiced both transactional law and litigation with the Boston corporate law firm of Bingham, Dana & Gould.

While at Johnson & Wales, he served as practicum director and assistant dean of the School of Technology (now the College of Engineering & Design); as chair of the Cultural Life Series hosted by the College of Arts & Sciences; and on both the Faculty Council and the University Curriculum Committee.

Schneyer is interested in astronomy, feminist theory, formal logic, presidential history, bicycling, weight training and practically everything else. Born in Detroit, he now lives in the East Bay of Rhode Island with a singer and two things with fangs.
Education
J.D., University of Michigan Law School
B.A., Wesleyan University
"I have my feet in two different worlds: On the one hand I'm teaching business law courses. On the other I'm teaching science fiction and literature."
Courses
ILS2440: Logic, Reasoning & Nonsense: How to Tell the Difference
ILS4125: Honors Seminar: Shakespeare: Studies in the Politics of Performance
LAW3015: Criminal Procedure
LIT3001: Studies in Drama
LIT4010: Science Fiction
PSCI2150: American Constitutional Law
Toggle
Professional Affiliations
American Bar Association, 1987-present
Academy of Legal Studies in Business, 1991-present (Book Review Editor, American Business Law Journal, 1998-2000)
Science Fiction & Fantasy Writers of America, 2010-present
Cambridge Science Fiction Workshop, 2010-present