---
Donald Schoffstall
Professor
JWU Faculty Since 2012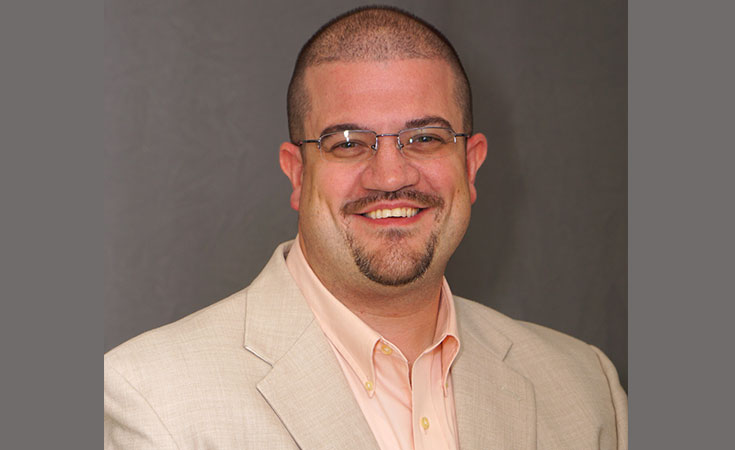 Donald Schoffstall teaches food and beverage management and general hospitality management courses on the JWU Charlotte Campus and graduate courses in management, human resources, and research online. He previously taught at the LCB Institute of Culinary Arts in Pittsburgh and online for East Carolina University. He earned his Ph.D. in hospitality management from Iowa State University focusing on hospitality education and hospitality human resource issues. He previously earned an education specialist degree from Liberty University and a master's degree in instructional leadership from Robert Morris University. Additionally, he earned a bachelor's degree in culinary nutrition and an associate's degree in culinary arts from Johnson & Wales University in Providence.

He has a diverse background throughout the hospitality industry working in both front and back of the house positions in various locally owned and nationally owned chain restaurants and other establishments over the span of 13 years. His expertise and research interests include hospitality education, food service management and operational issues and HRM.

Education
Ph.D., Hospitality Management, Iowa State University
Ed.S., Education, Liberty University
M.S., Instructional Leadership, Robert Morris University
B.S., Culinary Nutrition, Johnson & Wales University
A.A.S., Culinary Arts, Johnson & Wales University
"It is your passion and hard work that will carry you forward regardless of what life may throw at you."
Teaching Interests
Undergraduate and graduate courses in food and beverage management, restaurant and operations management, research and methodology, human resources management, and leadership and operational effectiveness.
Scholarly Interests
Hospitality education
Diversity, equity and inclusion
Food and beverage management and education
Restaurant operations
Courses
FSM4061 Advanced Food Service Operations Management
FSM4160 Food & Beverage Strategies and Logistics
FSM3001 Foodservice Management Systems & Human Resource Applications
Toggle
Extra Curricular Roles
JWU-related:
University Outcomes Assessment Committee
College of Hospitality Management (COHM) Outcome Assessment Committee
COHM Curriculum Committee

Outside-organizations:
International Council of Hotel, Restaurant, and Institutional Education, director of education elected July '21-'23
International Council of Hotel, Restaurant, and Institutional Education, chair of annual conference submission review committee, appointed 2016-present

Toggle
Professional Affiliations
Affiliations:
International Council of Hotel, Restaurant, and Institutional Education
International Society of Travel and Tourism Educators
Society of Wine Educators
United States Bartenders Guild
Association for Career and Technical Education
American Culinary Federation

Certifications:
Certified Specialist of Spirits (CSS), Society of Wine Educators
Certified Specialist of Wine (CSW), Society of Wine Educators
Foodservice Management Professional (FMP), National Restaurant Association
Certified Hospitality Educator (CHE), American Hotel & Lodging Association
Certified Sous Chef (CSC), American Culinary Federation

Other:
Diversity, Equity, and Inclusion in the Workplace Certificate, Muma College of
Business, University of South Florida
WSET Level 3 Award in Spirits
WSET Level 3 Award in Wine
WSET Certified Educator
Toggle
Publications
Smith, R. A., & Schoffstall, D. G. (2020). Employment impact on hospitality and tourism students' academic journey: the HBCU students' perspective. Accepted and currently published online by the Journal of Teaching in Travel & Tourism, doi:10.1080/15313220.2019.1706696
Williams, J. A., Bejamin, S. A., Kitterlin, M., Brown, E. A., Schoffstall, D. G., & Zaman, M. M. (2019). Hospitality faculty mentoring program for assistant professors. Journal of Hospitality & Tourism Education 31(2), 111-118. doi:10.1080/10963758.2018.1486198
Nissle, T. A., Sach, E. O., & Schoffstall, D. G. (2019). When a food quality issue goes viral: The case of stop bugging me with the broccoli. Journal of Hospitality & Tourism Cases, 7(3), 47-57. *Graduate faculty member and research mentor
Schoffstall, D. G., & Brown, E. A. (2018). The reality and background of new hospitality students. Journal of Teaching in Travel & Tourism, 18(4), 284-296. doi: 10.1080/15313220.2018.1478359
Deale, C. S., Schoffstall, D. G., & Lee, J. (2018). Faculty members' and graduate students' perceptions of ethical issues in hospitality and tourism research and education. Journal of Hospitality & Tourism Education, 30(4), 203-214. doi:10.1080/10963758.2018.1480378