---
Nery Villanueva
Associate Professor
JWU Faculty Since 2015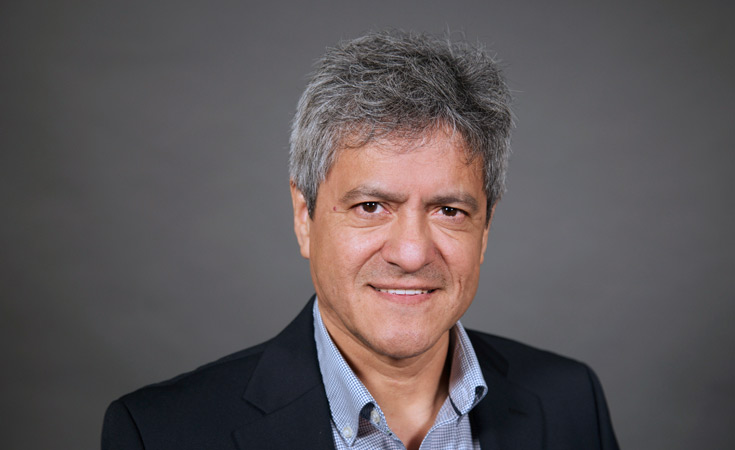 Dr. Villanueva's areas of expertise include Spanish peninsular literature, film studies, romance linguistics and performance studies. He graduated from Columbia University (Ph.D., 1998; M.Phil.,1997); Teachers College/Columbia University (M.A., 1993), and California State University, Northridge (B.A., 1992). During the past 16 years, he has taught a wide range of courses in contemporary Spanish literature, Spanish and Latin American cinema, and introduction to film.

Before joining Johnson & Wales in 2015, Dr. Villanueva taught at different universities across the United States, among them Brown University. Besides his academic preparation, he worked for Universal Studios in Hollywood (summer 1989-summer 1992) as an entertainer.

While at Universal Studios, he learned the whole process of filmmaking — experience that he applies in his film courses.

Dr. Villanueva also has extensive international travel experience presenting papers as well as organizing panel discussions on Spanish literature and film at various international conferences. This professional engaging is part of his research in both fields.

Dr. Villanueva's scholarly dedication springs from his conviction that professors must demonstrate the same commitment they expect of their students — critical-thinking skills, writing ability, outstanding research and dedication to life-long learning.
Education
Ph.D., Columbia University
M.A., Teachers College / Columbia University
B.A., California State University, Northridge
"While working at Universal Studios, I learned the whole process of filmmaking — experience that I apply in my film courses"
Scholarly Interests
Spanish Language and Literature
Filmmaking

Toggle
Publications
Grandes novelas españolas contemporáneas y su versión cinematográfica. Madrid: Editorial Pliegos, 2001.
"Caballeriza: novela in fieri." Espéculo. Revista de estudios literarios. No. 48, Universidad Complutense de Madrid. Madrid, Spain: July, 2011.
"La búsqueda de la autodeterminación y El silencio de Neto." El silencio de Neto: Guión y artículos afines. Luis Argueta. Guatemala: Editorial Universitaria, Universidad de San Carlos de Guatemala, July 2005.
• 52nd Annual Convention (Virtual), Northeast Modern Language Association (NeMLA), March 10—14, 2021 (author and presenter): "Ardiente poesía: Il Postino."
• 50th Annual Convention, Northeast Modern Languages Association (NeMLA). Local Host Institution: Georgetown University, Washington, DC, March 21-24, 2019 (author and presenter): "Il Postino: cine y poesía."
• Congreso internacional "Cine, TV y cultura popular en los 90: España-Latinoamérica." V Encuentro Académico Tecmerin, Universidad Carlos III, Madrid, Spain, October 17-19, 2018 (author and presenter): "El cine latinoamericano en el marco de las co-producciones."