---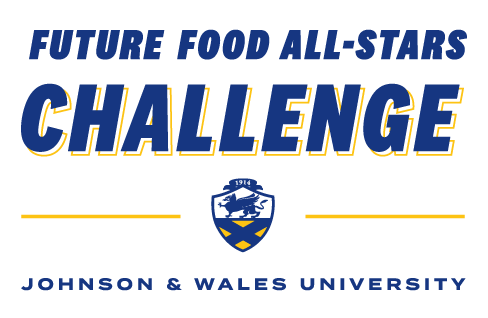 ---
Future Food All-Stars Challenge
Co-hosted by JWU's Larry Friedman Center for Entrepreneurship and College of Food Innovation & Technology (CFIT), the Future Food All-Stars Challenge is an annual "Shark Tank"-style competition where JWU student teams spend the semester developing their business or product ideas into full-fledged concepts. Proposals will be chosen for their potential to succeed, as well as their ability to address a range of problems intrinsic to our food system, including food waste, ecological impacts, and more.
The 2023 Food Entrepreneur in Residence is David Burke '23 Hon. Chef Burke is a world-renowned restaurateur, philanthropist, and author. His company, David Burke Hospitality Management (DBHM), owns, manages, licenses and consults with restaurants, hotels, clubs and schools worldwide.
Applications for the 2023 Challenge are now open. Apply by filling out the PDF below: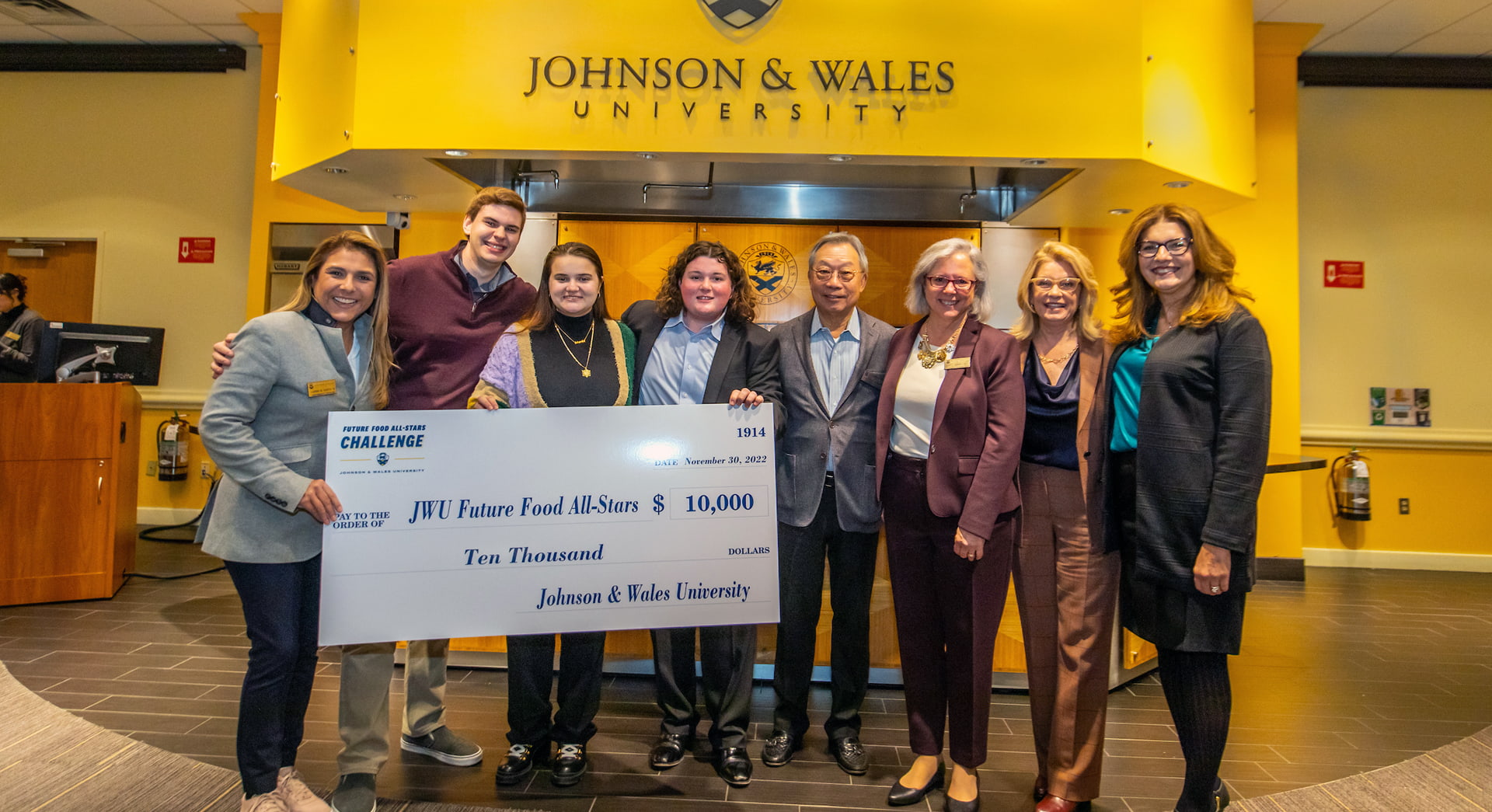 I'm optimistic that any time we have entrepreneurial competitions … the key theme of their concepts is typically sustainability and doing business differently from how we've done in the past. DEAN JASON EVANS
Meet the 2022 Finalists
This year, all 3 finalist teams made sustainability a major theme of their pitches — dovetailing neatly with what CFIT Dean Jason Evans, Ph.D., summed up as the university's overarching goal: "What we do is try to set these students up with tools to change the world. And the great thing about this generation is that they legitimately believe that they can, and more importantly, legitimately believe that they should."
Meet this year's finalists:
The Arbor Bar
Sean Holmes
Seth Caldwell
Lexi Lloyd
Skylar Bailey
Concept: Day-to-night coffee café and high-end bar showcasing foraged and local ingredients as a way to educate diners about sourcing, seasonality, and the carbon footprint of a meal.
Symbiotic Creations WINNER
Jonathan Beres
Gabrielle Bartlett
Benjamin Weinstein
Symbiotic Creations creates shelf-stable snacks made from culinary byproducts and designed for health-conscious consumers who don't have access to essential nutritious foods.
True North Brewery
Lucas Nunez
Evelyn Pisch
Russell Morse
Shelby Waite
Concept: Each year, breweries discard roughly 35 million tons of spent grains that are created during the brewing process. True North will control 100% of their spent grains in house, using them in breads, snacks, and natural sodas using the wort.
Toggle

About 2023 Entrepreneur in Residence David Burke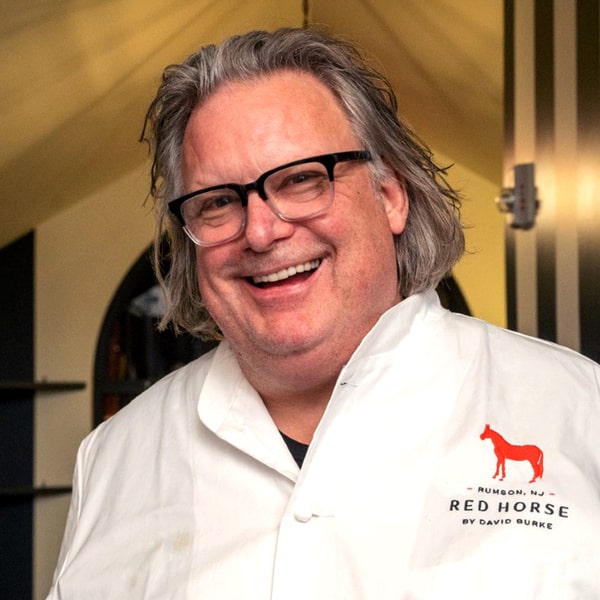 Fueled by passion, grit and a knack for artful innovation, David Burke employs a signature whimsical, boundlessly creative approach to modern American cuisine. His company, David Burke Hospitality Management (DBHM), owns, manages, licenses and consults with restaurants, hotels, clubs and schools worldwide.
Burke is a restaurateur, artist, philanthropist, businessman, author, educator, art collector — and even a puppeteer and minister. He graduated from the Culinary Institute of America and trained as a pastry chef at France's Lenotre École des Arts Culinaires. At just 26 years old, his kitchen mastery won him the executive chef position of New York City's legendary River Café, where he earned a prestigious three-star review from the New York Times. While at River Café, he became the first (and remains the only) American to win the prestigious Meilleurs Ouvriers de France Diplome d'Honneur, cementing his status as a leading chef on the global culinary stage. He subsequently won Japan's Nippon Award for Excellence, and the Robert Mondavi Award of Excellence, all of which earned him a place in the James Beard Foundation Award's "Who's Who of Food and Beverage in America." Burke has been nominated twice for the JBFA's Best Chef and became a familiar face on the popular TV show "Top Chef." He is the author of two cookbooks: "Cooking with David Burke" and "David Burke's New American Classics."
After opening several restaurants with the founder of the iconic Smith & Wollensky steakhouse, Burke set his sights on growing his brand. The first building block was the highly regarded David Burke & Donatella, which debuted in 2003. He went on to form a hospitality company that owned and operated numerous award-winning restaurants around the country. During this period, Burke gained U.S. patents for several innovations, including his famous Himalayan salt dry-aging process for beef.
Currently, Burke and his DBHM team operate or orchestrate the culinary component of 15 restaurants in the United States and Saudi Arabia, a historic event venue and a bakery. They also oversee a growing roster of David Burke branded products, including cookware, bakeware, steak sauce, cutlery and wine. Known for his industry insight, culinary accomplishments, business acumen and candid observations, Burke is often a leading contributor to major news sources, such as ABC TV, Forbes, Fox TV, Bloomberg and more. He is also frequently called upon to be event honoree, speaker and judge.
During the COVID-19 pandemic, Burke created the #FeedtheHeroes program, which prepared and delivered more than 100,000 meals to frontline workers and charities. Sheer boredom during the months-long lockdown spurred his hugely popular cooking demos "LeftobyDB," with Lefto, a doppelganger puppet. He also launched a virtual online cooking demo program, "CookinDB IGTV," and employee incentive initiatives tailor-made for Fortune 500 companies like Verizon.
Toggle

Catch Up with the 2021 All-Stars
---
Interested in taking part in the next Future Food All-Stars Challenge? Discover what the Challenge is all about — and what it takes to be a contestant — by watching the 2021 All-Stars finalists complete for the grand prize of $10,000.
They pitched their business ideas to a panel of judges that included Food Entrepreneur in Residence Tyler Florence '94, '04 Hon. (appearing virtually via Zoom); Michael Rypka '96, Torchy's Tacos founder; Dean Jason R. Evans, Ph.D., of CFIT; and Dean Mary Meixell, Ph.D., of the College of Business.
---
About Sunflower Kids
Can school lunches be reformed from the ground up? JWU Providence students Kayce Jernagan '22 and Julianne Surrette '21 have a vision for making lunches healthy, affordable, and — yes — fun. Their concept for Sunflower Kids, a nutrient-dense, single-serving meal plan for school-aged children, won the $10,000 top prize at JWU Providence's inaugural Future Food All-Stars Challenge.
"Sunflower Kids is really important to us because it gives kids the opportunity to get the full nutrients they need to continue their day."
For Jernagan, a Food & Beverage Entrepreneurship major who graduated in December, and Surrette, a Culinary Science and Product Development major, Sunflower Kids is a "passion project" sparked by their own experiences growing up.
"Sunflower Kids is really important to us because it gives kids the opportunity to get the full nutrients they need to continue their day, as well as being adaptable for allergies and dietary restrictions — which I did not get when I was in school," explains Surrette. For Jernagan, "My inspiration for this project comes from the community that I was raised in, which is very much a food desert. And a lot of kids struggle to get access to the healthy foods they need to grow big and strong."
Toggle

Expert Advice from Chef Tyler Florence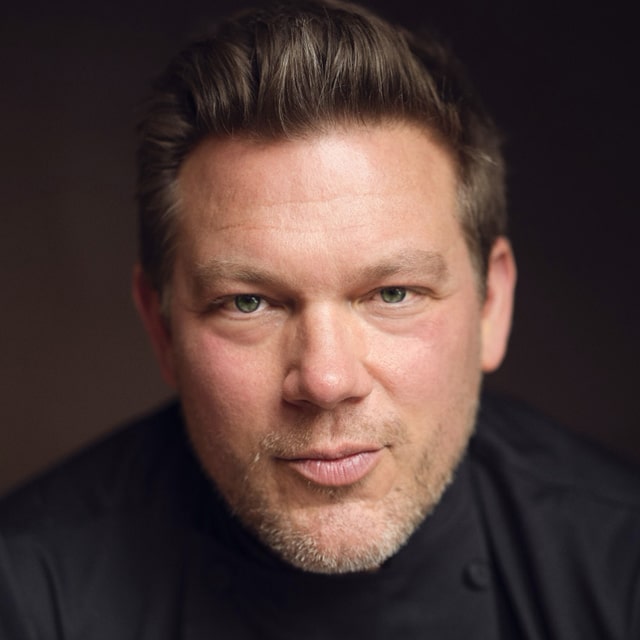 What does it take to launch a food empire? How do you bring the next big idea in food to the world?
Chef Tyler Florence shares what he's learned — from his early struggles to his early days with the Food Network — during an exclusive university virtual event.
"A business degree in hotel restaurant management … gave me the ability to kind of walk into any situation."