---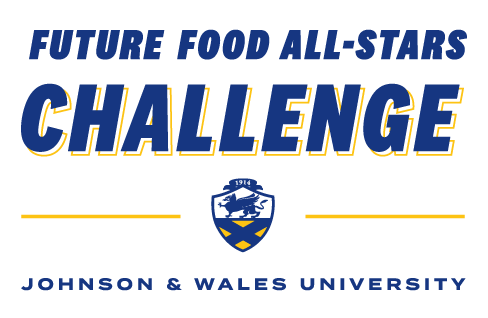 ---
Future Food All-Stars Challenge
The Future Food All-Stars Challenge is a "Shark Tank"-style competition where 9 student teams from across all JWU colleges will spend the semester developing their business, product and service ideas into full-fledged concepts that will be pitched to investors. Proposals were chosen for their potential to succeed, as well as their ability to address a range of problems intrinsic to our food system, including food waste, food waste, ecological impacts and more.
As the university's first Food Entrepreneur in Residence, Food Network star and proud JWU alum Tyler Florence '94, '04 Hon. will meet monthly with students to work with them on strengthening their business plans and ready them for the live competition. The winning team takes all: $10,000!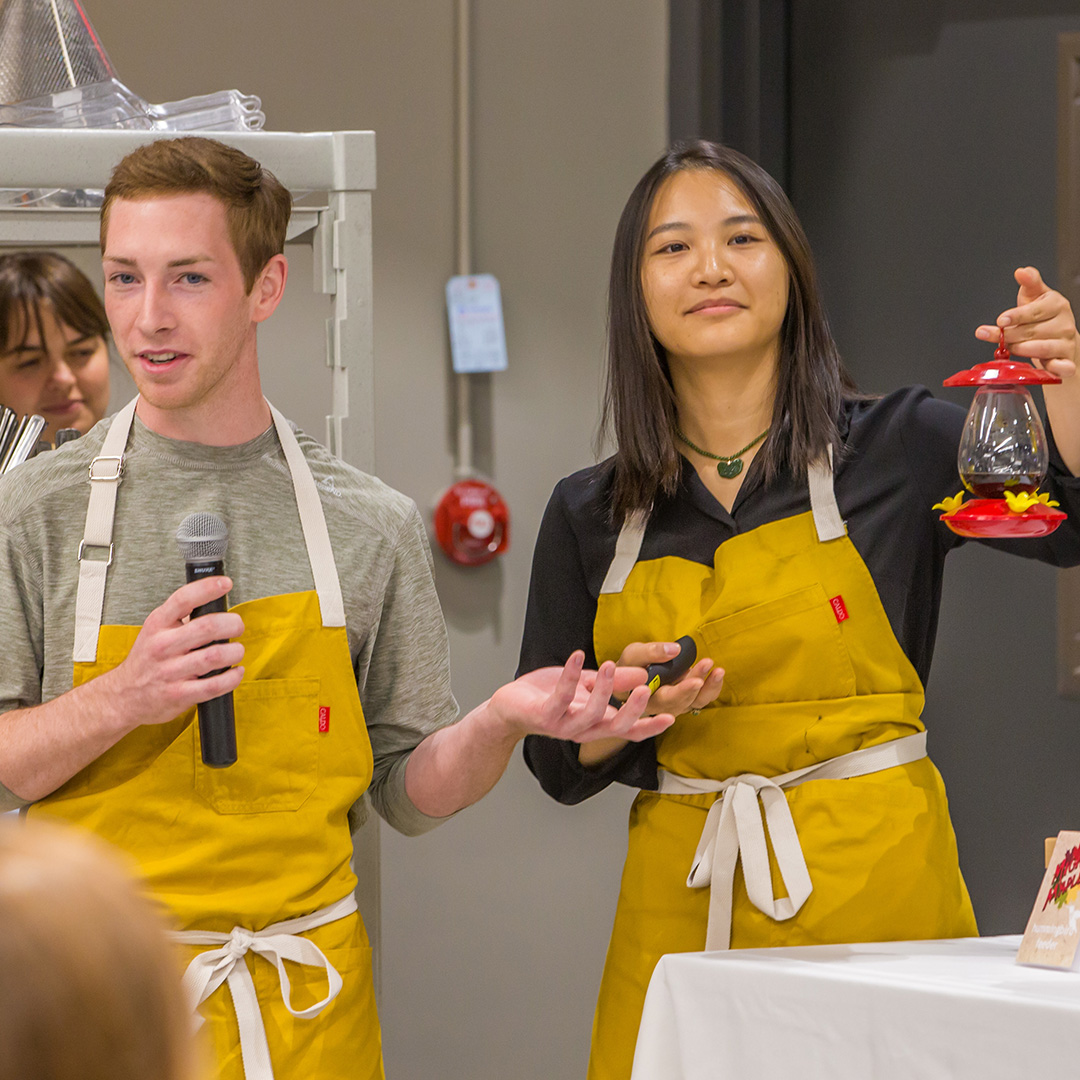 I want to see the roots of a fantastic concept. … And we'll be able to collaborate on these concepts and give you real-time feedback. I want to develop your muscle memory to be an entrepreneur. FOOD ENTREPRENEUR IN RESIDENCE TYLER FLORENCE '94, '04 HON.
---
'Be a Problem-Solver'
In this video, College of Food Innovation & Technology (CFIT) Dean Jason Evans, Ph.D., talks about leading the inaugural Future Food All-Stars Challenge:
---
2021 Future Food All-Stars Teams
Bling | Cindy Campos
Taking mocktails to the next level: Campos' BLING concept is a sophisticated non-alcoholic base that can be turned into a spritzer with the addition of soda water and/or fruit juice, or can become a cocktail by adding the spirit of your choice. This naturally sweet and organic refresher can be served frozen, on the rocks, or straight up. Due to an ultra high-temp pasteurization process, this prepackaged beverage is shelf-stable for up to two years; once opened, it should be used within two weeks.


Chill Out Hot Sauce | Maya Alderman, Jessica Hess and Asia Vo
Chill Out Hot Sauce brings capsaicin (the chemical compound that puts the heat in hot sauce) and CBD (cannabidiol) together to create a unique flavoring agent that works to aid both physical and mental health. Upon contact with capsaicin, TRPV1 receptors cause inflammation of the tongue; at the same time, CBD — known for its potential anti-inflammatory properties — will help soothe the mouth. The two ingredients work together to allow consumers the opportunity to truly enjoy the flavor without being overwhelmed with heat.


Sustainable Soul | Keiana Coleman and Delila Torres
Sustainable Soul is a food truck focused on offering fresh, from-scratch menu items highlighting local ingredients and/or food items that have been rescued from the waste stream. The business' core mission is to provide affordable meals to those that cannot access or afford healthy, fresh ingredients; a secondary mission is to educate and help those who may not have the deep knowledge about where their food comes from and where they can access good food for themselves and their families.


Sunflower Kids | Julianne Surrette and Kayce Jernagan
Sunflower Kids will produce and ship pre-packaged nutrient-dense, tasty meals that provide all the essential nutrients for school-aged children. The meals offered would vary by age groups and could easily accommodate any food allergy or dietary need. These pre-packaged meals would provide a healthy and nutritious alternative to school meals, and also address other systemic challenges, including food insecurity and the lack of nutritious food in children's diets.
Power Pudding | Skylar Flynn
Power Pudding is a range of superfood-packed puddings designed to provide calcium, potassium, and other essential nutrients to seniors. With unique flavors like Lemon Blueberry and Choco-Avocado, the idea is to have an appealing, dessert-like dish that offers key nutritional elements seniors need.


DoubleTake | Red Acker and Caitlin McCool
With a focus on reducing food waste, DoubleTake aims to create convenient meal packs out of items — be they produce or proteins — that might be unsaleable due to bruising, erratic sizing, or other imperfections. It's a great option for consumers who may not have time to grocery shop and want to stay sustainable.


Vegan Poke | Elle Raviv-Garbi
Overfishing is an urgent problem, and Vegan Poke is designed to offer a viable alternative for vegans/vegetarians, as well as anyone who cares about the environment.


Grub-N-Grind | Zacharie Curry
A food/entertainment concept combining an indoor skate park with a fast-casual restaurant. The menu will be classic American fare (burgers, fried chicken, etc.), as well as plant-based alternatives. The primary function of the concept is to spawn positive social and environmental change in the community.


Before It Melts | Naomi Torres
Before It Melts is a new non-dairy, allergen-friendly ice cream truck designed to be inclusive and sustainable. Pea milk will serve as the primary "milk" source; the proposed menu will include ice cream, sorbet paletas, gluten-free waffles and cookie sandwiches. The concept is versatile enough to incorporate consumer products at a later date, like pre-packaged pints and toppings.


---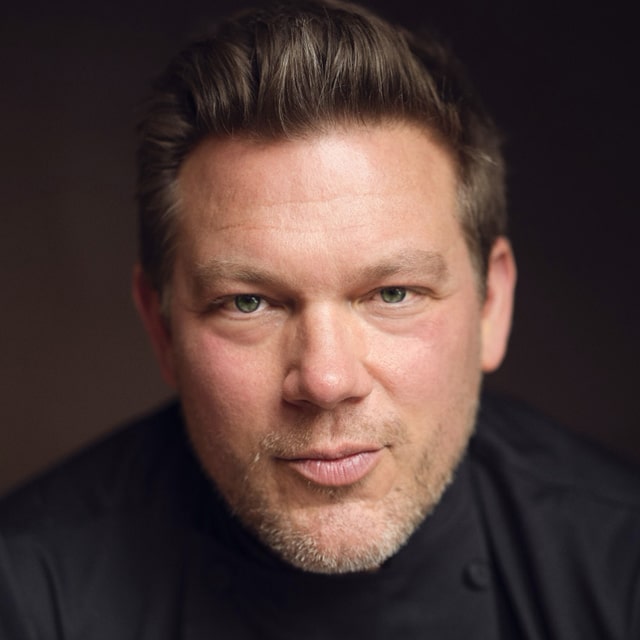 Kickoff Event with Tyler Florence '94, '04 Hon.
What does it take to launch a food empire? How do you bring the next big idea in food to the world? JWU Food Entrepreneur in Residence, acclaimed chef Tyler Florence, brings nearly 25 years of experience as a Food Network star, competition judge, entrepreneur, restaurateur and media personality to the table. He recently shared what he's learned — from his early struggles to his early days with the Food Network — during an exclusive university virtual event in April.