2021 Hospitality Summit

Wednesday, October 20, 2021
JWU Providence's Hospitality Summit 2021: Paths to Prosperity brings together students, faculty, alumni and industry leaders to explore global and local trends influencing the industry and shaping its future.
The Summit will kick off with a keynote presentation by James Lehouiller '08 Hon., managing partner/CEO of DiLeonardo International. The Keynote will be followed by 4 remote educational sessions comprised of 3 moderated panel discussions and a brainstorming session that will close out the event.
Program Schedule
9:45-10:45am | Keynote Presentation: Design-Forward, People-Centric: Authentic Design for Hospitality
James Lehouiller '08 Hon. of DiLeonardo International will examine how culture and brand identity influence design to create a unique guest experience. 
---
10:45-11:15am | Break
---
11:15am-12:15pm | Global Hotel Industry Overview
Steve Hood, senior vice president of research, STR and founding director of the SHARE Center, will present his research on the overall performance of the lodging industry. He will examine differences in the current downturn and recovery based on areas of the world and country as well as types of hotels and destinations.
---
12:45-1:45pm | Leveraging Technology to Achieve High Touch Experiences
How can current and future advancements in technology support hospitality business processes and improve the high touch guest experience, revenue and profitability? Topics include leveraging booking applications through the entire guest experience from pre-booking through departure; leveraging artificial intelligence; and data analytics to drive personalization. 
Panelists:
Nicole Lau '12, senior communications manager, U.S. & Canada, Marriott International
Rodahl Leong-Lyons, regional vice president, operations & sales, Americas, Hyatt Hotels
Dana Shefsky '96, director, digital guest products, IHG Hotels & Resorts
---
1:45-2:15pm | Break
---
2:15-3:15pm | The Future of Hospitality in Providence: A Conversation with Local Industry Leaders
Often called a "Renaissance city," Providence has a reputation as a premier hospitality destination. As consumers continue to look to second-tier cities as places to explore, this city has much to offer. This panel of local experts will provide insight on the local business climate and how they are innovating as they prepare for the future.
Panelists:
Kristen Adamo, president & CEO, Providence Warwick Convention & Visitors Bureau
Michael Canini '00, general manager, ALOFT Providence
Alan Chille, vice president, Professional Facilities Management; general manager, Providence Performing Arts Center
Tobey Sanborn '97, senior general manager, Newport Restaurant Group
Eric Weiner '93, CEO and founder, FoodTrucksIn.com
Toggle

ABOUT THE KEYNOTE SPEAKER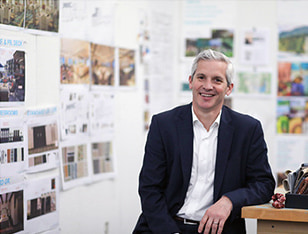 James Lehouiller
Managing Partner/CEO, DiLeonardo
James Lehouiller's charge is to strive for excellence in DiLeonardo's goal to be the best. His relentless pursuit of excellence brings him in contact with all aspects of the firm, clients and project collaborators around the globe.
Lehouiller oversees DiLeonardo's global operations with a guiding focus on advancing its reputation for exceeding client expectations. He travels extensively, supporting the firm's offices in Providence, Dubai, Hong Kong, and Manila.
Lehouiller grew up on a dairy farm in a small ski town in Vermont near Montreal. When not traveling or in the office, you will find him outside on his tractor at his Rhode Island farm home. "I get to travel, interact with diverse people, explore different perspectives, and immerse myself in new cultures. I am so fortunate to be able to learn something new every day. I love what I do."