Get to Know Providence, R.I.
Home to 30,000 college students, Providence, R.I. offers the amenities of a major city with the charm, warmth and walkability of a small college town. It also boasts more restaurants per capita than nearly any other city. (Many of them are owned or managed by JWU grads!)
Recognized by CNN as The USA's Most Artsy City, Providence is full of cheery murals and beautiful sculptures from talented artists. The Avenue Concept's exciting self-guided art tour is one of the best ways to immerse yourself in Providence's art community.
Providence's stunning scenery earned the city a ranking as one of the Most Gorgeous College Towns in America, and you can soak in the unbelievable views and public art from the Venetian-inspired bridges as you walk along the 2.4 mile River Walk. Or explore from a different angle, on a scenic gondola ride right in heart of the city.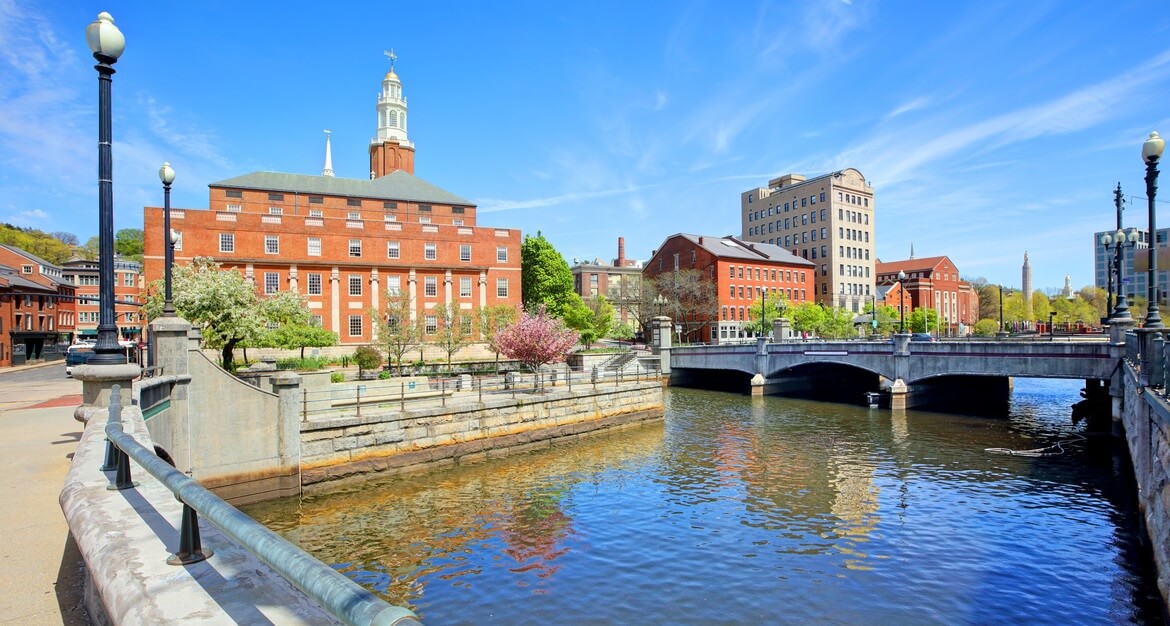 Providence, R.I. Highlights
Location
Providence is located about one hour from Boston, Newport and Cape Cod and three hours from New York.
Providence is just 27 miles to Narragansett Beach.
Eight colleges and universities are located in Providence.
JWU's Downcity Campus is walking distance to most major attractions in Providence.
Places to Visit 
Federal Hill: Known for authentic Italian restaurants, especially on Atwells Ave. DePasquale Square features a beautiful fountain and summer concerts. 
West End: Vintage shops, bicycle rentals, comedy shows, delicious breakfast spots and an outdoor tiki bar make this one of the most interesting spots in Providence.
Thayer Street: Popular among college students and young adults, Thayer Street is filled with shopping, restaurants and the historic Avon Cinema. 
Self-Guided Tours 
Downtown Historic Tour: Journey back in time on a historic walking tour. Visit Sullivan Dorr House, Old Stone Bank, Brick School House and more. 
Self-Guided Driving Tour: Tour at any time! Listen to audio stories as you drive past the Wedding Cake House, Federal Hill, Barnaby Castle and other unique landmarks and attractions. 
Transportation 
T.F. Green Airport is located just 10 minutes from Providence. 
The Amtrack is located in downtown Providence and offers quick transportation to Washington DC, New Haven, Stamford, New York City, Philadelphia, Washington and Boston.
The Rhode Island Public Transport Authority provides affordable bus and trolley services throughout Providence.
Where to Dine 
Guided Tours
Family-Friendly Bus Tour: Learn about the history of Rhode Island as you tour Providence neighborhoods in a climate-controlled bus. 
Providence River Boat Tour: Offering Twilight River Cruises, Haunted Boat Rides, Vineyard Voyages, Private Architecture Tours and more! 
Downcity Food Tour: Spend three hours indulging at award-winning restaurants and bakeries hosted by expert local guides. 
---
Our Favorite Places in Providence, R.I.