---
Nicole Amos
Associate Professor & Department Chair, Management
JWU Faculty Since 2016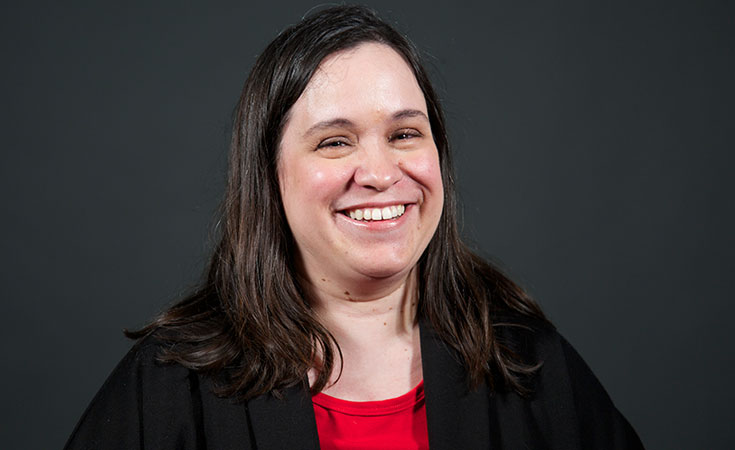 Nicole Amos joined Johnson & Wales University after 16 years in corporate roles in management, training, and employee development (specializing in the development of managers). She teaches in the Management program full time while pursuing a Ph.D. in Organizational Leadership.

Amos has earned the SPHR (Senior Professional in Human Resources) designation and is the faculty advisor for JWU SHRM (Society for Human Resource Management). She incorporates practical application projects into her courses so students begin gaining experience applicable to Human Resource Management jobs right away.

Amos is very passionate about helping managers create and support a motivating work environment that encourages high-performance work teams and employee satisfaction. She also loves working with students while they develop their interests in management and HR.

Education
MBA, University of Massachusetts, Amherst
B.A., Framingam State University
"I am very passionate about helping managers create and support a motivating work environment that encourages high-performance work teams and employee satisfaction."
Courses
MGMT 2001: Human Resource Management
MGMT 2020: Organizational Dynamics
MGMT 3005: Workforce Planning and Deployment
MGMT 3030: Managerial Technology
MGMT 3050: Compensation, Benefits and Total Rewards
MGMT 3060: Training and Development
Toggle
Publications
Varlaro, John, D., Amos, Nicole, M., (2020, October). From Department to Practice: DM Fisher's HRM Transition Paper presented at the North American Case Research Association (NACRA) 2020 Conference, Virtual.
Amos, Nicole, M. & Varlaro, John, D., (2019, October). Alice's Maternity Leave – Beneficial leave or Left Behind? Paper presented at the North American Case Research Association (NACRA) 2019 Conference, Tempe, Arizona.
Varlaro, John, D., Amos, Nicole, M., (2018, October). Hailey's Handbags – Customer Complaints or CyberBullying? Paper presented at the North American Case Research Association (NACRA) 2018 Conference, Orlando, Florida.
Amos, N. M. (2017, December 1). Chaos and Complexity Theory Applied to Bullying at Work. Retrieved from NCDA Career Convergence Web Magazine: https://www.ncda.org/aws/NCDA/pt/sd/news_article/148442/_PARENT/CC_layout_details/false