University Achieves Nearly $4 Million in Savings Through Conservation Efforts
---
Story by JWU Media Relations , on Oct 20, 2017 4:24 PM
PRESS RELEASE
Providence, R.I. – October 20, 2017 – Johnson & Wales University (JWU) has achieved nearly $4 million in savings over four years through the implementation of energy conservation measures and sustainability initiatives across the Providence Campus.
In 2013, JWU partnered with Cenergistic, a national energy conservation company, to create its Energy Conservation Office (ECO) in an effort to identify sustainable practices and educate the campus community on ways to reduce energy consumption. Savings were achieved through actions and practices such as purchasing more than 40,000 LEDs to retrofit existing lighting fixtures, rescheduling the university's HVAC system runtimes to more closely align with building occupancy, thereby reducing greenhouse gas emissions, and, with the help of the university community, reducing plug loads.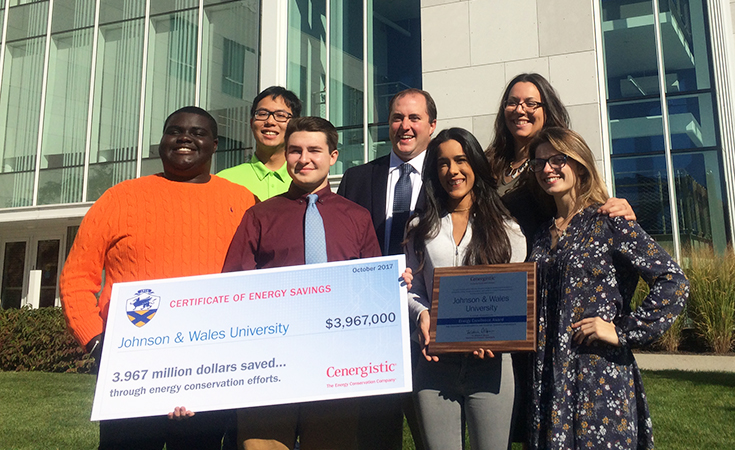 About Johnson & Wales University
Founded in 1914, Johnson & Wales University is a private, nonprofit, accredited institution with more than 15,000 graduate, undergraduate and online students at its four campuses in Providence, R.I.; North Miami, Fla.; Denver, Colo.; and Charlotte, N.C. An innovative educational leader, the university offers degree programs in arts and sciences, business, culinary arts, design and engineering, education, health and wellness, hospitality, nutrition and physician assistant studies. Its unique model integrates arts and sciences and industry-focused education with work experience and leadership opportunities, inspiring students to achieve professional success and lifelong personal and intellectual growth. The university's impact is global, with alumni from 123 countries pursuing careers worldwide. For more information, visit www.jwu.edu.
END
Media Contact: Ryan Crowley, communications & media relations specialist, 401-598-2752, ryan.crowley@jwu.edu