Chancellor John J. Bowen Announces Retirement
---
Story by JWU Media Relations , on Jan 11, 2018 11:15 AM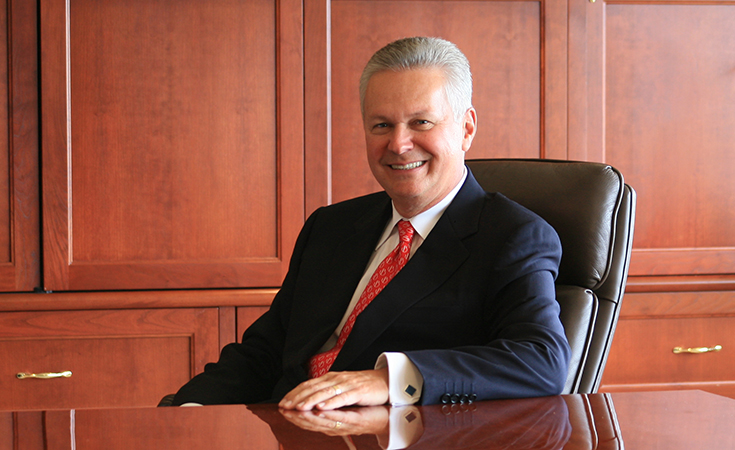 PRESS RELEASE
Providence, R.I. – January 11, 2018 - Johnson & Wales University (JWU) Chancellor John J. Bowen '77 today announced that he will retire on December 31, 2018.
The following communications were shared with the JWU community:
FROM CHANCELLOR BOWEN
It is with great respect that I inform you of my intent to retire as chancellor, president and chief executive officer, effective December 31, 2018, after 44 years as an employee of this great university.
Since 2004, I have proudly served as Johnson & Wales University's leader, and I have enjoyed a lifelong career at this wonderful institution, watching it grow and thrive in ways that exceeded all of my expectations. The days, months and years of my four decades here have been the most rewarding of my life, and it has been my greatest honor to lead Johnson & Wales.
From the start of my own journey as a first-generation college student, higher education has been my passion. Helping students achieve their dreams of attaining a college education has been my lifelong commitment, and I look forward to continuing that work for the remainder of my time here. I am energized to finish strong, helping our senior leaders begin our next strategic plan – FOCUS 2022 – and working on the major fundraising campaign to support our university. As I am sure you have heard me say many times, I plan to leave Johnson & Wales University better than I found it.
It has been my privilege and a pleasure to work alongside all of you, transforming this institution from a "one student, one typewriter" business school to an internationally recognized university. I trust that you share this sense of pride in seeing all that Johnson & Wales University has become in our more than 100-year history. The next 12 months will provide many opportunities for Kathie and me to express our sincere gratitude for your support of my leadership, your contributions to our success and, most importantly, your friendship.
---
FROM JAMES H. HANCE, JR., CHAIR OF THE JWU BOARD OF TRUSTEES
On behalf of the Board of Trustees, we acknowledge Chancellor John Bowen's announcement of his intent to retire at the end of 2018. We wish to express our gratitude for his 44 years of extraordinary dedication and service to Johnson & Wales University. His accomplishments during his time are numerous and impactful.
John was inspired by a close friend to head to Providence to work for Johnson & Wales University's newly developed culinary arts program in 1974. Starting as a faculty member, he worked his way up to director of the culinary division and then dean of culinary arts in 1983. Early on, he helped reaffirm the university's focus on career education by establishing a career development office, which we now know as the Experiential Education & Career Services department. John was promoted to vice president of administration in 1987 and then named executive vice president in 1990. He took on the position and responsibilities of president of the Providence Campus in 1997, and was appointed university president and chief executive officer in 2004, adding the title of chancellor in 2010.
Johnson & Wales has transformed under John's leadership in many vital ways. He has made complicated and bold decisions in the best interest of our university. FOCUS 2011 was an ambitious plan that launched Johnson & Wales into unchartered areas. John and his team deftly recognized the need to address many issues such as affordability and retention efforts ahead of many of our peers. Through thoughtful and deliberate planning, he has moved this university in new directions, most recently health sciences, always with the intent to provide our students with better professional and personal lives. In September 2016, we recognized and celebrated his leadership with the dedication of the John J. Bowen Center for Science and Innovation – a fitting tribute to his more than four decades of service to the students, faculty and staff of Johnson & Wales.
John has tirelessly committed his tenure as chancellor to building a strong senior leadership team, and he and his team have our full support over the next year as they continue their work to make our university better. As members of the Board of Trustees, it is our responsibility to ensure that Johnson & Wales University continues to thrive. At our November 2017 meeting, we expressed our unequivocal support of the university's next strategic plan and look forward to working with senior leaders to implement FOCUS 2022 in the coming months. We trust that we will move forward over the next year, building upon John's legacy and past successes, taking our university to new heights.
The trustees are tasked with ensuring that the most highly qualified, talented and experienced individual leads Johnson & Wales University in the future. We are deeply committed to this effort, and to that end have engaged the services of R. William Funk & Associates, an executive search firm headquartered in Dallas, Texas, that specializes in higher education. Under the leadership of Bill Funk, the firm has conducted more than 400 searches for college and university presidents and chancellors, including 70 currently sitting leaders he has helped to recruit. Mr. Funk will provide us with the guidance and expertise we need as we set about our most crucial task as trustees – appointment of the next leader of Johnson & Wales University. As members of the Johnson & Wales University community, your support through this process is essential. We will be communicating with you more in the future as we initiate our work.
>>>RELATED: Johnson & Wales University Chancellor Search Home Page
The Board of Trustees extends our deepest appreciation to Chancellor Bowen and First Lady Kathie Harney for their extraordinary service to Johnson & Wales University and wishes them great happiness in the years to come.
---
About Johnson & Wales University
Founded in 1914, Johnson & Wales University is a private, nonprofit, accredited institution with more than 14,000 graduate, undergraduate and online students at its four campuses in Providence, Rhode Island; North Miami, Florida; Denver, Colorado; and Charlotte, North Carolina. An innovative educational leader, the university offers degree programs in arts and sciences, business, culinary arts, design and engineering, education, health and wellness, hospitality, nutrition and physician assistant studies. Its unique model integrates arts and sciences and industry-focused education with work experience and leadership opportunities, inspiring students to achieve professional success and lifelong personal and intellectual growth. The university's impact is global, with alumni from 124 countries pursuing careers worldwide. For more information, visit www.jwu.edu.
END
Media Contact: Lisa Pelosi, vice president of communications & government relations, 401-598-1848, lisa.pelosi@jwu.edu