Marie Bernardo-Sousa, LP.D., '92, Appointed President, Johnson & Wales University Providence Campus
---
Story by JWU Media Relations , on Mar 19, 2019 10:45 AM
PRESS RELEASE
Providence, R.I. – March 19, 2019 – Marie Bernardo-Sousa, LP.D., '92, has been appointed president of the Providence Campus of Johnson & Wales University (JWU).
Bernardo-Sousa has been serving as the JWU senior vice president of administration and enrollment management since 2017. Her ascension to the presidency follows the October 2018 appointment to chancellor of Mim L. Runey, LP.D., who had been serving as the JWU Providence Campus president since 2011.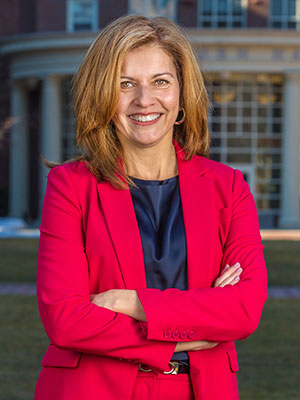 "Dr. Bernardo-Sousa's deep knowledge of the campus' operations, her strong communication and leadership skills, and her lifelong commitment to all things JWU made her our unanimous choice to be the next president of the Providence Campus," said JWU Chancellor Runey. "As I focus my time on fundraising and strengthening and expanding our academic vision for excellence, I will look to her to be a visible presence on campus and a prominent representative of Johnson & Wales in the community."
"I am inspired by this opportunity to lead the JWU Providence Campus, a community that takes pride in both its educational mission and the character of its faculty and staff and has the courage to embark on bold and ambitious plans," said President Bernardo-Sousa. "JWU is a strong institution with a clear vision for the future, particularly through our strategic plan, FOCUS 2022. I am confident that with the support of the faculty, staff and students, we will continue to build upon this foundation of strength and successfully position the campus for great success."
The appointment to the presidency caps Bernardo-Sousa's 30-year career at JWU where she first came to the Providence Campus as an undergraduate student. Her first position was in the registrar's office in 1988. What followed began her trajectory of positions of progressive responsibility at JWU that included director of academic services, vice president of student services and university registrar, and senior vice president of student services. In her most recent position as senior vice president of administration, she oversaw more than 400 staff members in the areas of Student Academic & Financial Services, Student Affairs, Athletics, JWU Global, Enrollment Management, and Campus Safety & Security.
Bernardo-Sousa holds a Doctorate in Law and Policy from Northeastern University, a Master of Science degree in Human Resources from Emmanuel College, and a Bachelor of Science degree in Marketing from Johnson & Wales University.
About JWU
Founded in 1914, Johnson & Wales University is a private, nonprofit, accredited institution with approximately 13,000 graduate, undergraduate and online students at its four campuses in Providence, Rhode Island; North Miami, Florida; Denver, Colorado; and Charlotte, North Carolina. An innovative educational leader, the university offers degree programs in arts and sciences, business, culinary arts, design and engineering, education, health and wellness, hospitality, nutrition and physician assistant studies. Its unique model integrates arts and sciences and industry-focused education with work experience and leadership opportunities, inspiring students to achieve professional success and lifelong personal and intellectual growth. The university's impact is global, with alumni from 125 countries pursuing careers worldwide. For more information, visit jwu.edu.
MEDIA CONTACT Lisa Pelosi, vice president of communications & government relations, 401-598-1848. Follow @JWUnews