Twin River Casino Hotel Supports Food & Beverage Management Students and Faculty
---
Story by JWU Media Relations , on May 31, 2019 9:00 AM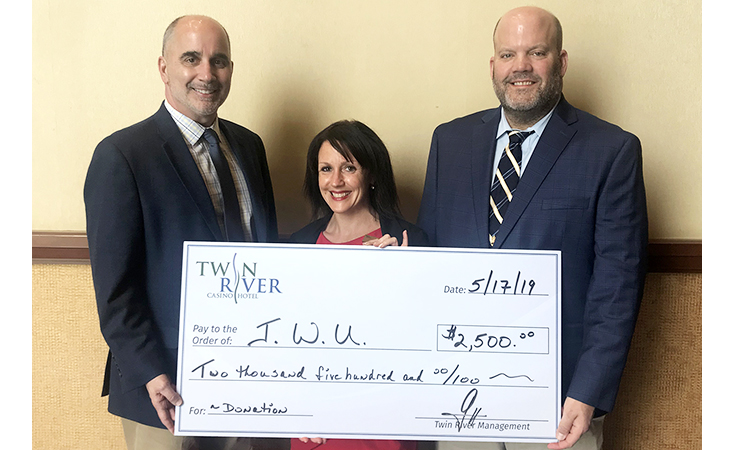 PRESS RELEASE
PROVIDENCE, R.I. — May 31, 2019 — For the fifth consecutive year, Twin River Casino Hotel contributed $2,500 to the Johnson & Wales University College of Hospitality Management for the Food & Beverage Management student fellowship and faculty internship programs.
The donation, a portion of the proceeds from company's annual New England Tequila & Rum Festival held in May, fosters the further professional development and education of JWU faculty and students. JWU Professor Michael Sabitoni, CHE, department chair, Food & Beverage Management acknowledges, "Thanks to the generosity of Twin River, our students and faculty had the opportunity to visit the Ensenada wine region of Mexico and learn about the most current industry trends which, in turn, can potentially build their careers in the beverage industry."
The annual festival, held at Twin River Casino Hotel in Lincoln, R.I., attracts leaders of the hospitality industry for a showcase of the latest tequila and rum products, trends and innovations. New brands and the beverage trends are unveiled to the more than 1,500 attendees.
During the 2018-19 academic year, a team of JWU students worked on behalf of Twin River as part of their Directed Experiential Education (DEE) coursework. They created, planned, and executed several events for the festival including panel discussions, tastings, and cooking demonstrations. Students obtain academic credit through their DEE that is led by JWU faculty and conducted outside the traditional classroom setting.
About Twin River Casino
Twin River Casino Hotel is a world-class gaming, dining, lodging and entertainment destination with over 4,100 slot machines, 125 table games including poker, simulcasting, Sportsbook, a multitude of dining options and an Event Center that hosts concerts, sporting events and related functions.
About JWU
Founded in 1914, Johnson & Wales University is a private, nonprofit, accredited institution with approximately 13,000 graduate, undergraduate and online students at its four campuses in Providence, Rhode Island; North Miami, Florida; Denver, Colorado; and Charlotte, North Carolina. An innovative educational leader, the university offers degree programs in arts and sciences, business, culinary arts, design and engineering, education, health and wellness, hospitality, nutrition and physician assistant studies. Its unique model integrates arts and sciences and industry-focused education with work experience and leadership opportunities, inspiring students to achieve professional success and lifelong personal and intellectual growth. The university's impact is global, with alumni from 125 countries pursuing careers worldwide. For more information, visit jwu.edu.
MEDIA CONTACT Miriam Weinstein, director of communications & media relations, 401-598-1157. Follow @JWUnews