Program Overview
Customization, flexibility and exploring multiple career paths — that's what our Business Administration B.S.B.A. degree is all about.
If you know you want a career in the world of business but aren't quite sure what that career is, you'll have the opportunity to see what you enjoy most from a wide array of foundational and free elective courses.
You'll learn about every level of an organization — from accounting and human resources to marketing and organizational dynamics. Most important, you'll discover what it takes to be a leader, communicate effectively and manage projects.
Business is booming. Choose your path to success with a B.S.B.A. in Business Administration.
---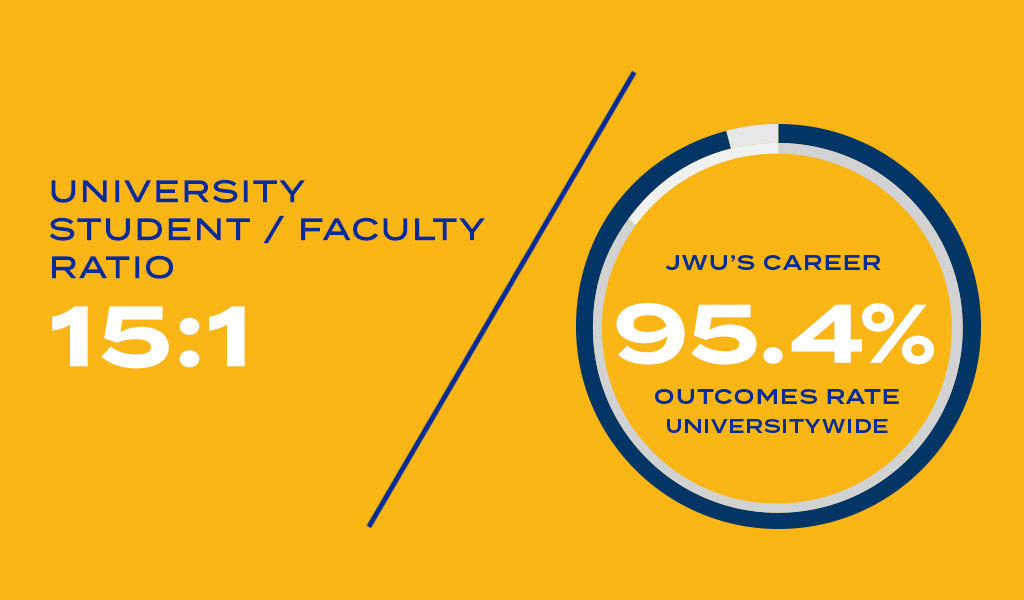 This program is available in Providence, Charlotte and online. View a full course listing below.
This program is for students who don't want to be pigeonholed into one specific area of business. You get to explore your options and choose your own path. DEPT. CHAIR MARK GOUDREAU
---
Sample Courses
Organizational Behavior
Strategic Management
Contemporary Business Management
Techniques in Sales Management
Operations and Supply Chain Management
In addition to classes, free elective credit can be applied to a number of options such as Directed Experiential Education (DEE), internship, minor or study abroad. You are encouraged to contact an advisor before scheduling free elective credits.
For a full course listing, visit the JWU Catalog:
---
Occupational Outlook*
Some professions may require additional study, background checks, certifications, licenses, exams and/or experience as required qualifications for employment. Students are responsible for verifying that they can meet the employment requirements of potential employers.

Occupation
Growth
Median Salary
Accountants and Auditors
6%
$ 70,500
Advertising, Promotions, and Marketing Managers
8%
$132,620
Bookkeeping, Accounting, and Auditing Clerks
-4%
$ 40,240
Business Teachers, postsecondary
15%
$83,960
Financial Analysts
6%
$ 85,660
Financial Clerks
5%
$ 39,570
Financial Managers
16%
$127,990
Financial Specialists
7%
$70,770
Management Analysts
14%
$83,610
Public Relations Specialists
6%
$60,000
More career possibilities: General and Operations Manager, Operations Manager, Healthcare Administrator, Retail Sales Manager, Human Resources Manager, Sales Manager.
*Source: Bureau of Labor Statistics, U.S. Department of Labor, Occupational Outlook Handbook. Job outlook: 2018-2028. Median salary: 2018.