Bank of America Summer Bridge Program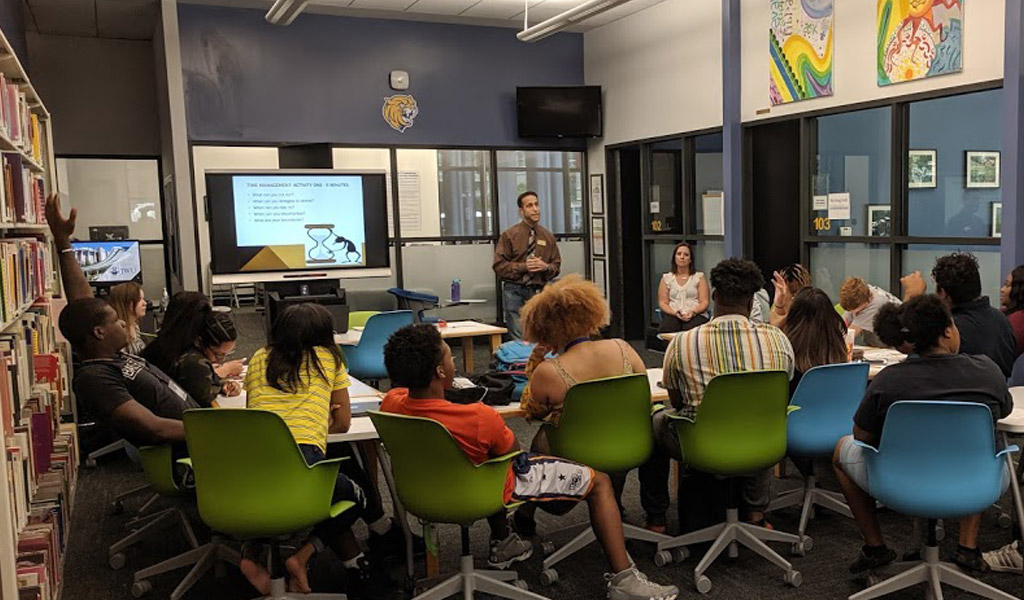 Thanks to generous funding from Bank of America's economic outreach program for students in the greater Charlotte region (defined as within 75 miles of Charlotte), JWU Charlotte is able to provide this 5-week residential summer experience for select accepted students.
Summer Bridge runs on a cohort model, which means that the small group you start with (your "cohort") stays together throughout the program and beyond! Once the summer transitions to Fall and Spring, you will continue to meet monthly with your Summer Bridge group, ensuring that everyone builds bonds with their peers and strengthens their sense of belonging throughout their first year.
Get a sneak peek at college life!
Meet other incoming first-year students
Live on campus for 5 weeks
Get ahead by earning up to 6 college credits in English & Math
Participate in workshops and activities to help you be ready for your first-year
Pay NO additional tuition — all program expenses are covered by a generous gift from Bank of America
What does the program offer me?
The BOA Summer Bridge Program cultivates a diverse community of scholars and prepares them to engage actively to meet the challenges of a small private university. The program supports students by providing:
A stimulating and challenging academic experience in two core subjects
Personalized, comprehensive advising and tutoring
An intellectually and socially enriching residential and community experience to begin building your network
Workshops, excursions, and guest speakers to build your skills
The opportunity to live on campus and experience college life before arriving on campus in the fall
Scholarship Component
Scholarships are being offered to Summer Bridge participants, based on them fulfilling certain expectations, specifically:
$1500 for fall, upon full completion of the Summer Bridge programs and passing both courses in Math and English
$1500 for spring, upon completion of and full participation in Fall cohort activities, including weekly one-hour tutoring sessions (choose one or more subjects) and monthly peer-planned programs
Summer Bridge actually introduced me to a lot of amazing faculty and staff that I'm still in contact with today — and who are my resources!
JWU Charlotte students reflect on how the Bank of America Summer Bridge program positively impacted their college journey:
It's given me an opportunity to get ahead on my classes — but also to get a feel for how college would be!
2023 Program Dates
The 2023 program runs for 5 weeks from Monday, July 17 until Friday, August 18. Classes and program activities will take place Monday-Friday, 8am-5pm. In addition, there will be social opportunities and campus activities on the weekends.
Note: Because Summer Bridge is only 5 weeks, students must be prepared to commit to the full length of the program in order to be an eligible participant.
Ready to Register?
To reserve your spot in the program, fill out the registration form in full:
Have questions? Contact Campus Admissions:
JWU Charlotte Admissions
summerbridge@jwu.edu
980-598-1100