Since its founding in 1914 — and particularly from the 1970s onward — the development of JWU's Providence Campus has helped rejuvenate the state's business hub, created jobs, added to the city's revenues and enriched the local culture.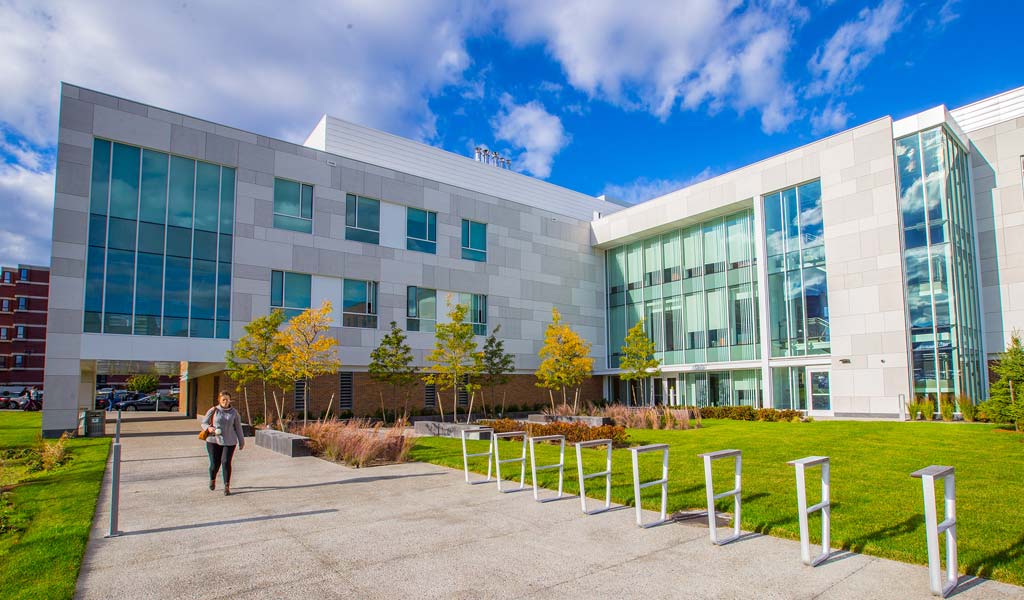 Between 1970 and 2000, JWU enrollment increased by more than 1,000%, bringing thousands of students from across the globe to live and study in the city.
The Providence Campus is the largest of the university's campuses in land, facilities and enrollment. It's actually composed of two separate campuses: Downcity and Harborside, both of which offer unique experiences that are still distinctly JWU. Together, they comprise more than 170 acres and 2,439,000 square feet of 52 buildings, including residence halls, classrooms, labs, dining halls, libraries, offices, open spaces, and internship, recreation and physical plant facilities.
Downcity Campus: Vision for Urban Revitalization
During the post-WWII years when Johnson & Wales was growing from a business school to a college, downtown Providence was Rhode Island's cosmopolitan hub of culture, art and commerce. High-end department stores like The Outlet Co. occupied an entire city block on Weybosset Street. But between 1945 and 1985, the city's population declined by 40%.
The growth of suburban shopping malls in the 1960s saw an exodus of trade. The Outlet closed in 1982, and in 1986 a fire gutted the once-grand enterprise. The resulting debris and toxic contaminants were an impediment to reuse and development of the site.
When former JWU President John Yena '06 Hon. assumed his role in 1989, JWU was housed in scattered downtown buildings. When renowned urban architect Andrés Duany presented a vision for a Downcity rebirth and a broadened sense of community, Yena saw JWU at its center.
In conjunction with several government agencies, JWU funded site cleanup, then purchased the land from the city. Duany drew plans for JWU's growth.
Today Gaebe Commons and the surrounding buildings are what Yena calls "a protected enclave where students can withdraw and still be part of the urban fabric and green space of the city."
Harborside: A Radical Transformation
In the early 1900s, Fields Point — the area that is now the Harborside Campus — was a pristine public park and beach resort. During World War II, it was closed off and filled in to house the Providence Shipyard. The land was later converted into various industrial businesses and then a dump site.
This history inspired JWU to revitalize approximately 100 acres of the waterfront area providing a range of environmental and recreational benefits to the surrounding communities, and a stunning natural setting for the campus. Major facilities on the campus include the Alan Shawn Feinstein Graduate School, the Harborside Recreation Center (home of the NCAA Division III Wildcats), Harborside Village residence halls that house more than 500 students, and the university's Culinary Arts Museum that contains more than 500,000 culinary artifacts.
The campus' newest focal point, the Cuisinart Center for Culinary Excellence, opened in spring 2010, and is designed to become the nation's first Leadership in Energy and Environmental Design (LEED) certified culinary lab facility.
The 82,000-square-foot building houses 30 state-of-the-art teaching labs and classrooms, helping the College of Food Innovation & Technology (CFIT) achieve higher levels of food safety and sustainable food practices in response to the growing national concerns over health and nutrition.
Reclaiming Providence's Industrialized Waterfront
JWU has revitalized close to 100 acres of waterfront alongside the Harborside Campus through significant brownfields remediation efforts. Improvements include shoreline reconstruction, an Urban Coastal Greenway and athletic fields.
JWU's partnership with Save the Bay — a nationally recognized and award-winning environmental organization — complements these green efforts. JWU provided a six-acre waterfront parcel for Save the Bay's headquarters, an environmentally "smart design" building where students, residents and visitors are educated about the fragile bay ecosystem. The project has been recognized by the Environmental Protection Agency (EPA) and GreenSource magazine as one of the nation's top brownfields redevelopment projects.
LEED® Gold Certified Facilities
In 2011, the Grace Welcome Center became the third environmentally sustainable building on the campus.
In addition, the Cuisinart Center for Culinary Excellence, Center for Physician Assistant Studies and John J. Bowen Center for Science and Innovation have been awarded LEED® Gold certification by the U.S. Green Building Council (USGBC) for energy and material use and for incorporating a variety of other sustainable strategies. Read more about sustainability at JWU.