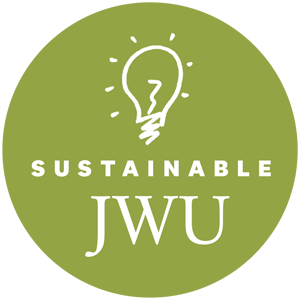 Johnson & Wales University is going green inside and out, and the shift — from the cafeteria to the curriculum — is viewed as a necessity in a changing world. By striving to build a greener tomorrow, we hope others will be inspired to do the same.
We want to provide our students with the critical mindset that the future will require. They need to adapt to a changing world — one that's evolving much faster than expected. Providence Campus President MARIE BERNARDO-SOUSA, L.P.D.,'92
Campus Initiatives
Since its formation in 2013, JWU Providence's Energy Conservation Office (ECO) has spearheaded a broad range of initiatives to create a more sustainable campus, from a campuswide LEED-certification program to comprehensive recycling and energy-reduction projects.
More projects are in the works, from the installation of wind turbines to a feasibility study for a proposed microgrid project to construct solar-storage canopies that could potentially power the campus in the event of power loss.
Explore the present — and future — of energy conservation and sustainable practices at JWU:
BELOW: THE NEWLY-INSTALLED WIND TURBINE AT JWU PROVIDENCE'S HARBORSIDE CAMPUS.
View this post on Instagram
---
Related Reading