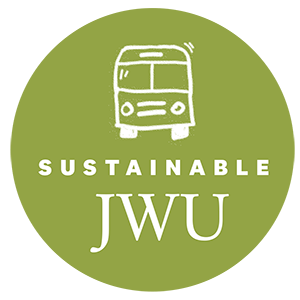 JWU has made a concerted effort to utilize different sustainable methods of transportation to reduce the university's carbon footprint.
This initiative includes offering shuttles between campuses, installing electric vehicle (EV) charging stations across campus, providing access to nearby shared transportation services like Zipcar, and bike-share programs alongside collaborations with the state level bus authority, RIPTA.
Buses
Currently we have buses running throughout the day between our campus facilities, as well as between the Harborside and Downcity campuses. Freeing our students, faculty, and staff from the need to drive individual vehicles between our campus locations allows for a significant reduction in carbon use.
Through a partnership with National Grid's Strategic Energy Management Program (SEMP) program, the university has performed a 3-year EV fleet feasibility study. Integration of electric vehicles is expected with the delivery of the first Nissan Leaf in January 2022.
---
EV Charging Stations
In 2020, JWU added ChargePoint charging stations in two campus locations. The increased availability of charging stations will encourage more community members to switch to electric vehicles, reducing transportation-related carbon emissions and pollutants.
Downcity
Richmond Parking Garage, 35 Richmond Street, Providence, RI 02903*
Harborside
Lot A: 315 Harborside Blvd, Cranston, RI 02905 (adjacent to the Culinary Arts Museum)
Lot F: 125 Harborside Blvd, Providence, RI 02905 (behind the Cuisinart Center for Culinary Excellence)
*Since these charging stations are located in a private garage, a valid university parking permit is required for their use.
BELOW: HARBORSIDE CHARGING STATIONS | GOOGLE MAPS