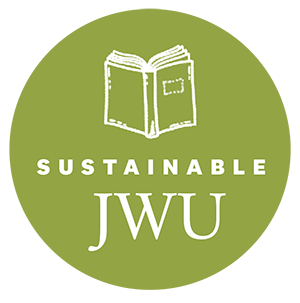 There are so many ways to get involved in sustainability on campus, from academic programs to volunteering with JWU ECO or joining any number of student clubs that are making waste reduction, community cleanup and environmental stewardship a priority.
Earth Day is celebrated universitywide at JWU with tree plantings, film screenings, and other activities to raise awareness, educate, and promote sustainable practices.
---
Academics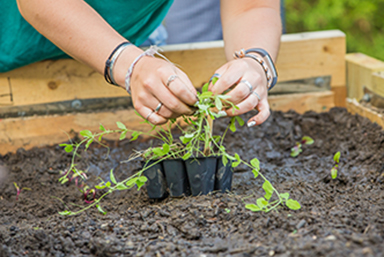 There are multiple pathways for integrating sustainability into your academic studies at JWU. A growing number of majors — Sustainable Food Systems; Cannabis Entrepreneurship; Adventure, Sport and Sustainable Tourism Management; and Product Design, to name a few — are foregrounding sustainable practices through research, class assignments, and fieldwork. Explore Areas of Excellence: Sustainable Academics.
---
Sustainability Events
JWU ECO sponsors events throughout the year, including surplus sales, neighborhood cleanups, and more. Explore the latest here:
---
Work with the ECO Office
JWU Providence's Energy Conservation Office (ECO) has so many work study and volunteer opportunities throughout the year. Take part in neighborhood cleanups, tree plantings, farm visits and sustainability fairs. Follow JWUPVDECO on Instagram for the latest events, sustainability tips and ways to get involved.
View this post on Instagram
---
Student Clubs
While there are multiple student-run clubs on campus that make sustainability a priority, keep in mind that this list is by no means comprehensive. And if you don't see a club that focuses on a particular interest or subject, it's easy to start one yourself!
Student Activists Supporting Sustainability (SASS) is a rapidly-growing club, fueled by JWU students' desire to create a cleaner, healthier world.
In addition to serving as a home base for students in the new Sustainable Food Systems program, SASS is one of the partner organizations of the Green Collaborative, a student collective that shares a stake in the raised garden beds at Harborside. Regular events include creating compostable tea bags, hosting guest speakers, and taking trips to learn about sustainable practices. ♻️🌱🌎
Bee the Change is JWU Providence's Apiary Society. This student beekeeping club is focused on saving honey bees and other pollinators through education, honey sales and fun events. The club also oversees two hives and co-sponsors the raised garden beds at Harborside. 🐝
Club of Culinary Excellence focuses on helping culinary students expand their knowledge of food outside the classroom, whether through trips, community service opportunities, chef demonstrations, pop-up dinners or cooking competitions. 🔪
Through chef demos, restaurant visits, Mystery Basket competitions and yatai cart pop-ups, Cooking Asia is dedicated to refining the skills of JWU students. 🍜