Career Outcomes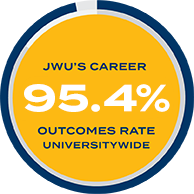 When passion meets opportunity, incredible things can happen...
Our students bring the passion for their chosen area, and we do everything we can to open doors and provide them an opportunity to shine. This simple formula is what makes our graduates so successful right after graduation. They're already prepared with the skills and experience employers are looking for, and that is why 95.4% of them have a successful career outcome within six months of graduating. Our Career Outcomes rate is historically higher than the national average.
What is the Career Outcomes Rate?
Career outcomes information is a nationally recognized way to calculate student success. The Career Outcomes Rate estimates the percentage of students who are either employed, continuing their education, enlisted in military service, or performing voluntary service within six months of graduation. The Career Outcomes Rate is based on postgraduation careers of graduates for whom JWU has reasonable and verifiable information.
For an explanation of the career outcomes rate and other information, visit JWU Student Consumer Information.
Why does JWU have such a high Career Outcomes Rate?
Besides all the hard work our graduates have put into earning their degrees, there are several key reasons why they excel right out of the gate.
🔑 Experiential education
We've pioneered and perfected an experiential approach to education that focuses on hands-on projects, courses, and internships to help students develop the experience and skills that employers are seeking in candidates.
🔑 Fantastic faculty
A premier experiential education also requires premier faculty to teach. Our faculty come with years of industry experience and a passion for what they do. They've opened so many doors for students by connecting them with contacts in their industry network. 
🔑 Robust resources
Our Experiential Education & Career Services office is dedicated to helping students get a leg up by offering resume-building workshops, career management courses, career fairs to connect students with internships, and so much more. 
Want to experience the power of a JWU degree for yourself? Apply today!
---
What are JWU alumni doing with their degrees?
Around the globe, 100,000+ JWU alumni are making their mark in their industries. Here are just a few examples:
John Michos '18
After graduating with his bachelor's degree in Sports, Entertainment, Event — Management, John Michos took a position with the Washington Nationals in March of 2019 as an Inside Sales Representative and was soon promoted to an Account Executive in Group Sales with the Nationals.
Michos attributes his early success in his career directly to what he learned at JWU. "Getting experience is the key," he explained. "JWU emphasized putting yourself out there and learning outside the classroom. The value of having no class on Friday gave us an extra day to work, volunteer and network which was a great learning tool and proved invaluable in gaining contacts, participating, and becoming involved with various events. These opportunities instilled confidence and made me prepared post-graduation. I was ready for interviews with an experience-filled resume. JWU gave me all the tools I needed to interview and ultimately get hired by a quality organization."
---
Indira Sirjue '20
For Sirjue, success after graduation came from an unexpected opportunity. After earning her Tourism & Hospitality Management degree and having prior experience in the hospitality industry working as a front desk attendant and customer service representative, she received an offer by the Department of Homeland Security to work as a Transportation Security Officer. Although this opportunity was different than what she had anticipated, Sirjue says she loves what she does now and that her time at JWU prepared her for a career shift.
"JWU has definitely prepared me to enter the job market," she said. "You may think some of those classes are unimportant, but really they are. Through my classes, I was able to take on challenges with training and development, accounting (profit and loss statements, spreadsheets), human resources, marketing, technology, and many other tasks. You have to be the student who isn't afraid to apply yourself."
---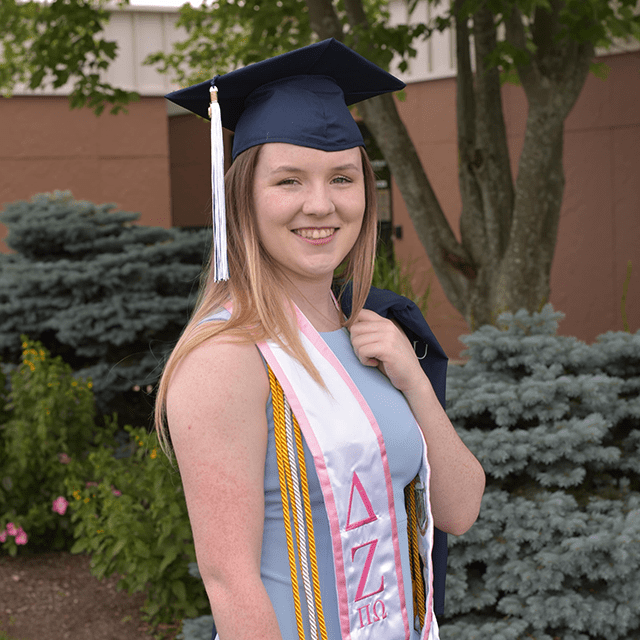 Kristin Ullrich '19
Since graduating from JWU with her Baking & Pastry Arts and Food & Beverage Industry Management degree, Kristin Ullrich took on work with Marriott International at the Westin Copley Place in Boston as a Food and Beverage Operations Voyager. In this role, she's been able to continue her hands-on learning of the industry that she began exploring at JWU.
For Ullrich, ending up with Marriot was no coincidence. She said that working for the company has always been a dream of hers, a dream that JWU has helped her achieve: "I feel that Johnson & Wales prepared me immensely to enter the job market," she said. "Not only through my education throughout my three years, but also setting up the opportunity for me to apply to Marriott's Voyage Leadership Development Program right on campus. Each and every career fair, I had my eyes on Marriott and Johnson & Wales' dedication to my success, along with my hard work, made my dreams become a reality."
---
Jason Berger '07 
Berger came to JWU specifically for the Sports, Entertainment, Event — Management program with the goal of finding his path to the National Hockey League (NHL). Now, he serves as the assistant equipment manager for the NHL's Tampa Bay Lightning and got to experience the journey to winning the Stanley Cup with the team in 2020. 
Looking back, he credits his experiences at JWU for preparing him to work in the most elite league in hockey. What he learned in courses like Facilities Management has helped him in his day-to-day work, but his most memorable JWU experience was his externship with the Providence Bruins, an American Hockey League (AHL) team that develops players for the NHL's Boston Bruins. "That externship sparked my career," Berger said.

---
Tierney Boyd '11, '12 MBA
A graduate of the Equine Business Management program (now Equine Studies) and the MBA program, Tierney Boyd came to JWU with a passion for riding horses but found there were so many avenues she could pursue in the equine industry.  "[The Equine program] isn't a club or extracurricular activity but a business degree with a focus on the equine industry. It turns what may have been a passionate hobby into a career path." 
For her, that career path was being a business owner. She opened her own tack shop, Bits & Pieces, in 2016 with a brick-and-mortar location in Charleston S.C., a retail website, and a mobile tack unit that travels to horse shows. From her fond memories competing on JWU's Intercollegiate Dressage Association (IDA) team to enjoying the wide variety of elective courses that let her explore different passions, Boyd believes JWU was the key to getting where she is today. "When starting my JWU journey, I had absolutely no idea what path I wanted to take," she said. "JWU's Equine program allowed me to explore those options."
---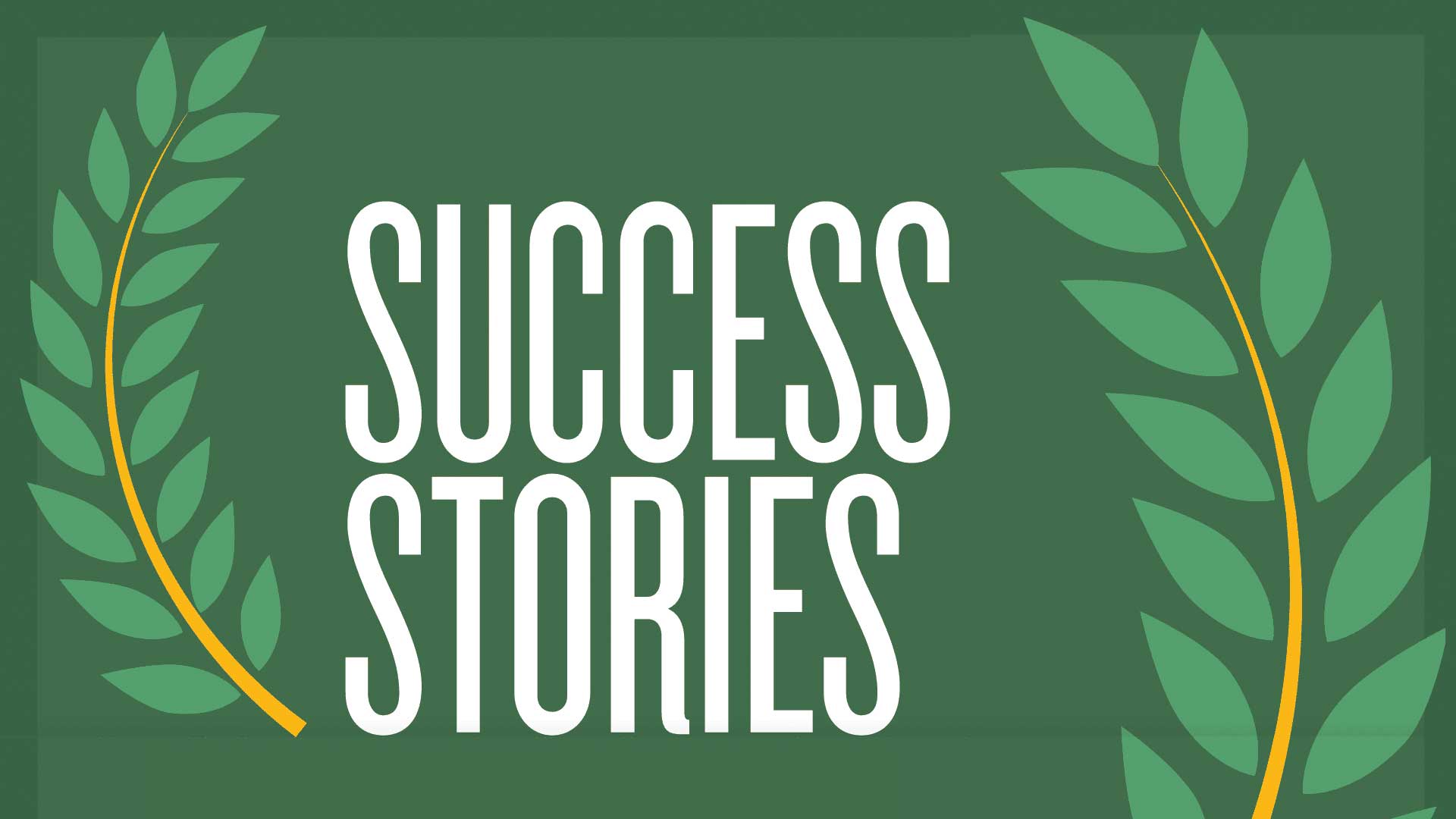 Want to read more alumni success stories? The JWU Magazine highlights alumni success in every spring issue.
---