"It makes me so happy that I get to share a part of home even though I am oceans away." –Manika Chakerverty '25
Across Johnson & Wales University, students can experience fun and friendship through over 100 different clubs and organizations. But if an interest or identity isn't represented, don't worry: Wildcats can create their own new club. All it takes is five full-time students with an interest in starting the club, and a Student Engagement staff member on the Providence or Charlotte campus can help walk students through the rest. One student who saw a need for a new club is Manika Chakerverty '25.
Meet Manika Chakerverty '25
Chakerverty, who is pursuing her Food & Beverage Entrepreneurship B.S. along with her A.S. in Baking & Pastry Arts, had heard great things about JWU from an alum and says she is glad she came here.
"JWU seemed to have the best of the culinary world along with so many different fields that I knew that I would be in for a 360 experience," says the New Delhi native. "I have always been very passionate about pastry arts, and coming here and being able to polish all my skills under some amazing chefs still feels a little unreal at times."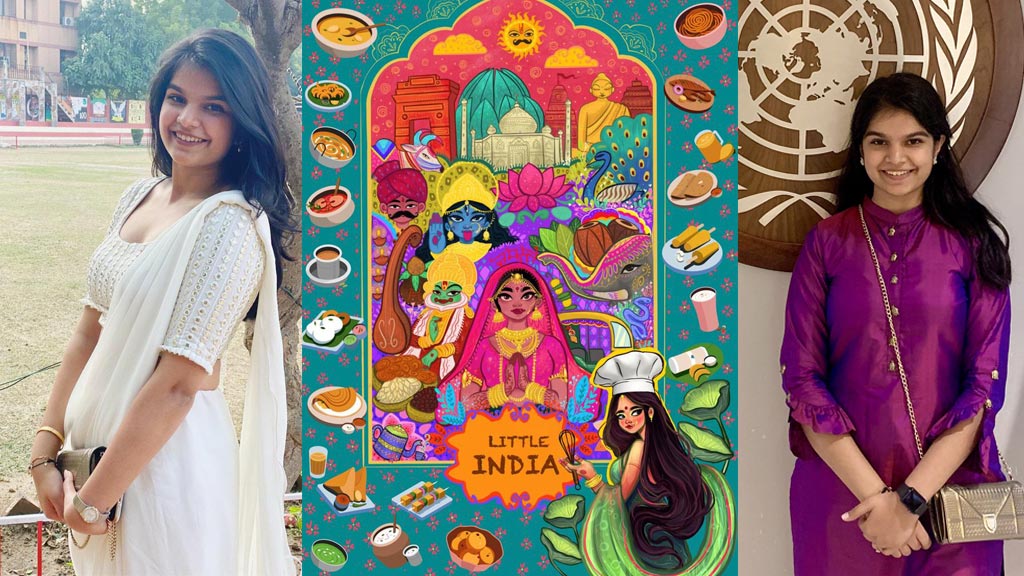 Chakerverty is taking advantage of JWU's global programming by planning to be in Paris, France for Spring '24 and then Florence, Italy for Fall of '24. "That is another reason JWU is great: the opportunities to expand your knowledge are unlimited," she shares. "You just have to be willing enough to take some action."
Right now Chakerverty works for CFIT Operations, loving how her job allows her to meet chefs, help with events and — her favorite part — work on social media posts and videos. And the city provides the 21-year-old with plenty of opportunities to enjoy the food and beverage scene, from Federal Hill's restaurants to Providence's low-key nightlife. "It has been amazing to talk to bar owners and cafe owners and learn that they also went to JWU," she says. "Their stories definitely inspire!"
Even though she has met a lot of nice people, Chakerverty still experienced a culture shock coming from India's capital city to Rhode Island's capital city. "It was weird to not be able to whip out Hindi, the language I use back home, whenever and wherever I want," she says. But then she met some fellow Indian students. "We got to talking about how we should represent the vibrant and rich legacy of India and introduce the JWU community to so much color, spice and warmth," says Chakerverty.
Little India Is Born
From those conversations, Chakerverty launched a new student club, Little India. She found the process of starting a new club fairly easy at JWU; her real challenge was in hoping that others will see her vision and be receptive to learning more about her colorful country. So far, she has enjoyed seeing that people are interested and excited for the new club to showcase India's culture.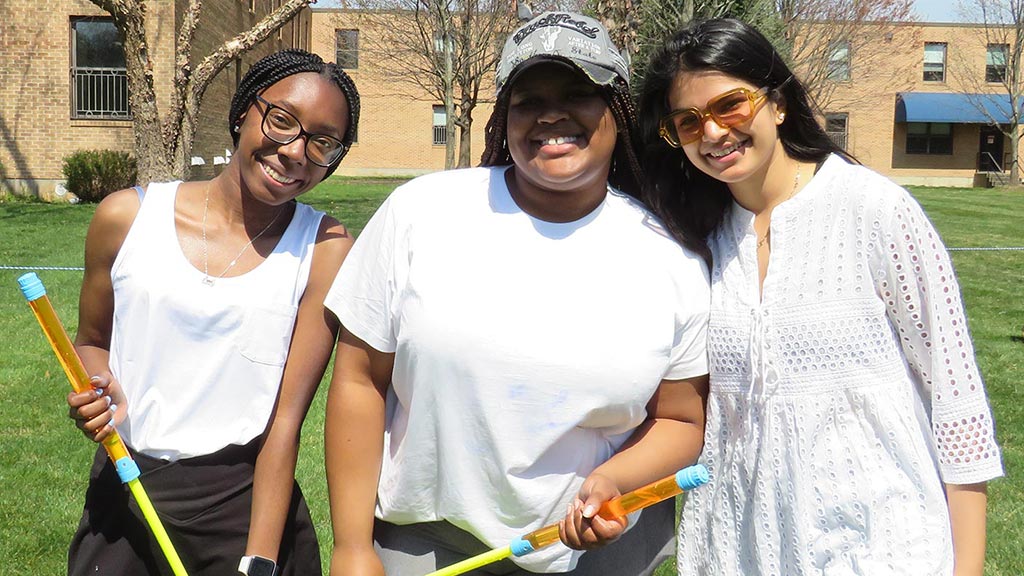 "There are so many more festivals," she says of her home country. "The thing about India is that you could take a journey from North to South and learn something new and absolutely unique every single day. There are days when even I am left baffled at the sheer diversity in everything from foods, to festivals, to languages to dance forms, clothes and so much more."
The club, which had been meeting at the Wildcat Center every Thursday, will likely switch to biweekly meetings as they gain more members and concede to busy schedules. Students don't have to be Indian to be involved; the club is open to everyone. "All we ask from members is to help out when we have any events and to be enthusiastic and open minded about the 'Indian Way,' and we will welcome you with warmth and hospitality," says Chakerverty.
Little India is slowly making itself known. Recently, the club teamed up with the University Involvement Board (UIB) to have a snack cart at UIB's Spring Festival on April 21. But Little India is more than just food.
"My vision for Little India is to be able to celebrate all festivals with the JWU community like Diwali, Ganesh Chaturthi and many more," says Chakerverty.
One of those Indian festivals is Holi, one of her favorites from back home, an experience of color and love. "It is all about welcoming the arrival of Spring, leaving your worries behind, accepting people as they are, playing with colors and water guns and then winding down with some traditionally hot and crispy food and refreshing drinks," Chakerverty explains. "Holi signifies the victory of good over evil and leaves people feeling happy and content."
Holi Saga Paints JWU Joyful
Although JWU students have hosted Holi on JWU's Providence Campus annually in recent years, Holi was Little India's first major event in April 2023. Collaborations are key at JWU, and Manika and her fellow club members worked closely with JWU's Bridge for Diversity, Equity & Social Justice (with a special shout-out to Bridge co-director Korina Ramsland Short for being the "backbone" of the event) as well as with Cooking Asia, an Asian cuisine club dedicated to refining the skills of JWU students, to set up a fun, safe event with a tasty ending. "It was very nice and helpful to have such strong support systems to help with the event," Chakerverty says. "It wouldn't have been possible without Bridge and Cooking Asia. They guided me with all things official and also just helped out a lot."
So how did Holi go? In a word, fun.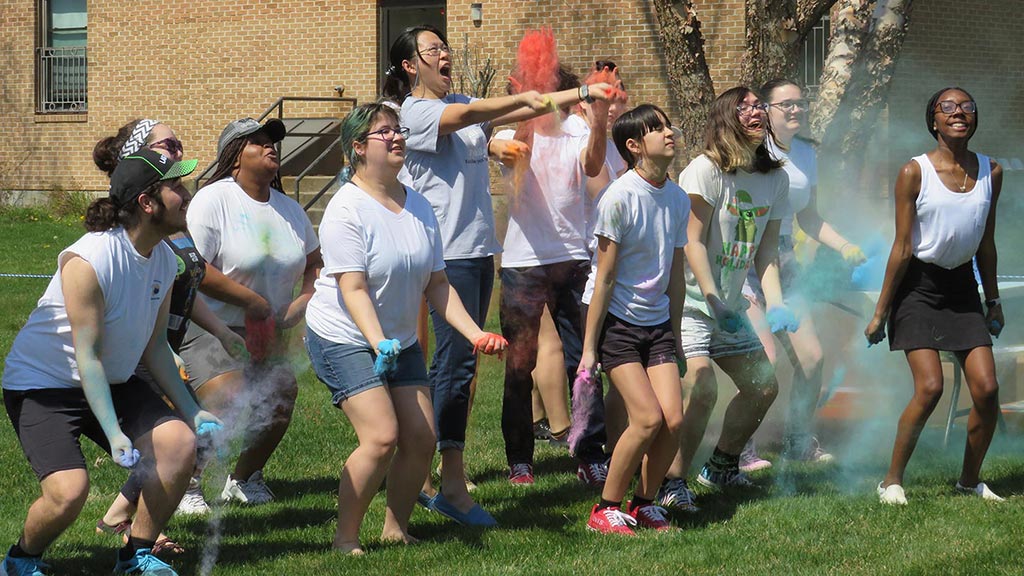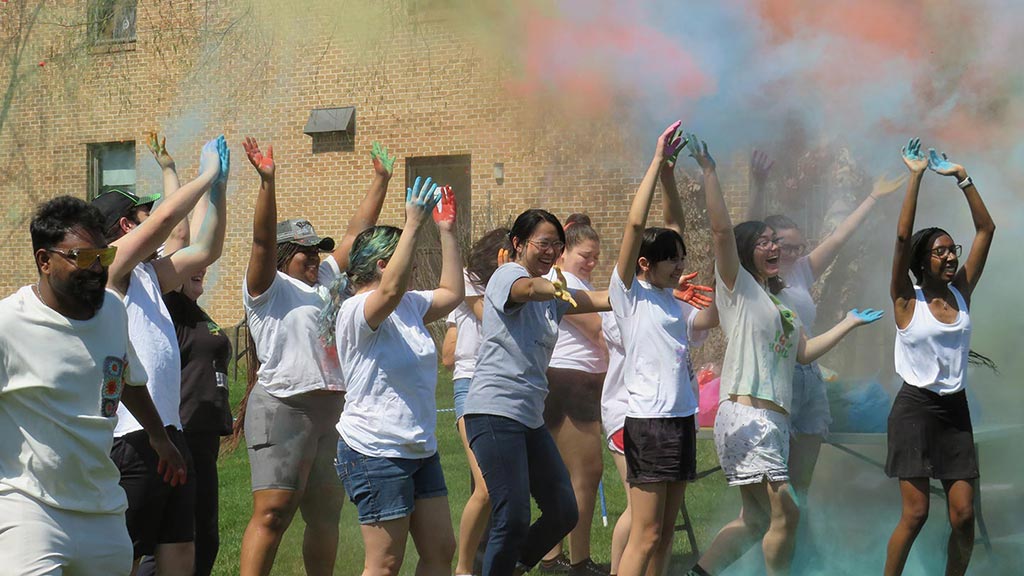 Within moments of beginning, students were chasing and playfully bombing each other with clouds of colorful chalk dust, and it didn't take long at all for their mainly white clothes to sport rainbows of colors where friends had targeted them.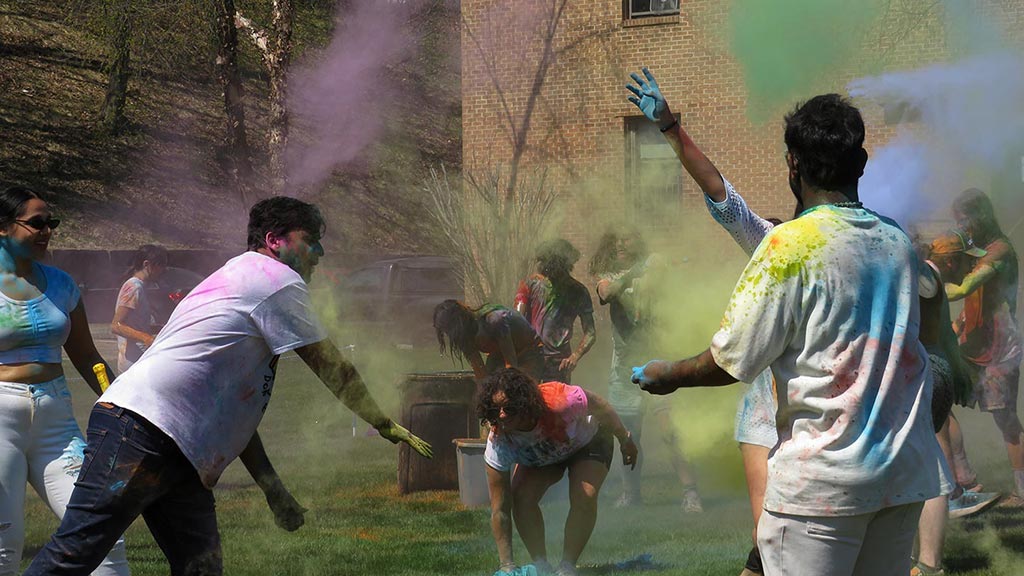 Laughter filled the green space outside the Friedman Center, while students passing by paused to watch, appearing envious of the fun. Unusual for a New England spring, the sunny weather topped 80 degrees, which aligned perfectly with the squirt guns Little India had chilling in a bucket of water for students to not only help rinse each other off in a fun way, but to cool down in the process. In a nod to Wildcat pride, students worked together to create clouds of blue and yellow, the colors worn at JWU sporting events.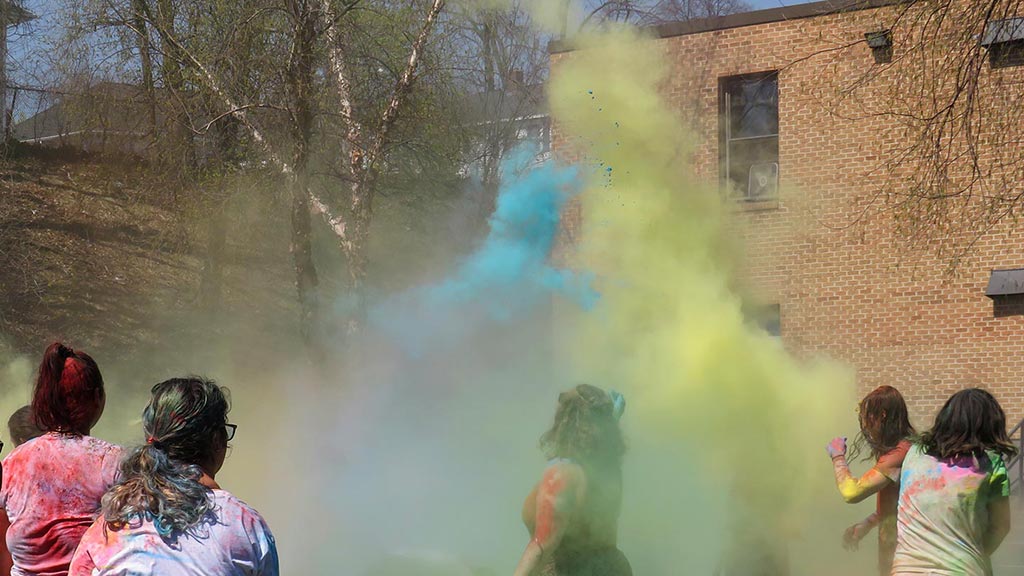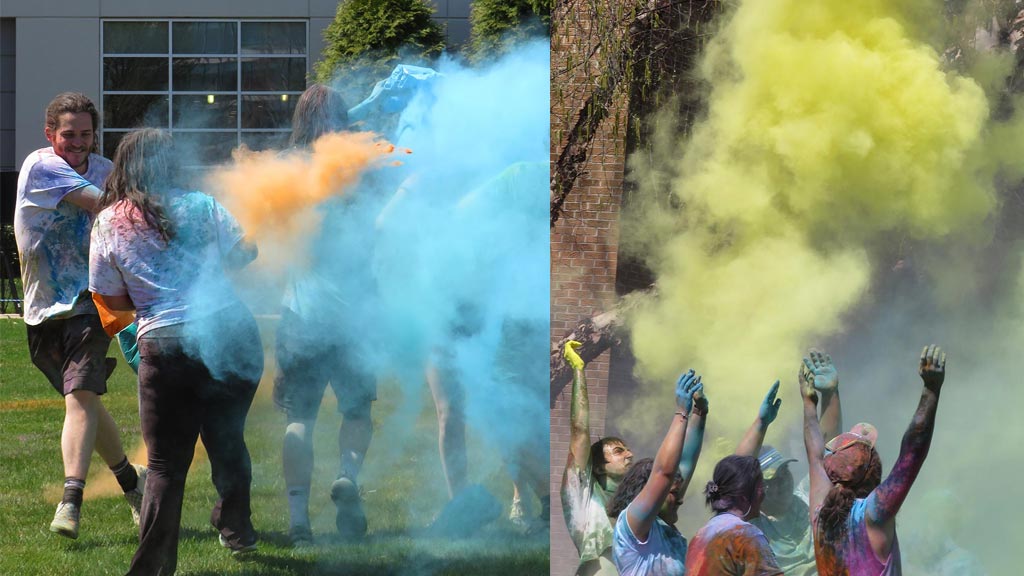 See Holi Saga 2023 in action here:
Students weren't able to use their phones during the event because of the chalk dust, and that helped them stay in the present for Holi. Chakerverty said she loved "taking a step back and looking at everyone going wild with no worries about anything, just enjoying in the moment."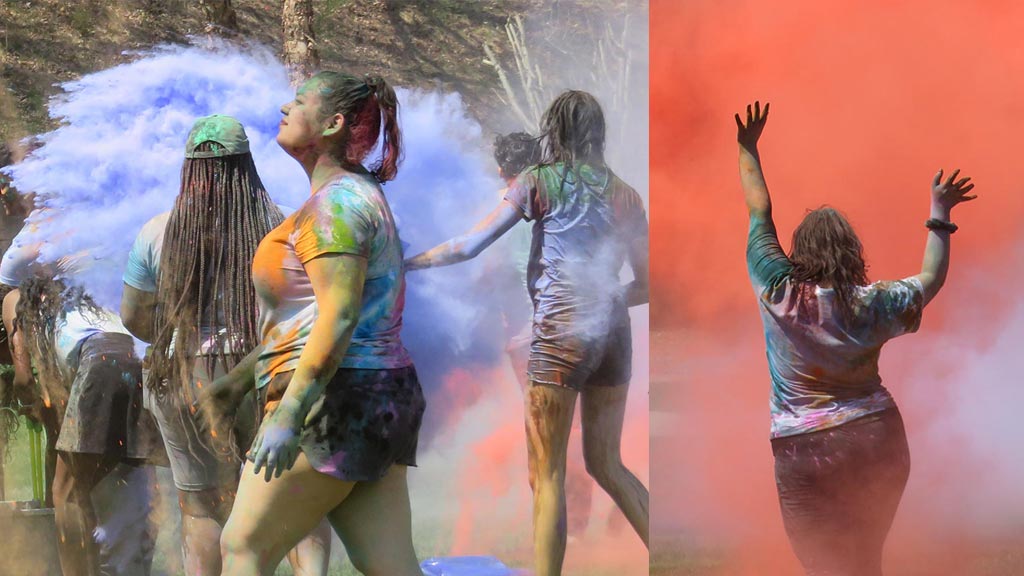 She adds, "My favorite part about this festival is that everyone can let their inner child out and let loose, have fun and enjoy snacks. The fact that we were able to give people that outlet made me super happy."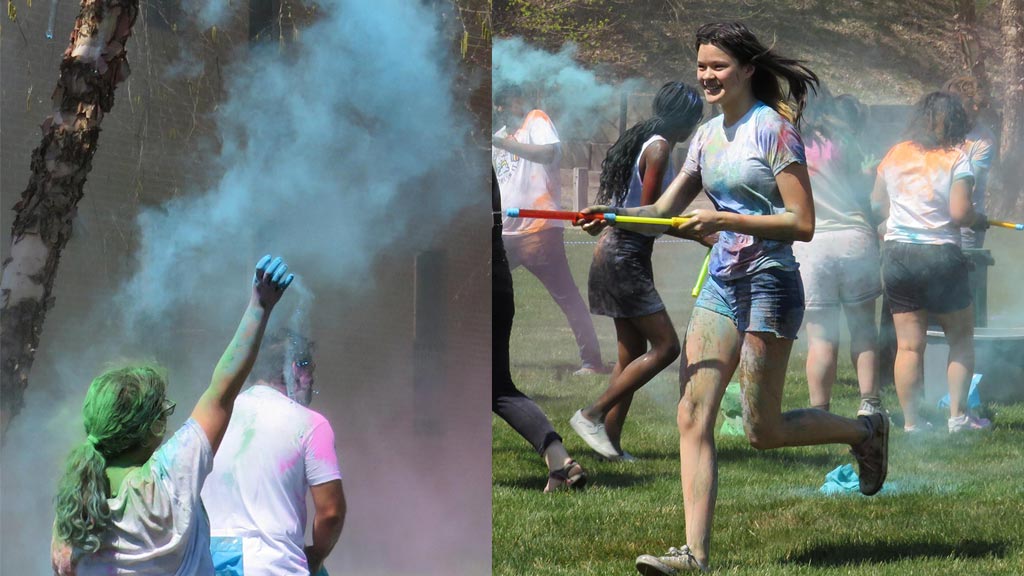 After the fun, students cooled down with water and soda as well as Indian beverages mango lassi, a sweetened yogurt drink, and thandai, a chilled, sweet, nutty drink. Hot, crispy pakoras came in a variety of flavors — bhaji (onion), aloo (potato), mirchi (chili) and spinach — topped with mint chutney. A kalakand, an Indian milk cake, served as the perfect sweet to top off the snacks.
Although the number of participants wasn't huge — next year, Little India is considering holding the event on a Saturday so more students can attend — Chakerverty is pleased with the turnout. "The fact that everyone there left with a huge smile on their face was a win in my books," she shares. "I am glad we got to share a little glimpse of Indian culture with the JWU community, and I can't wait to plan more such fun events!"
What's Next for Little India
Once JWU's Fall semester starts, Chakerverty and her fellow club members have plenty more plans for Little India.
"We are going to have an Indian Dinner, and all new members of Little India will be getting Kurtis, which is a tunic-like Indian shirt," she reveals. The club also plans to host Chai Nights (the spiced tea is considered India's national drink, preferred over coffee for helping one wake up and feel refreshed), host Bollywood movie nights and even start dance classes, as Chakerverty says that the number on Indian dance styles is "endless." Weather permitting, Little India is also exploring cricket tournaments for the club's more athletic members. All of these ideas are just the beginning for Little India.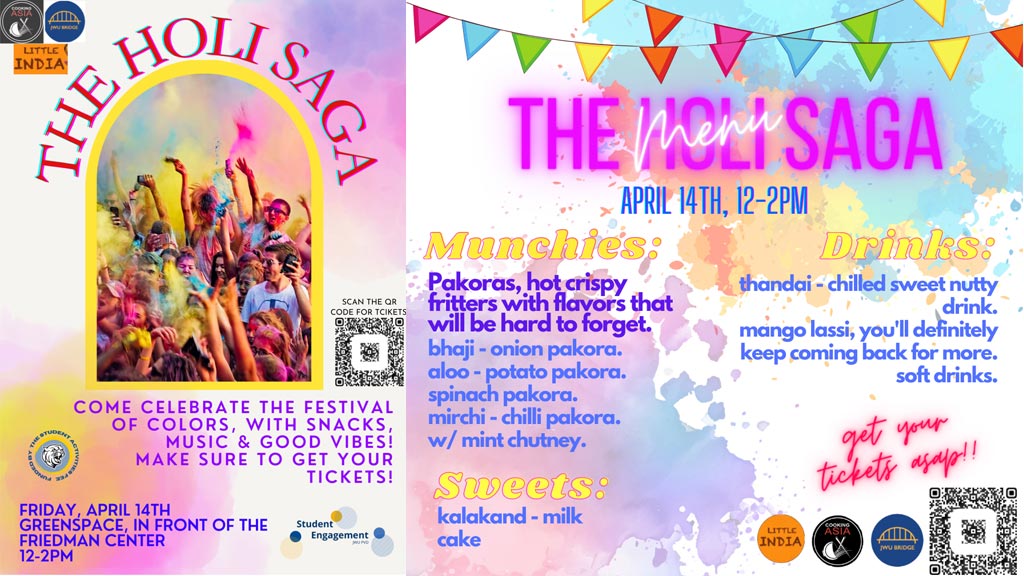 "We don't want to limit ourselves to anything. We're trying to include everyone and make sure that there is something for everyone who is interested," Chakerverty says.
She adds that Little India will be planning something special for Diwali, which is another major Indian festivals. The five-day festival of lights traditionally includes good food, colored sand and special candles and lamps.
If Little India brings even a fraction of the fun and energy to Diwali that they brought to Holi, no Wildcat will want to miss it.