Investiture Ceremony to Honor JWU's New Chancellor: Mim L. Runey, LP.D.
---
Story by JWU Media Relations , on Mar 7, 2019 10:21 AM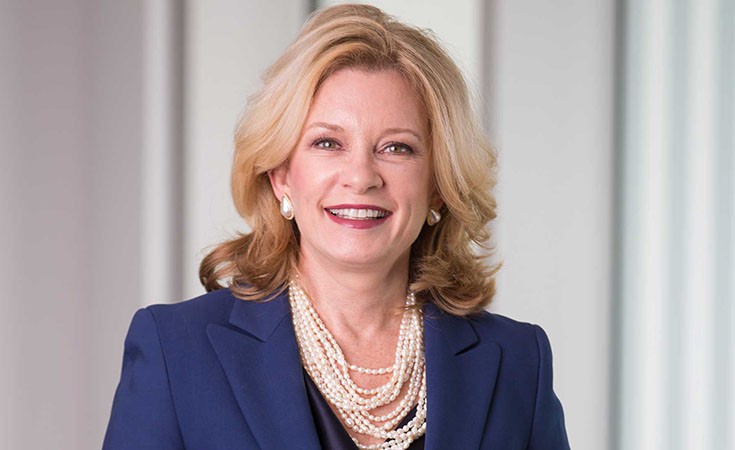 MEDIA ADVISORY
Providence, R.I. – March 7, 2019 – On Tuesday, March 12, 2019, a new chapter in Johnson & Wales University's (JWU) history will be written with the Investiture Ceremony of Mim L. Runey, LP.D. as the university's chancellor. This invitation-only ceremony will be held at the Providence Performing Arts Center in Providence, R.I., starting at 2 p.m. At that time, to commemorate this historic event, the clock tower's bells located at JWU's Gaebe Commons on Weybosset Street will ring.  Scheduled to give remarks during the ceremony include Rhode Island Governor Gina Raimondo and the Chairman of the JWU Board of Trustees James Hance, Jr., operating executive, The Carlyle Group, Washington, D.C.
Last year, the JWU Board of Trustees appointed then-JWU Providence Campus President and Chief Operating Officer Mim Runey as the university's next chancellor, effective October 1, 2018. She became the university's third chancellor, following John J. Bowen, who served in that role from 2010 until his December 2018 retirement from JWU after 45 years of service. JWU's first chancellor, Morris Gaebe, was appointed in 1989. The Investiture Ceremony, which is traditionally held during the first year following the appointment to the position, is an opportunity for JWU students, faculty and staff to celebrate Johnson & Wales' history and future.
For more information regarding Chancellor Runey, her appointment and to access the livestream link to the ceremony on March 12, visit the Investiture Ceremony webpage.
About JWU
Founded in 1914, Johnson & Wales University is a private, nonprofit, accredited institution with approximately 13,000 graduate, undergraduate and online students at its four campuses in Providence, Rhode Island; North Miami, Florida; Denver, Colorado; and Charlotte, North Carolina. An innovative educational leader, the university offers degree programs in arts and sciences, business, culinary arts, design and engineering, education, health and wellness, hospitality, nutrition and physician assistant studies. Its unique model integrates arts and sciences and industry-focused education with work experience and leadership opportunities, inspiring students to achieve professional success and lifelong personal and intellectual growth. The university's impact is global, with alumni from 125 countries pursuing careers worldwide. For more information, visit jwu.edu.
MEDIA CONTACT Lisa Pelosi, vice president of communications & government relations, 401-598-1848 lisa.pelosi@jwu.edu. Follow @JWUnews